Welcome to the website and blog of best selling author Elizabeth Meyette. Sharing is a concept instilled in us from childhood, and this is a place for sharing ideas about writing, reading, and  coping mechanisms such as chocolate, naps and wine. Stay a while and explore. Visit often.
Congrations to the winners of my Goodreads Giveaway!

Shelly G. of Muncie, IN
Susan G. of Arvada, CO
Mary C. of Glenmora, LA
Barbara G. of Charleston,  WV
Christopher M. of Belfast, Antrim, Northern Ireland
 BURIED SECRETS is now available !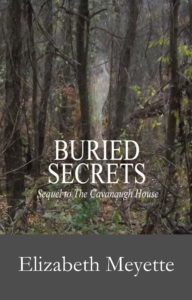 Order your copy of the long-awaited sequel to THE CAVANAUGH HOUSE  Amazon today!
When Jesse Graham almost runs over a "body" in the road one night, she is plunged into a labyrinth of secrets, lies and murder. All Jesse wants is a simple life teaching at St. Bart's… and a chance at love with Joe Riley. She realizes that plan has been thwarted when puzzling occurrences at St. Bartholomew Academy for Girls get increasingly dangerous. The danger doesn't just spring from the ghost who haunts the grounds of St. Bart's, but from a sinister presence that is not ghostly at all. As she digs into the mystery, threats on her life and the life of her student escalate.
Which danger threatens her life the most? The ghost haunting her student or the secrets buried in the school?
---
---
Christie Craig was our speaker at the 2016 MMRWA Retreat from Harsh Reality writers' retreat. She was amazing with her insightful presentations, hilarious stories and courageous journey.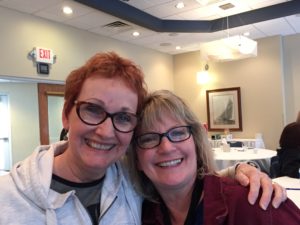 ---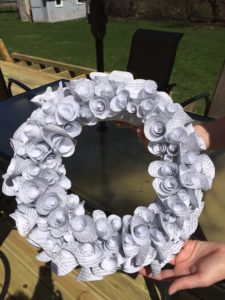 My daughter Kate Bode made this beautiful wreath from a Proof copy of The Cavanaugh House. It lights up, too!
---
The Cavanaugh House is now Available as an Audiobook!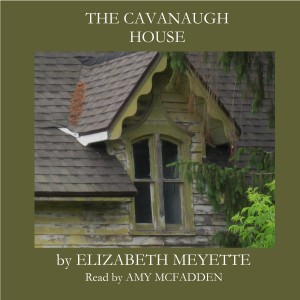 The Cavanaugh House is available on Amazon, Audible and iTunes in audiobook format. You can read it FREE with an Audible trial. With over 200 reviews on Amazon, the ebook edition of The Cavanaugh House continues to rank high in subgenres of Mystery/Suspense.
Actress Amy McFadden  narrates the story. Amy has narrated over 200 titles including such authors as Nora Roberts, Charlie N. Holmberg, and Debbie Macomber.
This house held secrets. Secrets that wafted through rotting window sashes on the winter wind. Secrets that spiders wove into webs anchored between the ceiling and walls. Secrets that scuttled on the feet of cockroaches across stained kitchen linoleum and scurried into its cracks. Secrets that peered from holes in the baseboard from glinting mouse eyes. This house held the secrets close to its bosom where they had slept for decades. No one had disturbed these secrets in all the years the house sat decaying from neglect. There was no reason to, and there was no desire
"The spine-chilling epilogue grabbed by attention immediately! I love Meyette's style! Although her usual time period is much further back in history, her talent shines during any timeline!" CeeCee Lawson, Romancebookworm Reviews

---
The simmering rebellion in the American Colonies is the backdrop for the passionate story of an English woman and the patriot she loves.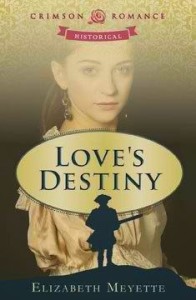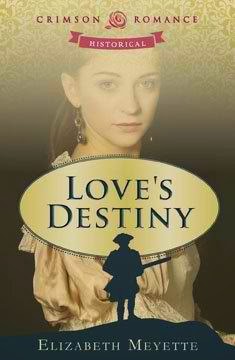 "Ms. Meyette seamlessly weaves the events of history into this tale of love, loss, and redemption. I highly recommend Love's Destiny, and I can't wait for the sequel. I must, yes I MUST, know what happens to Em and Jonathon!" Deborah Cordes O'Neill, author of Dragon Dawn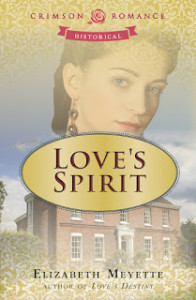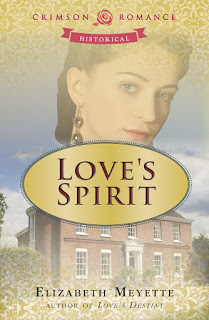 "This story [Love's Spirit] is by turns soft and sweet, then breathtakingly dangerous and fast-paced. It has something (quite a lot actually) for everyone, and shouldn't be missed. Well done." Cary Morgan Frates, author (Morgan O'Neill) of Love Eternally: Book One in the Roman Time Travel series.
---
KATY, TEXAS BOOK SIGNING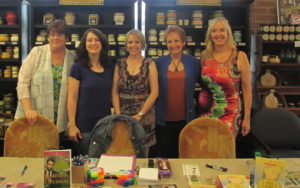 What a treat to spend an afternoon with my fellow Crimson Romance author-sisters at Katy Budget Books.  (left to right: Karen Sue Burns, Andrea Cooper, Nicole Flockton, Elizabeth Meyette, Shelley K. Wall.)
Save
Save
Save
Save
Save
Save
Save
Save
Save
Save
Save
Save
Save
Save
Save
Save
Save
Save
Save
Save
Save
Save
Save
Save