Welcome to the website and blog of best selling author Elizabeth Meyette. Sharing is a concept instilled in us from childhood, and this is a place for sharing ideas about writing, reading, and  coping mechanisms such as chocolate, naps and wine. Stay a while and explore. Visit often.
Book three in The Brentwood Saga is now available on Amazon

!
 Watch the Book Trailer for Love's Courage
The Brentwood Saga is available for only 99 cents.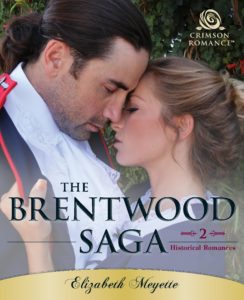 The love story of Jonathon Brentwood and Emily Wentworth is now available in a single edition .  Get both Love's Destiny and Love's Spirit for a special price of only 99 cents for a limited time. Pre-order your copy of The Brentwood Saga today.
Against the backdrop of the Revolutionary War, a patriot and a loyalist must learn to trust among the lies and deceptions to find true love. This action-packed historical saga is now available as a value-priced collection.
My Books
---