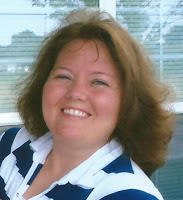 I'd like to welcome Kristina Knight to my blog today. Kristina and I were two of the first authors to publish with Crimson Romance, and we both feel a tremendous bond with our other CR author sisters. Welcome, Kristina!
Please tell us a little about
yourself.
Hi,
everyone! I'm Kristina! I write contemporary romance and sexy romantic suspense
– in the moments I'm not being roped into playing dress-up or pirates with my
4-year-old! Here's my 'official' bio: Once upon a time, Kristina Knight spent
her days running from car crash to fire to meetings with local police – no, she
wasn't a trouble-maker she was a journalist. When the opportunity came to write
what she wanted – business and family/parenting articles – and to focus a bit
of energy on the stories in her head, she jumped at it. And she's never looked
back. Now she writes articles for magazines and such by day and writes romance
novels with spice by night. And any toddler-free, five minute break she has.
She lives on Lake Erie with her husband and daughter. Happily ever after.
Talk about the book(s) you've
written. What was the first seed of an idea you had for your book? How did it
develop?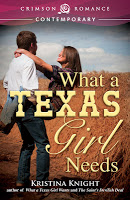 I've
published three books now, with two more coming out later this year. My books
usually come to me first as a single scene, usually a moment of change for one
character or another. And they grow from there, all the way through the editing
process. For my Texas series (
What a
Texas Girl Wants
and
What a Texas
Girl Needs
), I knew right away that these sisters all had stories to tell,
and I'm so glad my publisher agreed!
How did
you celebrate the publication of your first book (please keep this rated PG).
LOL. I
cried. My husband thought someone had died or something! We went out to dinner
that night at my favorite place (a Japanese steakhouse/hibachi place) and the
next morning I got to work on my next book.
How would you describe your
writing process? Do you outline? Let the muse lead you? Or something else?
My
process is weird but I call it pant-lotting. I mentioned my stories usually
come to me in a single scene form at first. I try to write that scene down, as
detailed as I can. My characters get names from there and I start adding in
some backstory. I let that percolate in my subconscious for a while, and then I
develop an outline. It's really loose and usually only accounts for the main
turning points. I give myself just enough room to know where I want to go and
then I write the story as it comes to me. Sometimes those main turning points
stay true to the story. Sometimes they get moved around. Sometimes they're
completely different. But having a little bit of an idea for where the story is
going helps me, especially in those beginning stages.
What are you currently working
on?
Right now
I'm waiting on edits for the two books to come out this year: What a Texas Girl Dreams, the third in
my Texas series, will come out in June from Crimson Romance, and Mr. Right Now, a sexy contemporary, will
come out from Lyrical Press sometime around the New Year. While I'm waiting,
I'm working on a couple of new stories that aren't contracted – yet – a sexy
romantic suspense and another contemporary romance.
How do you balance writing,
marketing, promoting, bookkeeping, family and work?
I
delegate. A lot. My husband does the bookkeeping, we both share in the cooking
and cleaning (yes, ladies, I have found the Best Man in the World and no, you
can't have him). And that leaves writing/promoting and our daughter. We both
try to give her as much attention as we can, but she still naps so that is a
free 2-hour period, and she goes to bed at 9 p.m. and I'm a night owl so there
are some extra hours. We do 'family time' from 6:30-8:30, so none of us
working, technology is off. We might watch a movie together or play games. I
guess what I'm saying is that I don't really have a schedule. I do my best to
give my family attention first, my writing takes priority from there…and
promoting, well, I do what I can. But I'm a firm believer that the best sales
tool any of us can use is to write another, better book and that's what I focus
on. So I blog when I can and I'm on social media (talking about family life and
books I've read more than my own work) but my focus is my family and new books,
that makes the balancing a little easier.
Blurb: What a Texas Girl Needs
Vanessa
Witte is ready to finally claim her life. The middle of three daughters born
into the Witte family – a powerful Texas name – she's been content to float
through life. Being dumped by her shady ex? A blessing in disguise. Having a
one-night-stand with Matias Barnes? Not one of her more stellar moments. But
she's back in Lockhardt with a secret and a reason to start fresh: A baby.
Matias
Barnes knows all about society women – it's part of the reason he left his
wealthy family behind and took a job on a ranch. He doesn't like the endless
string of parties, the inane conversation, or the gold-digging tricks those
women have perfected. But that doesn't stop him from wanting Vanessa Witte. Mat
knows she's so not right for him, but with her back in Lockhardt, can he resist
her charms long enough to really let her go?
Excerpt:
Vern
handed her the receipt. Fifty bucks? Holy crap, how much did gas cost? Stupid question, Van, obviously it costs fifty
dollars. She reached into her bag for her credit card and then remembered
that was part and parcel of the Witte upbringing. Paying with Grandfather's
credit card? Not character building. She pawed through the baby blue Coach bag
but only came up with two twenties and some loose change.
Damn.
"Just charge it to the ranch,
Vern." Mat Barnes's voice echoed under the station's overhang, chilling
Vanessa. "The Double Diamond will cover it." We always cover her bills, his tone implied.
Vanessa squeezed her eyes closed and
swallowed. Her fingers closed over another bill. Please let it be a twenty. Or
a ten. She opened her eyes.
Three twenties. Triumph!
"I've got it Mr. Barnes, thank
you," she said, chilling her voice as she handed the cash to Vern. He looked
from Mat to Vanessa, obviously confused over what was going on between them.
Vanessa held his gaze for a moment. Vern took the cash and hurried inside.
"I think we're past the 'Mr.
Barnes' stage, don't you?" Mat watched her from beneath the tipped-low brim
on his cowboy hat, his coal-black eyes boring straight to her soul. Yes, they
were past the Mr. or Miss stage, technically, but not calling him Mat helped
her keep her distance.
The way her heart raced at the mere
sight of him she desperately needed that space.
She looked away, crossing her arms
over her chest. Her gaze caught on the frayed edge of his jeans—which were worn
in all the right places, she noted—and today's tee, tight across his shoulders,
read, 'Chicks Dig Scars' over his well-muscled chest.
Who was she kidding? Calling him Mr.
Barnes didn't keep her from noticing just how delectable Mat was. Nothing could
do that. Not in broad daylight. Certainly not the twinkling fairy lights during
Kathleen's wedding reception.
"I don't think a night spent in
my grandfather's hayloft makes us best buddies," she said, hoping against
hope he would just leave her alone.
"Ahh, but what we did in that
hayloft is another matter." He lounged against the side of her Porsche as
if he might stay there forever.
You can purchase
Kristina's book at: