Today I welcome fellow Crimson Romance author Synithia
Williams to my blog. Both of Synithia's novels are in the top five on the Crimson Romance site this week
http://www.crimsonromance.com
. Congratulations and welcome, Synithia.
Please
tell us a little about yourself.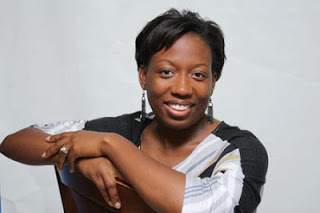 Hey Betty! Thanks for
having me on your blog today! I always love doing interviews with fellow
writers. A bit about myself…I always feel like I'm on a dating site when I
answer that question, lol. I work full time on sustainability initiatives in
the Midlands of South Carolina. Am a mother of two crazy, silly boys ages 3 and
5 and wife to a wonderful husband. With all of that I guess you can say I'm a
part time writer…though ideas and character traits are buzzing through my head
constantly. I have several hobbies I dabble in and cannot be considered
remotely as an expert: crocheting, composting, gardening. And I love to collect
tea pots.
How
do you handle spicy sex scenes and relatives? Are your family and friends
supportive or do they choose not to read your books because of its sensual
nature?
In my very first book
review for my debut title You Can't Plan Love the reviewer labeled my books as
sensual. I was both surprised and ecstatic with that description. I enjoy
reading spicy romances and wanted my books to be considered spicy as well. But
with that comes the questions from friends and relatives about those scenes. I
try to let them know that the scenes are all from my imagination and not play
by play action of my personal experiences. It's not hard for me to discuss the
love scenes with the women in my family, but I'll admit when my dad brought it
up I threw up my hands and cut him off. We've come to an agreement. We'll live
by the assumption that I don't write romance and he doesn't read it.
Has
writing changed how you read books now?
It has, and I'm a
little upset about that. Before I could read and not analyze a book for its
good and bad points. I've lost some of the magic that comes with reading after
learning what (supposedly) makes a good book. I think that ultimately it helps
me as a writer, but as a reader I miss being unaware of what head hopping, data
dump and fast pacing is all about.
What
kind of response do you get when you tell people you are an author?
I'm always surprised by
people who say I inspire them. I'm sure that if they see me downing wine and
popcorn late at night while I grumble over a scene they'd re-think that. I'm
also surprised by how many people want to write a book and ask me about my
publishing journey. I didn't talk about my writing before 2010 and thought that
I was the only crazy person in my area who wanted to write romance. Connecting
with other aspiring and published writers has been the best part of this ride.
Is
there an aspect of writing that you favor over others, e.g. dialogue,
exposition, description of a scene, setting, or character, etc.? Is there one
that is more difficult for you?
I like writing
dialogue. It's fast paced and easy to get down on the page. I usually have to
go back and add facial expressions, movement and descriptions of what my
characters are feeling during these conversations.
Do
you work with a conference partner, writer's group or other organization? Where
do you get support?
Most of my connections
were made online. I got to actually meet some of my beta readers and critique
partners when I joined Romance Writers of America and attended a few writing
conferences last year. With my schedule it's hard to make regular face to face
meetings so I appreciate the feedback I can get on books, synopsis and
proposals via email. But having said that, I think face to face with people is
key, and I plan to still make efforts to meet my online support system whenever
I can.
Do
you keep a notebook in your purse or your bedside table to write down ideas
that come to you right away so you don't forget them? Have any of these ideas
developed into a successful piece?
I have so many
notebooks it is crazy. I've got notes for various projects jotted down in
several different places. Now that I'm plotting out a few new series, I'm
trying to organize it to one notebook per project. Only time will tell if that
works out.
Is
there anything else you would like readers to know about you?
Just
that I love feedback and hearing from other writers and readers. Don't hesitate
to reach out to me and I promise to respond as soon as I can.

Book
Synopsis:
You Can't Plan Love
After
several bad relationships, Kenyatta Copeland decides to control her love life
with the same discernment she uses in her professional life.
Knowing
firsthand the heartbreak that comes when desire and emotion rule a
relationship, Kenyatta assumes marrying Brad Johnson will lead to a stable
life. But as much as she believes she can plan her future, it's hard to ignore
the way her boss, Malcolm Patterson, ignites her passions with just one look.
After Malcolm learns of her engagement, he makes a play for her heart and
reminds her that passion between a man and a woman has its perks … but also its
costs. When Brad suspects there's more than work between Kenyatta and Malcolm,
he works harder to keep Kenyatta by his side. Torn between her promise to marry
Brad and her irrepressible longing for Malcolm, Kenyatta must decide if she can
live her life in a passionless marriage of convenience or once again trust her
heart. Yet Brad isn't as perfect as he seems, and by the time Kenyatta realizes
this it may be too late.
Worth the Wait
After Tasha Smith is dumped yet again
because of her virginity, decides it's time to stop saving herself for marriage
and start dating like women in the twenty-first century. She sets out to find a
man rumored to be good enough in bed to relieve her of the nuisance, but
discreet enough to keep her request a secret. Jared Patterson seems like the
perfect candidate. Yet after one searing kiss, she wonders if she'll escape the
night unscathed.
Jared's job as a successful fitness
instructor and entrepreneur has helped him keep a string of meaningless
relationships from the east to the west coast. After learning the hard way that
women can't be trusted, he has no qualms going from one sex only relationship
to the next. Although Tasha is one of the few types of women he avoids—a good
girl—the man in him can't turn down her tempting offer.
What starts out as a onetime thing
quickly turns into an affair neither want to stop. But when an unexpected
situation drastically alters their relationship, it leaves them both asking if
it was Worth the Wait.