Today I would like to welcome Kwana Jackson to my blog. Kwana really exemplifies the adage "write what you know" and her writing is alive with details and description from a world she has experienced. Hi, Kwana, I am so happy you are here.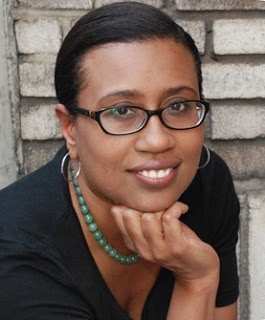 Author Kwana Jackson
Please tell us a little about
yourself.
Thanks so much for having me here today. I usually
describe myself as a former fashionista now trying her hand at the writing
game. I think that description just about sums it up. As a young girl I always
wanted to be either one of two things: a fashion designer or a writer. I got to
live out the 1st dream for 10 years working in the fashion industry
and then after trying my hand at various other jobs while raising my twins I
pursued my love of romance and writing. Now over 10 years into that venture I'm
finally published with my debut novel
THROUGH
THE LENS
out now from
Crimson Romance
.
Talk about the book you've written.
What was the first seed of an idea you had for your book? How did it develop?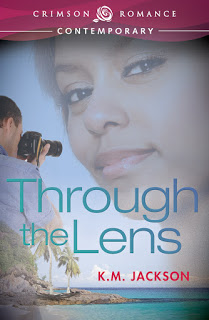 THROUGH THE LENS
is book one in my Creative Hearts series for
Crimson Romance
. TTL the story of,
Mika, a normal working woman and photographer's assistant to the sexy
Alejandro. Sparks fly when they are stuck alone for three days without the crew
on a remote island shoot. For TTL I was able to loosely go back to my days of
working in fashion to draw inspiration for Mika and Alejandro. My next book, tentatively titled
STILL LIFE
and will be out at the end of
May, continues the creative theme and is about an artist, Samara who is falling
for her mysterious neighbor Mark Thorn.
How would you describe your writing
process? Do you outline? Let the muse lead you? Or something else?
I'd probably be considered a pantser with a purpose (or
at least a heart full of purpose). I would love to be more of a plotter and I
start out with the best of intentions to plot, but I have to say mostly it's my
characters running the show and me knowing nothing more than the start, general
rest stops for food and drink and then final destination.
Has writing changed how you read books
now?
I will say it has. It's tough to just let go and let read. I feel that as a
writer, I'm a bit more critical in my reading. The book has to be a great story
for me to just let go, relax and read. That said, if you can keep me in the
story with great characters then you have a winner.
Do you work with a conference partner,
writer's group or other organization? Where do you get support?
I'm a member of
Romance Writers of America
and have
been for many years. I got lots of support from my local NYC Chapter. I will
never forget the day I walked in with nothing more than the idea of wanting to
write and the love of romance and they welcomed me with open arms. I will
always be grateful to them for that. From my RWA chapter I have made some
fantastic writer friends and met the amazing critique partners that I have
today. I think that friends and family are wonderful to have as your readers,
but for me it has been invaluable to have critique partners to give me that
kick in the butt with my writing in a safe and open environment.
Do you keep a notebook in your purse
or your bedside table to write down ideas that come to you right away so you
don't forget them? Have any of these ideas developed into a successful piece?
Keeping a notebook would be a fantastic idea and I
am the queen of the notebook that I can never find. So it turns out to always
be a receipt or a scrap paper for me. It's so frustrating how I can never find
a pen or paper when that great idea hits, but they always seem to hit when I'm
not prepared (driving or the shower). I have been known to run from the shower
to flip back on the just powered down laptop because that is usually when that
knot of a scene finally gets ironed out and if I don't get it down then and
there you can be sure that I will lose the solution by morning.
What are you currently
working on?
I'm currently working on the final
book in my Creative Hearts Series for
Crimson Romance
tentatively titled
By Design
. This one is about a normal
woman trying to navigate life and love while making it as a successful fashion
designer. I'm so excited about this one since it takes me back to my 7th
Avenue fashion roots and the heroine, Gabby is near and dear to my heart. I
hope to finish out the series with a little love on the runway. It should be
fun!
Thanks so much for having me here
Betty. It's been a real pleasure and a treat.
I can be found at the following places:
THROUGH THE LENS
can be found here: