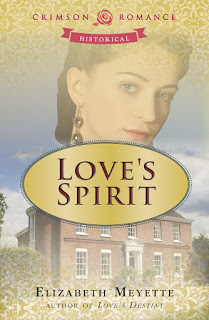 Today I got the final ok to reveal the cover for my
new book
Love's Spirit
. I love it!
The
Crimson Romance
cover art team did it again—they created a cover that portrays
the allure and classic look of a historical romance novel. My heroine Emily matures and changes in
Love's Destiny
, and they captured that
in this woman's eyes. Brentwood Manor looks exactly as I have imagined it, and
I love the soft, muted colors and tones that express the theme of a bygone era.
I remember awaiting the cover for
Love's Destiny
and fearing it would be a
bare-chested Fabio clutching a half-naked woman. Don't get me wrong, Fabio is
great, but he's become a bit cliché, and I hoped for a more classic look for my
novel. I'm sure it's the English teacher
in me and my love for
Jane Eyre
and
Pride and Prejudice
. It was as if the
cover art people at
Crimson Romance
read my mind! I have
gotten so many compliments on the cover of
Love's
Destiny
, and I feel so proud when I show it off.
I have to admit that I again suffered that
trepidation as I awaited the cover for Love's
Spirit. And again I am so pleased
with what the CR team did. They have given me another cover to be proud of and that
will draw all the compliments that they
should be hearing.
Looking at my book covers brings many emotions:
pride, satisfaction, pleasure, disbelief that I have really accomplished this, and
yes, relief. In a way, these books are my babies (I love you more of course, Kristy,
Matt and Kate) born of muse-inspiration and my acquiesance.
Emily, Jonathon and the other characters and events have lived with me for a very long time. How wonderful to see evidence of them
released to all who will share in their story.