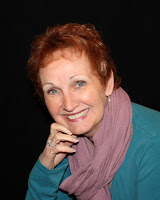 In the
spirit of Shameless Self-Promotion, I've decided to showcase myself today for
my Writer on Wednesday feature. My
second novel,
Love's Spirit
will be
released by
Crimson Romance
on Monday, April 22, and I wanted to share my
excitement about it with you. Those of
you who follow my blog know that this is a Dream-Come-True to the 2nd
power.
Here is a little blurb:
Emily Brentwood's ultimatum
to return to England led to her husband's capture by British troops, but she
learns he has escaped and is still alive. She is overjoyed to be unexpectedly reunited
with her husband, but Emily is appalled by Jonathon's injuries at the hands of
the British, and she blames herself for his imprisonment and torture. Separated
again when he is forced into hiding, Emily clings to his promise to be with her
for the birth of their baby. Boldly, she confronts the British officer who
attempted to rape her, and she defies the woman who wants her dead.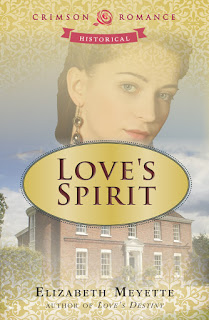 Still suffering
from his wounds, Jonathon risks his life to reunite with Emily, but their time
together is cut short by threats from the British and the scandalous demands of
his former lover. Jonathon's physical
pain pales in comparison to the torment he feels when he betrays Emily. Standing
in the way of their happiness is a British officer with a personal vendetta,
and a woman whose vicious intentions threaten Emily's life. Torn between anguish
over his betrayal of Emily and his need to ensure her safety, Jonathon risks
recapture and certain death when he returns to Brentwood Manor knowing that
British soldiers scour the countryside for him.
Both Jonathon and
Emily must overcome their guilt and trust that love's spirit will triumph over
the obstacles that threaten to keep them apart. Swirling around them is a war
in which a new country is born from a demand for liberty and a new love is
sparked in the midst of rebellion.
I did not originally intend to write a sequel
to Love's Destiny, but so many of my
readers asked for it that I realized I must write it. I listened for Emily and Jonathon, and they
returned to lead me through the next part of their story. ( I think they might
return for another book or two.)
I would like to share some insights I learned
during the writing of my second book.
Insight 1: It is great fun to write a
naughty character! Now, Deidre was bad in Love's
Destiny, but she's even badder in Love's
Spirit. She took me to scenes I never thought I'd write, and into the
depths of her dark soul. Wow. I think my readers will have great fun with
Deidre back in action.
Insight 2: Andrew grows up. I loved Andrew
in Love's Destiny, and Emily often
acknowledged her younger brother's wisdom at a young age. He does seem a mature and capable young
man. But wait until Jenny Sutton shows
up! She will sweep him off his feet and reduce him to a stuttering, besotted
lover. Ah, youth.
Insight 3: You never forget a single detail
of what it's like to give birth.
Insight 4: I can't cook on days that I
write. One day I burned the broccoli, the next I never turned the burner on so the
broccoli was raw when the fish was cooked. Another time the chicken was as dry
that rag I'd wrung out and left sitting in the bottom of an empty bucket.
Insight 5: I don't multi-task well. All those years of teaching and juggling a
dozen things at once while inspiring young minds and maintaining classroom
control…I really had to work at that! And all this time, I thought I was a
natural. No wonder I was exhausted all the time LOL. When I am writing, I get
into the zone and when I have to come out, I'm a bit dazed.
Insight 6: I was always meant to be a
writer. When I am away from it for too
long, I get cranky and edgy. When I am writing, hours fly by without
notice. On weekends, I don't want to
take time off, and when we're on vacation, I sneak in some writing when I can.
I can't think of another task—it isn't even a task to me—that engages me as
much as writing does. I'd call it an obsession.
Insight 7: I have the most wonderful
husband in the world. Actually, I already knew this, but it was even more obvious through the process of writing Love's Spirit.
I
suppose I could record more insights if I pondered this longer. Tell me what insights
you've discovered in your journey as a writer.