I am so pleased to welcome Amanda Shalaby to my blog
today. Amanda writes luscious historical
romance novels set in England, and her second, Audra, will be released on April 29.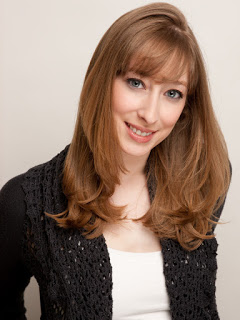 Welcome,
Amanda! Please tell
us a little about yourself. I'm not very interesting, to tell the truth,
Betty! I lead a very quiet life in the "real
world", and live out my adventurous side vicariously through my characters. I think that's why I've always loved
writing. When I'm writing I can
experience things that I've never had the opportunity or the literal ability to
experience. For example, living in 1830s
England is really only possible through one's imagination!
Talk
about the books you've written. What was the first seed of an idea you had for
your book? How did it develop? My first published
book, Rhianna, began as a vision of
my grandmother's. She asked me to write her a story that included a girl
standing before a fireplace in a white gown with satin slippers before a
ball. At that point, I had been writing
novels for myself for four years, but they were entirely different genres. I didn't think a nineteenth century English
mystery was quite up my alley. But I
learned otherwise! I have since become a
huge fan of all things nineteenth century and English, and spent over a decade
researching the clothing, the etiquette, the speech and so on. I am very proud of how Rhianna's story fell
into place. In retrospect, it seems as
if her story was always there, just waiting for me to be ready to tell it. After Rhianna
was complete, the next logical step was to tell the story of Audra, a sub-character from the first
novel. Her romance with Lord Crispin was
just beginning in Rhianna, and Audra
and Crispin really wouldn't leave me alone until their story was also complete.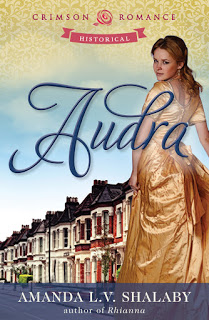 What
is your research process like? Do you enjoy it?
I actually really enjoy research. I have a whole library of books just for
research and I can get lost in them for hours – never mind the information
available over the internet! I suppose that would be the only downside to my
research – often I spend so many hours researching that I miss out on precious
writing time. But it's important for me to get my facts straight. I can't write
something that I don't feel I'm well acquainted with. And the research never ends. It is a part of my writing process that
continues from the beginning of a new story to the end.
For Audra,
there was a lot of research for me to do with regards to 1836 London, from the
Theatre Royal, to Vauxhall Gardens, to Almack's to shopping on Bond Street, to
riding on Rotton Row, to the styles of the terraced townhouses… It was a real
blast, actually!
Is
there an aspect of writing that you favor over others, e.g. dialogue,
exposition, description of a scene, setting, or character, etc.? Is there one
that is more difficult for you? I love to really be
able to visualize a room or scene. If my
character is in a location that I can't clearly visualize, I will go ahead and
write out the dialogue for that scene and leave the visual details for later. Dialogue is always very clear for me. I will
put very minimal notes on the scenery, but after I research the location or the
type of furniture that I want to use, etc., then I will go back and fill in the
details.
What
are you currently working on? Currently, I'm working
on a story tentatively titled Bleddyn
Hall. It's another story set in
nineteenth century England, and a throwback to some of the original "gothic"
novels of the time. I love a good
mystery, particularly if it's set in an old stone manor house, and this one is
surprising even me as I go along. It's
also been refreshing to spend time with a few new characters, as both Rhianna and Audra share a few of the same.
You can find a short synopsis of Bleddyn
Hall on my site under the 'Current Project' section.
Do
you keep a notebook in your purse or your bedside table to write down ideas
that come to you right away so you don't forget them? Have any of these ideas
developed into a successful piece? Oh my gosh, yes. I have
them everywhere. In the house, in my
car, in my purse. Not just to write
ideas, but more especially to write down names.
Names for characters, names for places – names seem to hit me everywhere
I look, and I have to write them down so I don't forget.
I should add that my first novel stemmed from a
dream. When I woke up, I wrote the gist
of it down on one of my many, many notepads.
It turned into an 80,000 word children's novel that I keep telling
myself I should dust off, revise and do something with.
Is
there anything else you would like readers to know about you? I
will continue to post updates on Audra's
eBook and paperback releases, as well and updates to Bleddyn Hall on my social media sites. I can be found in any of the following
locations:
Thank you for having me today, Betty! It's such a pleasure to spend time with my
fellow historical romance authors!
It was wonderful to have you as a guest today,
Amanda. Best of luck with Audra and
continued success with Rhianna – two must
read historicals!