Today I
welcome Olga Horn to my blog. Olga,
author of Olha, loves to write
romance based on actual historical characters and events. The sweet dedication
in this book is to her grandson Austin. Welcome to my blog, Olga. Please tell
us about yourself.
I was born in Ukraine. During WW II my family was
transported to Germany and were prisoners in their concentration camps.
Several years after receiving our freedom we came to America.
In my early years I attended a Ukrainian Catholic School. My
early years had an impact on my life. Our nuns were strict but
encouraging, guiding those with special talents. I enjoyed writing at an
early age. As the years went by, I married and had two children. I
started a novel but hadn't had time to complete it. But I always enjoyed
reading and somehow managed to find time for that.
After I retired, I began to work on my two loves. Writing
and landscaping. Therefore if I cannot work on one then I work on the
other.
Olga, it
sounds as if your own story would be a wonderful book! Tell me about your
writing process.
I first outline my novel, get my characters together, my towns and
villages, herbs and flowers that I might need to use. Eventually all
falls into place. An outline is never written in stone and could be
changed at any time.
You've
told me that your books are based on historical events and characters. Describe your research process.
My research process is extensive, such as historical books on
Ukraine, websites and pictures that I've taken on my trip to the south/western
part of Ukraine where I was born.
You
obviously put extensive work into planning and research. What happens if you
have to rewrite? How do you handle that?
So far I have not had any major rewrites. The rewrites that
I have done went smoother than writing the original novel.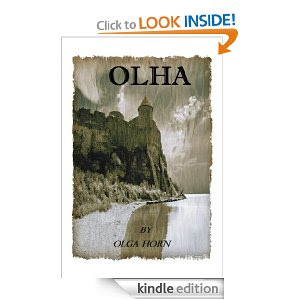 How do
you handle spicy scenes and relatives? Do any family members object to sensuality
in your book?
I haven't had any problems with friends or family reading he spicy
sex scenes. I find that women of all ages enjoy the spicy sex scenes.
What are
your favorite snacks while you're writing?
I don't eat while I'm writing but will take my coffee break.
How do
people react when you tell them you are an author?
People tell me they are amazed that I am an author. They ask
me all kinds of questions regarding writing and publishing a novel.
What are
projects are you working on now?
I am currently working on my rewrites of Carpathian Moon. It's a romantic, historical novel about
a Ukrainian Robin Hood. It seems that every country had its own Robin
Hood.
What
advice would you give new authors?
Read, read, read books as you work on your own novel.
Excerpt from OLHA
His firm body rippled as
he moved. His chest was wide and his legs were long and muscled. His long,
curly hair was bright yellow, like spun gold and when the candles flickered,
his whole body gleamed, giving the illusion that he was covered in gold
dust.
Upcoming books by Olga
Horn:
JEWEL
OF CRIMEA
Her hands
move slowly along every curve of his muscles. There was no place on
his perfect body that she had not touched. He turned, his body full of
desire and waited for her reaction.
"Love, if you do
not stop, I cannot promise that I can contain myself, he said breathlessly
through clenched teeth.
45 NIGHTS
OF HELL
From the jaws of
annihilation in the concentration camp, a cold and hateful mother, to a
sadistic, abusive husband, Katrina finds the strength, the courage and the will
to survive and love again. Hayden engulfed her in his unconditional love.
At last Katrina found her true love, her soul mate only to have it taken from
her.