If
you need to be cheered up today, read on.
Rhoda Baxter is my guest today and she is someone you will want to hang
out with. Welcome, Rhoda! Please tell us
a little about yourself.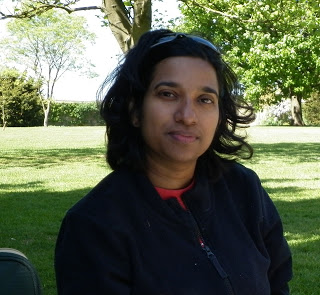 I'm Rhoda. I live in the north of
England, where the cake shops are excellent, even if the weather is not. I have
a day job working at a university and I write novels while my kids are asleep.
When I was choosing my A-levels, I wanted to take English as my main subject,
but my parents suggested I should do science (so that I can get a Real Job) and
pursue my love of literature in my 'spare time'. Which, funnily enough, is what
I ended up doing. So it turns out my parents were right. Again. How irritating.
But
you found your way to writing! Talk about the books you've written. What was
the first seed of an idea you had for your book? How did it develop?
My
latest novel is
Having a Ball
. The
heroine, Stevie is a secondary character in my first novel,
Patently in Love
. She just wouldn't shut
up after I finished the first book, so I decided to write her story next. The
core relationship in Stevie's life is with her brother, Marshall. But when Stevie
finds out that Marshall and his wife are expecting a baby, she feels like she's
losing him. She also feels the need to prove herself. I wanted to show how
Stevie grows and becomes self-reliant and, well, less immature. I started with
that idea and a setting –a lovely house in Oxford and it all grew from there.
My
characters talk to me all the time, too! So glad to know I'm not alone. In
addition to penning a second book, how has writing this book changed you?
It hasn't changed me, so much as changed my cooking.
The book talks about Sri Lankan party food. When the book was launched, a
friend and I held a joint launch party where people posted their favourite
recipes. I dug out my Sri Lankan recipes and, in order to photograph them, I
had to cook them. It reminded me and my husband of those delicious snacks we
hadn't had in ages. Now devilled chickpeas (you call them Garbanzos, I think)
are back on the menu. Yum
Yum,
recipe please. I love Garbanzos! So a little hands-on prep for that book. What
is your research process like? Do you enjoy it?
I'm very lazy when it comes to research. I tend to
base settings on places I've actually been to, so that I don't have to draw
maps and know where everything is. Other research gets done on the internet.
Hooray for Google! I also tend to ask someone who is in a relevant profession
to do a beta read. For example, my 2014 book (provisionally called Dr. January) is set in a microbiology
lab and I asked a microbiologist friend to beta read, so that she could spot
all the instances where the characters did something stupid like forget to wash
their hands!
I enjoy poking around on the internet looking things
up at the start of the writing process because it helps to spark off ideas.
Once I start writing, I try not to do much research because I would just waste
hours on it. Once I've written the whole first draft, I tend to go back and
look up specific things.
What
food or beverages do you turn to while you are writing? Are you a stress eater
on deadline or a "lack of inspiration" eater when ideas are not flowing?
One word. Chocolate.
I eat chocolate to cheer myself up when I'm stuck. I
eat chocolate to distract myself when the characters are being stubborn and,
when it all goes well, I eat chocolate to celebrate. I should buy shares in a
chocolate factory. I'd make myself a fortune.
As for drinks, I'm British, so I drink tea. Cliché,
I know, but there's nothing quite like a good cup of tea (and maybe a slice of
chocolate cake) to make you feel better. Honestly. Try it.
We
are soulmates – Chocolate and tea are my two favorite things! Is there an
aspect of writing that you favor over others, e.g. dialogue, exposition,
description of a scene, setting, or character, etc.? Is there one that is more
difficult for you?
For me, dialogue and character go hand in hand. I
know I've 'got' my character when I can hear their dialogue without any effort.
It's almost as though they are real people, I just have to see them properly. I
never do character sheets, but sometimes there will be one small detail that I
need to figure out (how they wear their hair, what nervous tick they have,
something like that) before the whole person comes into focus. The only way I
can find this out is to write a few scenes until I get there. These scenes
rarely end up in the book, but they are essential for the start.
I'm not too good at plotting at the start of the book.
My first drafts often meander about, branching off into dead ends and subplots
that don't go anywhere. When it comes to revision, I've learned to be ruthless.
It's hard to lose thousands of lovely words, but hey, it's got to be done.
Do
you work with a conference partner, writer's group or other organization? Where
do you get support?
I have a critique partner who reads my stuff. She
and I met at a writing course a few years ago (er… make that many years ago.
Crumbs! How time flies!). At the start, she asks me lots of questions about the
characters and the story and these questions usually unlock aspects of the
story that I hadn't thought about. Then she nags me to send her chapters. I do
the same for her, by the way. This mutual nagging is probably the only thing
that stops us from putting our feet up between books and never writing another.
When I've done the first pass edit, I send the draft to her and she tells me
what works and what doesn't. So far, for the last two books, she's made me
remove a secondary character. That means a major rework of everything,
reassigning key scenes (there usually aren't many because she's always right
and the character isn't as important as I thought they were) and moving
dialogue around so I don't lose the funny lines. The books were both better for
it, so I'm always grateful.
I also get a lot of support from the people at the
UK Romantic Novelists' Association. What a great bunch of ladies (and gents).
What
great support. What are you currently working on?
I'm currently writing a paranormal romance. No one
has fangs, so maybe it's a cozy paranormal. The hero, Peter, has to choose
between two women – Grace, the heroine, and Sally, the ghost of his comatose
wife. So far, I'm really enjoying writing Sally. She's a complete nut job and
it's fun revealing facets of how crazy she really is to Peter. I love writing a
truly nasty baddie. It's fairly challenging writing a character that only Grace
can see, though. It's so tempting to fall into the usual comedy schtick of
'shut up' 'but I didn't say anything'…
What
is the best piece of advice about writing that you ever got or read? What would
tell aspiring writers today?
The best piece of writing advice – Get on with it.
What would I tell aspiring writers – read, read,
read. Write, write, write. Submit, submit, submit. And don't give up. It takes
years to get published. We were all unpublished wannabes once.
Oh. And Sleep is for Wimps. Ha…haha…Mwahahahaha!
I wish you the greatest success with your books, Rhoda. What a delight to have you as my guest today! Here is Rhoda's contact information:
Links:
My latest novel 'Having a Ball' is available from Uncial Press
or on Amazon
Twitter
@rhodabaxter