Today I welcome a
remarkable author of short stories to my blog. Kathy Coogan's stories will
captivate you with their poignant views into the human condition. Welcome,
Kathy. Please tell us about yourself.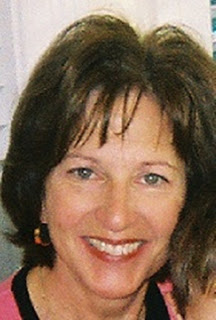 It's
a dream come true to say, first and foremost, that I am the author of
Babies'
Breath,
sub-titled:
Stories
of the Sad, the Sick, the Evil, and
How They Were Born
. But of
course "dream" is the wrong word.
Babies'
Breath
is the result of many hours of imagining, writing and editing a
series of short stories about people in crisis.
When the title story was awarded an international prize for crime
fiction, I knew that I was ready to publish my collection.
Then
began the drama of publication and marketing, a learning curve that sometimes
felt as steep as Mt. Everest. All this was done as I continued my day job as
free-lance writer for businesses and non-profits. With the support of my writing colleagues
(Monday Morning Writers' Group) and family (husband, daughter, and many smart
siblings)
Babies' Breath
was released on February 14, 2012. Happy Valentine's Day, indeed!
So your "overnight
success" took many years, blood, sweat and tears. Tell us about Babies Breath.
Babies'
Breath is a collection of twenty-four contemporary short
stories about the choices people make in the midst of crisis. Anyone who lives in the real world will recognize
the problems faced by my characters: abandonment, alcoholism, anorexia, loss. I
learned that you don't have to experience sadness, sickness and evil to write
about them. On my book cover, I explain
my philosophy of writing about dark topics, "My imagination is a separate part
of me, not the needle on my moral compass."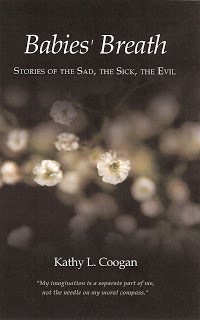 Readers
often ask if these stories are autobiographical. That is the ultimate compliment that a
fiction writer can receive. If the
reader believes the stories to be real, not fiction, then I have told the story
with intimacy and relevance. My
characters don't always make good choices and often their problems are not
resolved. Sometimes, just like in real
life, people stay stuck in the quicksand. Sometimes they are empowered by their
choices.
How would you describe
your writing process?
This
is a great question and one that I have incorporated into my book making it
unique among short story collections. My
stories come to me as I write them, as if the characters are acting out their
experiences in my head. I merely
transcribe them. Then comes the editing process which is done to make the
stories the best writing that I can create.
The writing of the story is as important to me as the story itself.
I
decided to tell my readers how each story came about – How They Were Born – as
my sub-title states. Above each story, I
include a paragraph which describes the "birth" of the story. I have always wondered why a writer writes
the specific story that she writes so I decided to tell my readers exactly what
triggered each individual story. Sometimes
it came from a word prompt, sometimes from a current event, sometimes it came
to me intact as a first sentence. My
readers have enjoyed this innovation and have been generous in their praise.
I love that feature in
your book, and I was so interested to read how each story evolved. Was there a
scene or story that you pondered whether or not to include it?
Yes. My story What Goes Around is based on a
scenario told to me by a friend. She had
been "a wild child" during the Age of Aquarius and always blamed her mother for
her choices. She had discovered as a
rebellious teen that her mother had been pregnant before she was married, so my
friend used this information to act out.
It was only as an adult that she realized the connection and
similarities that she shared with her mother.
I
asked my friend to read the completed story before I published it. I had embellished her nugget of a story into
the relationship between mothers and daughters as they age and the changes that
occur as daughters experience the realities of life that their mothers have
already experienced and survived. The
title suggests it all – What Goes Around (…comes around).
Your award-winning writing
is so powerful. Has writing changed how you read books?
I
have always been a compulsive reader.
Even as a child I preferred to read about roller skating than to
actually roller skate! I'd often read a
marvelous sentence and think, "Oh. I
think I could write a sentence like that."
Now that I have written over fifty short stories, I realize that all
that reading was my real education about writing. Whether I read the classics, crime fiction or
literary fiction, I inhaled the quality of the writing and recognized that the
readability of the story depended on the way the story was written.
I
also realized that there were times as I was reading, lost in the world of the
book, that life went on without me. Like
Stephen King, who was hit by a truck while walking along a country road while
reading a book, I concentrated on a question, "Could bad things happen to a
character who was hypnotized by a book?"
I imagined a situation where something tragic occurred. I wrote the story, The Bibliophile about
just such a scenario.
A great story! What is
the best piece of advice about writing that you ever got?
A
writer-friend changed my writing life by telling me this: "If what you write is
not read, you might as well not write it."
I believe that every writer has an insecurity about publishing the first
time. The first time I submitted an
essay to a newspaper, I was sure it would be rejected. But it was accepted and complimented! Amazing.
I
learned that editors of magazines, newspapers, newsletters are not The Enemy. They need writers. They appreciate writers who can give them
quality material that will be read by their subscribers. But a writer needs to examine her own
conscience. She must assess her writing,
without vanity, acknowledging any flaws.
She must then work to make it as good as it can be. A Writers' Group is an invaluable association
in this process. My writer-friends are
trusted allies who want the best for me and I for them. Trust their input and decide if it applies to
you. You will always benefit from their
guidance. Write on!
That is wonderful
advice! Anything else you'd like readers to know about you?
The most interesting thing that has happened since I wrote this
book is what I call "The Book Club Phenomenon". Book Clubs are reading my
book in droves. And they are inviting me to attend their book clubs to
discuss my book. It turns out that readers love to hear from writers.
So far I have attended six book clubs and have six more scheduled.
One meeting was a combined meeting of twelve book clubs with about one
hundred people in attendance. So informative and humbling! So I
thank all the Book Clubs and say to them, "Have book – Will travel!"
Wow, that is so wonderful. Having read Babies Breath, I can see why Book Clubs are clamoring for you. It's been an honor to have you as a guest on
my blog today, Kathy. I wish you the
best of luck with Babies Breath and
all of your writing ventures.
Contact Kathy at:
Order Babies Breath at: