Today
I welcome my big brother to my blog. What a surprise when we found out that both
of us had published our first books at almost the same time! While I am a pantser, Bob is a plotter and for
good reason. His book reads like a Clancy novel full of time-sensitive details.
But he is also a dreamer who ponders the mysteries of the universe. I am so proud to introduce
you to Robert M. Ford, PhD.
Welcome to my blog, Big Bro. Please tell
us a little about yourself.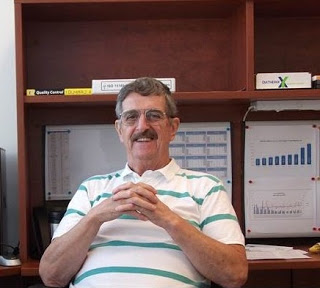 Hi
Sis. Well I don't need to tell you that
I'm a retired soldier who went back to work for the Army as an instructor at
the Missile and Munitions School, here in Huntsville, Alabama. When I retired (again) from the Army as a
civilian, I had already started teaching at Virginia College in Huntsville and
spent ten years teaching business and social sciences before taking a two-year
sabbatical to help my daughter's biotech lab get on their feet as a rapidly
expanding corporation. Then I decided to
retire and write "the great American novel."
My wife and I have enjoyed this great southern weather for thirty-seven
years, now. We have one daughter who is
a biotech scientist, a granddaughter who is a chef, a grandson who is in the
Navy in San Diego, and a great-grandson.
On
a personal (somewhat boring) level, I have a BA in Sociology, an MA in Admin
Science and a PhD in Education. I also
graduated from the Defense Language Institute, the Navy Bomb Disposal School,
the Army Aerial Observer School, the Defense Human Relations Institute, The
Army Staff Management College and the Army Logistics Management College. During my twenty-one years in the Army, I
spent two tours in Panama, one in Germany, one in Korea and three in Viet
Nam. I finally retired as a First
Sergeant.
On
a much more personal level, I am an insatiable reader, especially historical
fiction like Michener and Edward Rutherfurd, and I also enjoy great semi-sci-fi
like Tom Clancy and Clive Cussler. I
also regularly read science journals like Scientific
American and Discover. I used to play the piano and guitar and until
my other hobby of woodworking deprived me of half a thumb and two normally
functioning fingers. I have also built
model sailing ships all my life. Now
that I'm retired, I took up the challenge of writing that novel.
When people ask me what you do, I never
know where to begin. Your resume is a
tome! Talk about the books you've written. What was the first seed of an idea
you had for your book? How did it develop?
I've
had the urge several times to write and even started a couple of books in the
past. With all my travels, I never got
around to completing them. Now they've
been overcome by events.
I
guess what drives me to write is that I'm a ponderer and a wonderer. I often sit and ponder things like why can't we prevent wars from breaking out
or what would combat be like if they
found a way to eliminate missiles?
These are two of the seeds that I incorporated in my first novel. I also wonder about things beyond my grasp
like what the first day in heaven will be like and will the tenth day be the
same. What about the one hundredth the
one millionth and the seven hundred trillionth. I wonder what it would be like
to travel at the speed of light to a world fifty light years away. It would take fifty years so most crewmembers
would die before they got there. Only
their offspring would make it and they wouldn't know what to do with it because
they had spent all their young lives aboard the spaceship. So that's what a ponderer and a wonderer
thinks about. I suspect that a lot of
writers are ponderer and wonderers.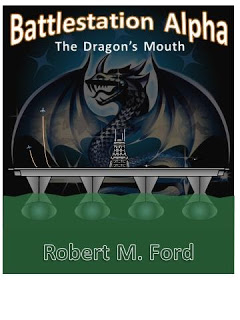 My
book, the first in a trilogy, is titled Battlestation
Alpha: Mouth of the Dragon. Of
course an old warrior like me would write a war story. It's also sci-fi as it takes place in AD
2036. The plot revolves around a giant
United Nations aircraft carrier that also mounts twelve 16-inch guns from
previous battleships (because missiles have been obsoleted with the advent of
pulse radar weapons – an emerging technology as we speak). The story wraps itself around a sneak attack
by China into Taiwan and only Battlestation
Alpha and its battle group is readily available to head off the
attack. The ship is commanded by Captain
Artemis Valentine an old warhorse who recently lost his wife. Towards the conclusion, Art must confront a
career-ending decision to end the war.
(Will he or won't he make the sacrifice?) The romantic side comes to fruition when UN
Air Force Major Maria Ruiz is newly assigned and catches the Captain's
eye. I also incorporate a Chinese tunnel
engineer, two Taiwanese farmers for a humorous thread, a blustering Fleet
Admiral, three ambitious Chinese senior officers and several other characters
to complete the saga salad.
I loved the characters in Battlestation
Alpha: Mouth of the Dragon—especially Major Ruiz. Okay, and the two Taiwanese farmers. How did you
celebrate the publication of your first book (please keep this rated PG).
I'm
glad you said to keep this PG rated. My
first novel met with almost total sales failure. Even after expensive advertising in military
newspapers. Can you imagine advertising
a tale about a giant aircraft carrier in the Norfolk Flagship – where they build the carriers – and no-one read it? Well, so much for my advertising
naïveté. Perhaps I'll learn some lessons
from my Sister.
How would you describe your writing
process? Do you outline? Let the muse lead you? Or something else?
I
definitely use an outline. You will note
in my book that I date and time each chapter.
I'm really an organized person and used Excel to map out events. My original idea started while I was building
a model of an aircraft carrier and wondered just how big a carrier could be. So I guess I was musing, after all. I began to design the Battlestation in my
head and finally drew it using PowerPoint.
I included the drawings if anyone is curious. Once the ship became a reality on paper, I
needed to get it into a good fight and the idea of a war between the two Chinas
popped into my head.
What is your research process like? Do
you enjoy it?
Thank
you for Google, Google maps and other search devices. I have always been a map fiend anyway so I
really enjoy researching topographic maps and geologic charts. I have an extensive library that provides a
lot of input, too. Because I've read a
lot about histories and the sea, I already have a pretty good background in those
areas.
How do you handle spicy sex scenes and
relatives? Are your family and friends supportive or do they choose not to read
your books because of its sensual nature?
My
spicy sexy scenes are minimal at best and probably not very spicy at all. I get one or two in per book – much like
Clancy and Cussler. I'll leave that
venue up to you – and after reading Love's
Destiny I have to say you do a great job in that area as well as
storytelling and history.
Thank you! That is high praise coming
from you. What do you keep in mind as you write? An overarching question? A
theme? The last line of the book?
I
wrote this first novel, and as I write the second and third, I keep focusing on
the reality of the story and whether something could really be solved or
fixed. As an example, could an Armed
United Nations really prevent wars by jumping in between combatants with an
overwhelming force? I like to think they
could and that's the direction my novels take.
Incidentally, they may not be all that successful in the second novel
which takes place in (you guessed it) the Middle East.
When you get the edits back from your
editor, how do you work through that process?
I'm
lucky in that respect because I have over twenty years of experience in editing
technical manuals and training documents.
When I submitted my book for professional editing they only found three
errors and I couldn't agree with one of them.
What kind of response do you get when
you tell people you are an author?
They
say "Wow" and "Gee whiz" and stuff like that and ask where they can download
the book and they never do and the next time they see me they ask where they
can download the book because they forgot and again they never do and I get a
big laugh for myself and isn't this paragraph an editor's nightmare?
I love your sense of humor! Tell us
about the funniest/craziest/most interesting thing that has happened to you as
a writer.
See
paragraph above.
What is the best piece of advice about
writing that you ever got or read? What would tell aspiring writers today?
My
personal advice for aspiring writers is that they should enjoy their stories
because that may be all they get out of them.
Don't try to make a career out of writing until you have made enough
money off your first efforts to survive on.
In other words, don't become the proverbial starving artist – keep your
day job.
Is there anything else you would like readers
to know about you?
I
love and miss New York hot dogs. When I
become rich I'm going to buy a factory that makes them.
Especially
Zwiegles White Hots! We always load up
on those when we visit Rochester. Thanks so much for being my guest today. It is such a joy to share my love of writing with my big brother.
Dr. Ford's book is available at:
Barnes & Noble