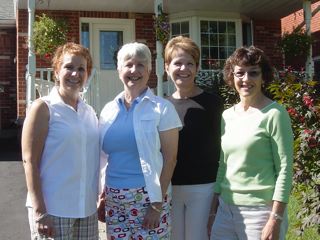 The "Core Four"
Today I am in Stratford, Ontario, Canada enjoying
the
Stratford Shakespeare Festival
. This is a tradition I began with three
teacher friends, H.J., Sue and Sarah, in 1997. In 1998, Carol joined us for
ten years. Throughout the years, we have been accompanied by other teachers off
and on, and finally, by my daughter Kate. This is such stuff as memories are
made on.
Over the years the "core four" of us has discovered
favorite restaurants, merchants, gardens and actors. We have created
traditions: first stop—the wine store for our pre-show cocktails. Other
traditions include dinner at the tandoori restaurant, a favorite Italian
restaurant (now, sadly, closed), a jewelry store and the Wednesday afternoon
art fair in the park. We have toured the costume warehouse, stayed for post-performance
"talk-backs", and enjoyed the Festival Theatre's gardens.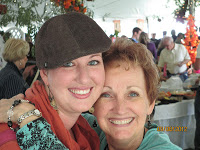 Kate and me at a book signing
With the addition of my daughter Kate, we have many
added benefits. She is a professional actress with the
Pigeon Creek ShakespeareCompany
, so she is our dramaturge providing insights and history for the
Shakespearean plays we see. Because she has played many of the roles, Kate can
describe motivations and nuances we might not discover on our own. We have also
decided that once we are all too feeble to navigate the four hour trip, she
will become our driver, too.
I have been the organizer of the group since its
inception, and I love the role of "cruise director". I get the catalog of the next
year's shows in November, copy and send out the August calendar, and everyone
votes for their top three choices. With a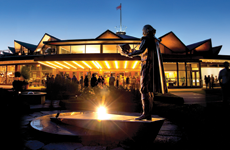 Festival Theatre
weighted ranking system, I calculate
the overall top three choices, order the tickets before Christmas and book the
bed and breakfast. We have stayed at several B&Bs; our first one in
Shakespeare, Ontario—about 20 miles east of Stratford—was a gem. The owners of
the centennial farm, Cal and Darlene, became fast friends, and our annual visit
was like a family reunion where photo albums came out and everyone caught up on
children and grandchildren. Our current B&B is the Crown House centrally
located in Stratford which is convenient for shopping, access to theatres, and
a short drive for after-theatre night-caps.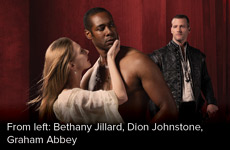 We have favorite memories like Juan Chioran as Don Quixote
in
Man of LaMancha
, Seana McKenna in
Medea
, and the time we were in the front
row in the Tom Patterson Theatre and an actor came out of his tent and dropped
his drawers. The theatre was silent except for my very audible gasp. I still
get teased about that one. But the meaning of this annual trip is more than all
of that. Over the years, we have shared
our joys and frustrations of teaching, of children's engagements, weddings,
heartbreaks, the births of first (and subsequent) grandchildren, the fear and
anticipation of retirement which all of the "core four" are enjoying, and other
life milestones. Our annual three day trip binds us in ways that is different
from other friendships; in a way it is our own measuring of our life's
accomplishments through the eyes of trusted friends. Where am I compared to last year? Five years
ago? Ten? With the lens of friendship, our measuring is always kind.
This is sacred time, treasured time. We have traditional
pictures of us lined up on the stairs at Cal and Darlene's or gathered on a
porch or deck. Looking at them, the years have treated us well.
I hope you have annual events that live in your
heart through memories, too. I'd love to hear about them. I may not be able to respond to Comments until I return on Friday 🙂