Today I welcome Andrea Cooper to my
blog. Andrea's imagination should be
bottled and marketed for any writer who runs out of ideas! I'm so pleased to
have you as a guest today, Andrea. Please tell us a little about yourself.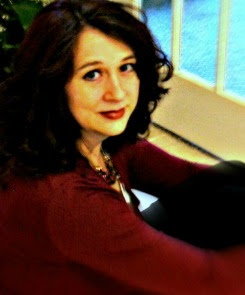 Hi,
thank you for having me. I'm a wife and mom to three kids (two boys and a
girl). I've been a stay-at-home mom for three years. My four-year-old and
nine-month-old keep me busier than when I was working full time. I've always
loved stories and storytelling. When I was seven, I remember the kids in the
neighborhood coming over and asking me what we were going to play. I set the
characters and the plot. I wrote poetry as a teenager until my mid-twenties,
then a few years later I shifted to writing down all the characters and stories
I could no longer act out with friends to writing novels.
Sounds like you've always had a great
imagination. Talk about the books you've written. What were the first seeds of ideas
you had for your books? How did they develop?
I've
written eight complete novels, but only two are published so far, and five
novels are in various stages of completion.
The Garnet Dagger was my first
published novel. I got the idea after watching Underworld in the movie theater. I loved everything about that
movie. It made me think of what would happen if a vampire bit another creature
besides a werewolf? Like a fae or Elvin? Answering that question I wrote The Garnet Dagger trilogy.
Viking Fire is my newest
release. This is a historical romance that came from learning that some
historians believe the name McLaughlin is derived from Lochlann which is the
Gaelic word for a Viking who married an Irish princess. So I brainstormed about
how the woman would feel to be forced to marry this Viking? It would be
marrying her enemy. I changed the princess to a Laird's daughter and am pleased
with Bram and Kaireen's story.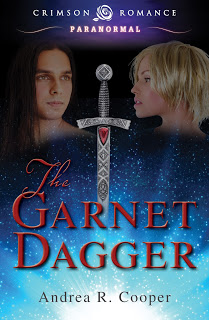 How do you handle spicy sex scenes and
relatives? Are your family and friends supportive or do they choose not to read
your books because of their sensual nature?
Some
members of my family say my novels are too carnal and violent. By today's
standards, my sex scenes are pretty tame. However, I should spice them—then
these family members wouldn't read my stories and I wouldn't have to hear them
complain.
What do you keep in mind as you write?
An overarching question? A theme? The last line of the book?
Usually
it's the theme of the book that I keep in mind. However, if I'm writing an
intense fight scene, sometimes I play music that reflects the tone and rhythm
that I want incorporated into the book.
Is there an aspect of writing that you
favor over others, e.g. dialogue, exposition, description of a scene, setting,
or character, etc.? Is there one that is more difficult for you?
I
love dialogue. When I first started writing, my dialogue was stilted and in complete
sentences. I read a lot of writing books and really good fiction books and it
clicked finally. Now I think dialogue is one of my strengths. Description of a
scene has always been easy for me—probably because I wrote poetry when I was fourteen
until my mid-twenties. I also love my characters. They inspire me and often
take over the story. For example, in my latest story Viking Fire, Elva was supposed to be just a handmaid. When she
reveals her nature to Kaireen, I'm learning about it for the first time too,
despite subtle hints she gave. It was not planned.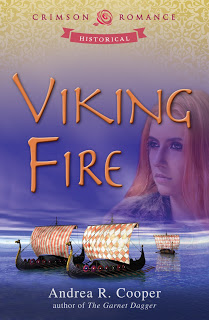 Spelling
is my weakness. Thank goodness for spellcheck, NaturalReader, and my wonderful
editors. In elementary school, my first grade teacher told my mother that I had
a reading disability and would never learn to read. Back then, I guess they
didn't have state funding so I was never tested. After months of working with
me, my mom and my sister taught me to read. In college, I thought I would see
if perhaps I was dyslexic (since letters did like to flip around on me
occasionally). The test said there was something there, but I had adapted and
overcome it enough that it couldn't detect it. What they did find though was
that I had a spelling disability. One day I can spell chandelier without a
problem, then later cannot remember how to spell doubt. I've gotten much better
though since I started writing. I'm also not good at commas. I know where to
put them in lists, etc. But when it comes to the fancy stylistic stuff, I'm
lost. I guess my grammar teacher did a number on me about comma splices, cause
I'm still scared of them to this day. J
I'm an English teacher, and I am still unsure
of comma use sometimes. It's the dirty
little secret that grammarians hold close to their vests. LOL. Tell us about
the funniest/craziest/most interesting thing that has happened to you as a
writer.
In
my Zumba class, one of the ladies said her fiancée in the Navy stationed in
Japan was reading my debut novel. I doubted she was correct. The next weekend
she asked me again the title of mine and said yes, that's the one he's reading.
Ironically, another Navy guy read it first and recommended it to him. It just
amazes me that two people on the other side of the world read my book.
That is awesome, Andrea! Eight men
have read and liked my historical romances and I consider that such a
compliment! Where do you get support as a writer? Do you work with a conference
partner, writer's group or other organization?
I
recently joined an online writers' critique group and I love it. Everyone is so
wonderful and helpful. I'm also a member of Crimson Romance's Author Facebook
page—which not only has a fabulous group of writers, but we all support one
another.
I love our Crimson Romance community!
What amazing women! What are you currently working on?
I'm
currently working on revisions of the second book in The Garnet Dagger Trilogy…tentatively called Son of Dragons. I also have several WIPs about Vikings, female
ninjas during 16th Century Japan, and a female vampire who wakes up
with amnesia.
They all sound great! How do you balance
writing, marketing, promoting, bookkeeping, family and work?
Can
I plead the fifth on this one? Lolz. I'm still trying to figure out how to
balance everything. Sometimes I feel like I run around with the kids all day
and online, but get nothing done. The good side of this is when I do have time
to write, it's precious to me, and I don't have to worry about writers' block
because I've been trying to fit in time to write for days.
Do you keep a notebook in your pocket,
briefcase, purse or on your bedside table to write down ideas that come to you
right away so you don't forget them? Have any of these ideas developed into a
successful piece?
I
keep a file on my computer and have a USB as a backup. However, I didn't always
write down my ideas. Once I had a dream that I thought would make an
interesting story, but my husband said it had already been done by a Stephen
King book I'd never heard of. Now, I cannot remember that dream or idea—I wish
I had written it down, just to have a record of it. Who knows, maybe I could
have put a twist on it and made it different. After I couldn't remember that
story idea, I started writing them down.
Well, you never seem at a loss for great
ideas, Andrea. I wish you great success
with your novels.
Visit Andrea at:
Website: www.andreaRcooper.com
Twitter @andreaRcooper
Buy Andrea's books at: