Today
I welcome fellow Crimson Romance author Denyse Cohen to my blog. She has
created an intriguing world where soulmates are destined to find each other. Welcome,
Denyse, please tell us a little about yourself.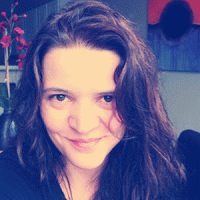 I'm
originally from Brazil and I came to the U.S thirteen years ago to learn
English. I have a bachelor's degree in Studio Arts from CalState-LA and have
worked as a graphic designer and interpreter.
When I'm not writing I'm creating mixed-media art or just hanging out
with my husband and son.
Talk
about the books you've written. What was the first seed of an idea you had for
your books? How did they develop?
The idea for
Witch's Soulmate
and
Witch's
Revenge
, books 1 and 2 of
The Living
Energy Trilogy,
was a stroke of serendipity.
I was driving early in the
morning in South Carolina. At the time, I had a PT Cruiser convertible and it
was a lovely late spring morning to have the top down. But then the wind picked
up as I drove this narrow countryside street. It was amazing to be driving, as
if I was racing, the wind and the trees on the side of the road swaying side to
side like they were cheering for me. I felt truly connected to nature and, in a
certain way, I believe there's this energy on the planet that flows among all
its living things, and within us, connecting everything in the planet and
making us part of the divine.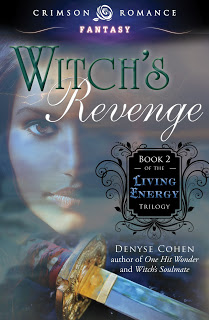 The witches from
The Living Energy Trilogy
are women who can feel, see, and harness
this energy. They use it to protect and heal the planet from the damages we
inflict upon it, namely deforestation, oil spills, pollution.
And when they find a human whose energy is a
match for theirs, a powerful attraction develops
Jade is a young witch scarred by the murder
of her parents and determined to evade her soulmate and never fall in love.
Unfortunately, falling in love is not up to her, or Peter—the human whose
life-energy is identical to hers. The soulmate is the missing key to unlock the
witch's power and Arrow, a powerful organization whose only intent is to kill
the soulmates and keep the witches in check, is ready to do whatever it takes
to destroy their connection.
I
absolutely believe in that comic energy! I'm always interested in how authors
develop their stories. How would you describe your writing process? Do you
outline? Let the muse lead you? Or something else?
Oh, Gosh. I absolutely abhor outlining for
my creative writing. It just doesn't work for me. Writing a story for me is
like a stampede of wild horses.
Great
simile! I'm a pantser, too, but I never thought of my process as wild horses. I
love that! How has writing this book changed you?
This trilogy has opened me again to the
possibilities of fantasy, and how much fun it can be.
How
do you handle major rewrites?
With a cocktail.
I
like your style, Denyse! How do you handle spicy sex scenes and relatives? Are
your family and friends supportive or do they choose not to read your books
because of its sensual nature?
None of my family or friends has
made any comments regarding the sex scenes in my books. I guess that's their
way of being supportive.
Since I don't outline I just
have the current scene in my mind as I'm writing it. Of course, the entire
story has already played out in my head so I kind of know the general direction
I'm going. But the surprises that end up on the page because I work this way
are so worth it.
I
agree. I love reading aloud what I've written the day before and stop thinking,
"When did I write this?" Has writing changed how you read books now?
Writing has changed my entire
life!
So
true! Do you keep a notebook in your pocket, briefcase, purse or on your bedside
table to write down ideas that come to you right away so you don't forget them?
Have any of these ideas developed into a successful piece?
I record voice memos with my
iPhone and some of those have become chapters in my books.
Gotta
love technology. Thanks so much for being my guest today, Denyse. I wish you
great success with your writing.
Contact
Denyse at www.denysecohen.com
Buy
Denyse's books at: