Okay, in the spirit of
transparency, I didn't actually write the words "The End". I did however write
the end of The Cavanaugh House. My
first mystery. Notice I said, "first" because I already have a second in mind.
But that is for a different post.
When I finished the
last scene of The Cavanaugh House, it
felt wonderful, but I knew I wasn't
finished writing the book. Since I'm a Pantser, I had not plotted out the
entire book; I allowed the story to unfold before me organically like a plant
growing. Oh, I can hear all of my Plotter friends groaning, but really, it
works for me. Now I have to go back and revise and edit so my plot is cohesive
and logical. For example, the way I described the entry hall in Wyndham Manor
at the beginning of the book was quite different from its description in one of
the last chapters. I had to reread my initial description and correct my second
one. (I think I was channeling Love's
Spirit in the latter description.)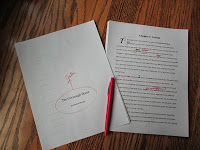 I read an article
suggesting that my first read through should be just that—a read through with
no editing. Yikes! I'm a former English teacher. That red pen just showed up in
my hand. I put it back on my desk, returned to the sunny spot by my kitchen
window to simply read, and there was the pen, right on the table like something
out of a Stephen King thriller. I relinquished the fight, picked up the pen and
happily revised as I read. Write what you know; do what you know.
So even though writing "The
End" doesn't mean you're finished, there is a deep satisfaction in realizing
that at least in rough draft form, you've told your story.
How do you feel when
you write "The End"?