Today
I welcome poet, author and filmmaker Jeff Vande Zande. Jeff is the recipient of
the 2013 Michigan Notable Book Award. Jeff, please tell us a little about
yourself.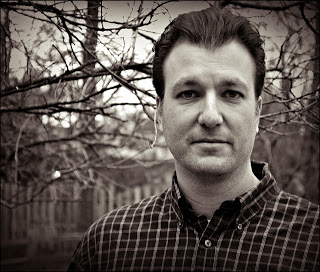 Well to begin, I was born in Marquette,
MI in the Upper Peninsula. My interest in writing most likely grew from the
fact that my father was also a writer. I distinctly remember that we had to be
quiet on Saturday mornings so my father could write. I recall watching Saturday
morning cartoons, which were sound-tracked by the muted clacking of my father
at work on his type-writer. Up until about 20, I rebelled against the idea of
also being a writer. Then, while at Northern Michigan University, I took a
poetry writing course, and I was hooked. Poetry eventually lead to me writing
fiction so, despite my rebellion, this apple didn't fall too far from the tree.
After graduate school at Eastern
Illinois University, where I earned an MA in English Literature, I came back to
Michigan…but it was the Lower Peninsula this time. Like my father, I ended up
in academia. After some various part-time teaching jobs, I ended up teaching
full-time at Delta College where I have been for the last 13 years. I teach a
wide variety of courses at Delta, including Fiction Writing, Advanced Creative
Writing, and Screenwriting. I also coordinate Delta's Advanced Certificate in
Digital Film Production. Over the past few years, I've been writing short film
scripts and producing them with director Jim Gleason.
A short film that we made last year was
based on a chapter from my novel American
Poet (a 2013 Michigan Notable Book Award recipient). In the film, a young
man is trying to get a job at a bank, but his only education happens to be a
Bachelors of Fine Arts in Poetry. You can see the film (about ten minutes long)
here:
In my non-work life, I am a husband,
father, and fly fisherman.
I
loved this video, and the irony of you as the banker. As you mentioned, it is based on your writing.
Talk about the books you've written. What were the first seeds of ideas for
your books? How did they develop?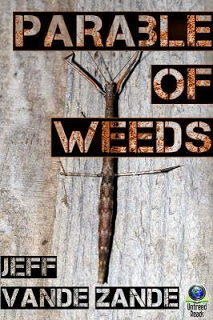 My most recent novella is entitled Parable of Weeds, and it is a different
kind of book for me in several ways. To begin, Parable of Weeds is my first book to ever be published exclusively
as an e-book. The publisher, Untreed Reads, is based in California, and I
really enjoy working with them. They make the book available in every possible
e-format, which includes having the book sent to one's computer as a PDF file
(so, you don't have to have an e-reader to read it). I also like that they sell
the book for the very reasonable price of $1.99. The e-format challenges me,
however, because I don't really know how to market the book as well as I do a
print book. For print, I do readings and book signings and meet with book
clubs. I can bring my books with me, and that's how I make most of my sales. I
haven't figured out how to do that with an e-book. I'm trying, but I'm really
out of my element with e-books. I've been trying to get the book reviewed, but
I even run into some book review sites that won't take e-books. On the other
hand, I run into sites that want e-books to review exclusively. Weird.
Parable
of Weeds is also different for me because it is a departure
from my typical genre. Usually, I write literary fiction. Parable of Weeds is dystopian/futuristic/speculative. It is set in
a not-too-distant future where one can have a screen embedded in their palm
(like an I-phone screen) and, if one has enough money, one can live in an
exclusive utopian neighborhood. The story follows Ian Baptiste, a widower and
father. He has an awakening one night when he goes down to the wall that
encloses his neighborhood and sees something through a crack that irreversibly
changes his life.
I teach Raymond Bradbury's Fahrenheit 451 every semester, so I
suppose I've been influenced by that. I'm also a fan of 1984, Brave New World,
and We (which was written by Russian
Yevgeny Zamyatin and might be the first futuristic novel ever to be
written). I had written two short
stories that were set in the future, and I like the worlds that I had created.
In Parable of Weeds, I combine
elements of both of those worlds. I imagined it being a novel, but when I was
finished it was only about 80 pages long, which may be a very good length for a
speculative work.
You
juggle many writing projects, plus your teaching career. How do you balance
writing, marketing, promoting, bookkeeping, family and work?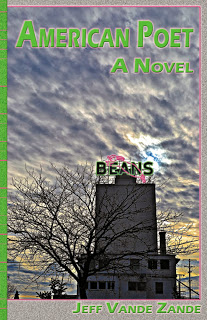 From a publisher's point-of-view, I
probably don't balance them well…meaning that I don't spend enough time
marketing my work. Honestly, I really don't like marketing or promoting. Marketing
and promoting are the two things that make writers very tiresome. Writers talk
about themselves and their writing/books far too much. I understand why they
have to do it, but I really don't want to. I have tried marketing here and
there, and it is time consuming and dreadful. If I took the hours that I spent
marketing and instead worked at a McDonalds, I would have much more money to
show for my effort.
Obviously that means bookkeeping is very
easy. I just need to enter a $0 in the ledger each month for dollars earned
from writing. Very easy to keep the books kept. Okay, it isn't that bleak, but
it certainly isn't very good. Of course, someone could say, "well, just get on
that horse and market yourself more." But, I hate that horse. Its saddle is
full of burs, and I got mites the last time I rode it.
If I ever get significant success from
my writing, it won't have happened from any marketing effort that I made.
The two things that come first are
family and work. I can honestly say that my family has never challenged how
much time I give to my writing. They really don't have any complaints. I do
write quite a bit, but it's mainly at night. I seldom let writing get in the
way of family or work. After all, my work at Delta College is what gives me a
house, cars, food, etc… the little things in life that I like.
Writing really hasn't given me much. I'm
not even sure how much I like doing it. When it's going well, I suppose I enjoy
it, but it's seldom going well. It's usually a slog that goes slowly while it's
happening and takes many rewrites to get close to anything readable. It's
really a lot of work…nothing glamorous about it. There's nothing fun about
sitting and watching myself write bad sentences.
If I could quit, I would. But, I can't.
For whatever reason, I find myself drifting downstairs to the keyboard to peck
out stories. I wouldn't call myself driven or passionate. I think I'm just kind
of stuck with writing as something that I do. It's certainly not the money or
joy that's keeping me writing.
Man, I really sound like a curmudgeon,
but I just reread what I wrote, and it sounds pretty darn true to me. I'm not
deleting it.
Don't
delete it—it's your truth. But something keeps calling you back to writing. Tell
us about the funniest/craziest/most interesting thing that has happened to you
as a writer.
A few years back, I had something very
interesting happen to me as a writer…maybe one of the best things that ever
happened to me. I was checking the stats on my website, and I noticed that I'd
had over 100 visitors in one morning. Interestingly, they were all from Canada.
I noticed that they were Googling "Jeff Vande Zande The Neighborhood Division".
The "Neighborhood Division" is a short story of mine that was published in a
Canadian magazine. In fact, it's one of the stories that also helped to inspire
the world of Parable of Weeds.
Well, the Canadian visits to my site
kept coming, and all of them were looking for my story. They were Googling
"meaning of The Neighborhood Division" or "summary of The Neighborhood
Division." I didn't know what to make of it, but I knew that something
significant was happening. I was so perplexed, that I eventually put an entry
on my website that said, "If you are visiting my site from Canada, please tell
me why." I also left my email. Eventually, a woman wrote to me and told me that
my story was on a high school exit exam. As it turns out, the story was put on
an English Proficiency Exam in Montreal. Bi-lingual students had to read the
story and write a response to it in English. Teachers were trying to get a
basic meaning of my story to help them grade the exam.
What followed was a series of emails
between me and secretaries at the Ministry of Education in Montreal. The emails
took place over four or five days. It dawned on me that they couldn't just use
my story without my permission. In fact, they hadn't even asked the permission
of the magazine. They just did it. It was done. And, as it turns out, I was
owed some money. In fact, after a phone call, I learned that I was to be paid
for every time that the story appeared on an exam.
I remember telling my wife, "Wow, this
could be like $500.00." I was pretty excited. That would have been the most
money I'd ever received from one event involving my writing.
I can still remember opening the email
from the secretary telling me that the Ministry of Education would be sending
me a check for $4,700.00.
We ended up remodeling our kitchen with
that money.
That was a great, great day in my
writing career. In fact, they've all been downhill since that day. Sure, the
Michigan Notable Book Award was great…but I'd trade it in to have another story
of mine on a Canadian exam!
Right.
I think you're having some fun here. What are you currently working on?
Right now I am working on another novel.
It is tentatively entitled Michigan,
and it is literary fiction. I'm on page 125. I'm working on a part of the book
that isn't going very well, so at the moment, I don't like the book. I know
that there is some decent stuff in there, but this slow section has me down.
It's really bothering me because I thought that this part would be a really fun
part of the book to write, but it isn't. It's a slog.
I'm experimenting with the book…trying
to write it so it almost reads like a screenplay, which means we never get into
the character's heads to know what they're thinking.
It's about a grandson who is a
recovering Oxycontin addict. He takes a road trip in a GTO with his grandfather
who wants to reconcile with his two remaining sons.
Man, I almost fell asleep just reading
that summary. That's what worries me about the book. I don't know if it's any
good. Of course, I didn't think American
Poet was any good, and that won two awards… so maybe my best books are the
ones that leave me doubting.
I'm also getting ready to embark on
another film project with Jim Gleason. I just finished a new short film
screenplay. We are gearing up to break the script down and to get ready to
shoot it over the next 6 or 7 months. I do very much enjoy the collaborative
aspect of making short films. It's much less lonely than writing fiction.
I
look forward to your next film, and I wish you great success with your writing.
Thanks for being my guest today, Jeff.
Jeff
Vande Zande teaches English at Delta College and writes poetry, fiction, and
screenplays. His books of fiction include
Emergency
Stopping and Other Stories
(Bottom Dog Press), the novel
Into the Desperate Country
(March Street
Press), the novel
Landscape with
Fragmented Figures
(Bottom Dog Press) and
Threatened Species and Other Stories
(Whistling Shade Press). His
poetry has also been collected into a book, and one of his poems was selected
by Ted Kooser to appear in Kooser's syndicated newspaper column,
American Life in Poetry
. His most recent
book is a novel entitled
American Poet
,
which won the Stuart and Vernice Gross Award for Excellence in Writing by a Michigan Author and a Michigan Notable
Book Award from the Library of Michigan. He maintains a website at
www.jeffvandezande.com
.
Buy Jeff's
books at: