Today I welcome
fellow historical romance writer Becky Lower to my blog. Like me, Becky loves
to imagine life and love in times gone by in America. Welcome, Becky!
Thanks for inviting me here today, Elizabeth! I love
visiting with fellow historical authors. Your questions were fun to answer.
Talk about the
books you've written. What were the first seeds of ideas you had for your books?
How did they develop?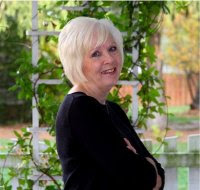 I have loved Julia Quinn's books on the Bridgertons, and devoured every one
of them. I heard her talk at an Romance Writers of America (RWA) conference a
few years ago and she said after the eighth book was done, she needed a break
from that rowdy family. I'm so glad she's now going back and revisiting the
series, writing epilogues and books about her secondary characters. Her books
were the inspiration for my Cotillion Ball Series. I love reading Regency
romances, with all the pretty dresses and big Cotillion balls and the high
season, but I know nothing about the British. My heart is with American history.
So, my light bulb moment came when I was watching a young figure skater, whose
family was wealthy enough to pay for private lessons and lovely costumes. The
announcers mentioned she had just participated in her Cotillion a week prior,
and was introduced to society. I remembered that some of my friends when I was
in high school went through the Cotillion process, too, so I called up everyone
I could think of to get their recollections of the event. I started digging
into the background of the Cotillion's introduction into America, and found my
setting—1854 in New York. Then, I came up with the family. I wanted their names
to connect somehow, like Julia did with naming the Bridgerton children in
alphabetical order—Anthony through Hyacinth. I decided my family's children
would all be named for herbs and spices. It was a lot of fun coming up with
their names. I love finding just the right name for my characters, and spend a
lot of time thinking about it.
Your idea of
naming characters for herbs and spices is awesome. I love discovering my
characters names, too. How do your characters influence your writing? Do you
have disagreements with them?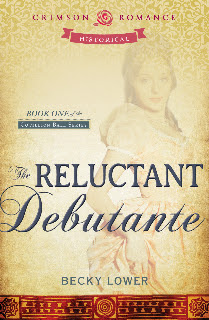 I don't necessarily have a disagreement with
them, but I write a very loose and basic outline before I start each story,
following Blake Snyder's Beat Sheet. I pencil in the pivotal scenes and when I
think they need to appear. Then, I put the outline away and don't look at it
while I'm writing the story. I let my characters lead the way. It's always fun
after I'm done to go back to the outline and see how far my characters have
veered off course.
So you're a
mix of plotter and pantser. What is your research process like? Do you enjoy
it?
I love doing research. I think, if you write about
history, you have to love to do research. Otherwise, you're
in the wrong field.
I usually begin with a listing of the major events that took place in the year
when my story happens. I'm fortunate with the Cotillion series that I'm pretty
much locked into a decade, so I check events that happened during the
particular year I'm writing about and see was newsworthy—big and small events.
Then, I think about how those incidents, as insignificant as they might have
been at the time, could affect a person who was living through it. That's where
I start—one event, one little tidbit from a decade that was fairly unexplored
in historical romance. I'm fortunate to have great resources for clothing from
the past—from the Kent State Fashion Museum to my own collection of Godey
fashion plates (I knew they'd come in handy someday!) I adore writing about the
gowns and the beadwork, ruching, lace dripping from the dresses, etc. I get
really attached to some of them. Jasmine's peach engagement dress was an
all-time favorite.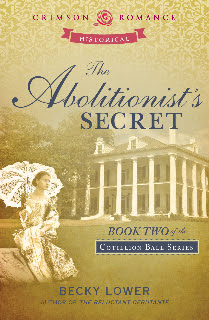 Finding the perfect resources is
like being a kid in a candy store! What do you keep in mind as you write? An
overarching question? A theme? The last line of the book?
I usually have the last line, or at least a line from
the last scene in mind when I begin the story. So the whole time I'm writing
it, it's with that end line in mind. It's worked well for me so far.
Has writing
changed how you read books now?
Absolutely. I have my list of the Seven Deadly Words
to avoid—felt, saw, watched, knew, like, heard and looked. These are words I
tend to overuse, and they tell more than show, so I'm super careful about using
them. When I'm reading a book and I start to see an overuse of some of my words
to avoid, the editor in me starts picking apart the book from the standpoint of
plot development, word usage, typos, etc. Conversely, if a book works for me, I
try to figure out exactly what it was about the book that made it so good.
Stephen King says that in order to be a good writer, you have to read a lot,
and I couldn't agree more.
I love your
Seven Deadly Words alert, and I've made up a list of my own. Tell us about the
funniest/craziest/most interesting thing that has happened to you as a writer.
Shortly after I decided to get serious about writing
romance, I went to a family reunion, where everyone knew my name, since they
were all family. One of my aunts asked me what I was doing these days,
and when I told her I was writing romances, she said, "Ooh, are you Janet
Evanovich?" I thought it was pretty funny.
Family stories
are often the best. Speaking of family and support, do you work with a
conference partner, writer's group or other organization? Where do you get
support?
I'm blessed to have several writers' groups that I
belong to. Oberlin, OH is a college town with an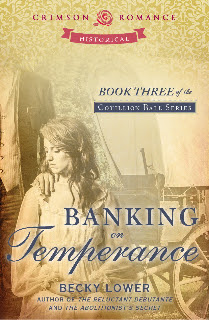 impressive library. There is a
writers' group—a rather eclectic bunch—who meet in the library every Wednesday.
The types of writing are as varied as the participants. There's a woman who
reads her on-line rants, another who gets paid to translate books from French
and Spanish into English, so she reads her translations. There's a writer of Tolkien-esqe
fantasies, romance writers, poets, paranormal writers, you name it. The fiction
writers in the group have formed a splinter group that meets twice a month. And
then I have two friends from my local RWA chapter who I lean on heavily. One
likes to have me describe the big picture and tells me where the plot holes are
and what should come next, the other likes to tackle my pages with her red pen.
Both of these friends won Golden Hearts this year, so you can't get much better
critique partners than that.
You are truly
blessed! How do you balance writing, marketing, promoting, bookkeeping, family
and work?
This, for me, has been the biggest challenge.
Pre-pubbed authors don't realize until they sell that first book that this is
as much a business as it is a creative endeavor. Fortunately, I have a
background in marketing, so I'm a bit more comfortable with putting myself out
into the public than some, but it can be all-consuming. I am my most creative
in the morning, so I usually spend the morning working on my latest WIP.
Afternoons are spent on marketing and promotion. I live alone, with just a
little dog for company, and she's a puppy mill rescue dog who only wants to be
left alone. She'll bark when I forget to let her out to go potty, but other
than that, she just wants to chill. I do some work outside of the home, but
it's a part-time job and is very flexible. I get there when I can fit it in,
and, as long as I do the job, it's fine.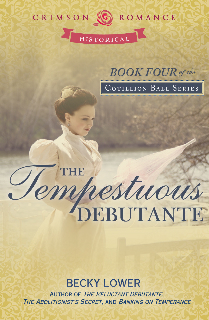 What a delight
to hear about your process and your journey. I wish you all the best with your
books, Becky. Thanks for being a guest on my blog today.
The Tempestuous
Debutante
, Book Four in the Cotillion Series, releases September 9, and
will be available through Amazon and other e-book outlets. For more information
on Becky's books, visit her website at
www.beckylowerauthor.com
Buy Becky's books at: