Today
I welcome my friend Fred Robel to my blog. Fred is an author, poet, and blogger
whose eclectic worldview makes for very interesting reading.
Welcome, Fred. Please tell us a little about yourself.
I am a professional aircraft mechanic and inspector, plying my craft in Northern
Michigan near where I grew up. My
writing is strictly a hobby until such a time as it actually pays the bills. Between
job and hobby, wife and three children, three dogs, two rabbits, and a one acre
homestead near Lake Huron, my life is full of joy and activity.
Talk
about the books you have written. What was the first seed of an idea you had
for your book? How did it develop?
I have put together nine books so far, with several more in work. They have all come about in a similar way:
based upon the things I write for what I call my "Dailies". Every day (almost),
I sit down and write something for my Fritz365 blog.
This might turn out to be a stand-alone piece
of poetry, or vignette. Or, it could
turn into a serialized fiction story, with multiple installments.
My most recent novelette got its seed from one of my favorite online comic
writers, and it grew into a fun multi-part serial fiction project for me. That story is called Cage Fighting Nuns
& T-34 Tanks: An Epic Love Story. I guarantee you, the story doesn't go, or end,
the way you expect.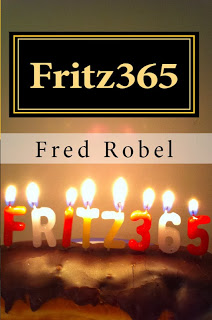 The first serial fiction story I put together is still one of my favorites. It is aviation centric, which is an often
recurring theme with me. Kisses Blood
Kerosene & Silk is about an odd, sick man in the desert, his dog, and a
jet airplane. The inspiration for this
came about during group discussion years ago with coworkers concerning the
feasibility of strapping rocket motors to different types of aircraft.
For my inspirations, I depend upon what I take in. Whether that is music, articles online, or
things I see and think about on my long drive to and from work every day. Though most of the time, I will sit down to
write the first lines to something with only a general topic and a very vague
idea of where I'd like it to go.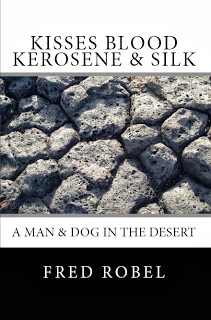 In
all of your writing has there been a scene that was more difficult than others?
One that you pondered whether or not to include it?
I like leaving a lot of things up to the reader's imagination. For example, I will focus on a very specific,
small area of a given scene for a detailed description allowing the reader to
place this very specific five square feet of scenery in the general environment
that they conjure up. I also don't like
finishing a reader's thoughts for them.
With those things in mind, I waffled for a week or two about whether to write
and attach the last chapter of Kisses Blood Kerosene & Silk as it gives
some finality to the ultimate fate of the protagonist. Not that what happened couldn't have been
predicted; I just wasn't in love with putting such a final period on that
sentence. In the end I did though, and
it felt good to know his ultimate destination.
What
is your research process like? Do you enjoy it?
My research process tends to be spur of the moment and ongoing. Due to the way I get most of my inspiration,
I often won't know I need to know something until I start typing the sentence
where I need it. Then I think to myself,
"Uh oh, these flying oak trees migrate seasonally! I need to know about migration
patterns!" And off to Wikipedia, or
elsewhere, I will go.
It is a fun process, which I have thankfully learned to restrict to the subject
matter at hand. As we all know how the
internet can be an endless branching hydra of distraction.
What
books have influenced you as a writer?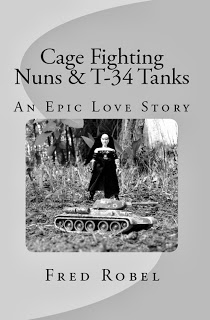 More than any other recent book, Cormac McCarthy's The Road showed me that there was flexibility in the rules of
writing. After all, if he can break the
rules he did in that book, then all bets are off. It was a direct result of that book, that I
felt more comfortable in developing my own style and structure of
storytelling.
What
are you currently working on?
I have currently almost completed a follow-up to Tales of the Wrench called
(tentatively) Into the Lower Forty One: Adventures in Aviation Maintenance
& Inspection. This will be a new
collection of my aviation themed writing and editorial content. I hope to have it out by the end of the year.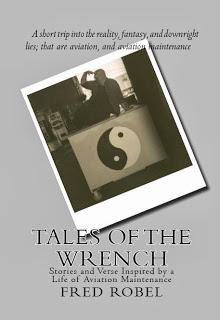 Other than that, I have several serial stories that I've started and just kind
of walked away from. A story of an
abandoned android in some sort of manufacturing facility; a race of mutant
humans brought about by a mad scientist at Mon$anto Corp; the saga of a man who
wants to go back in time to smack himself over the head with a frying pan just
before he meets his wife (though I think he will learn that he really does love
her).
Lots of other smaller snippets and starts, that I would like to go back and
expand upon. I have not broken out of
the novella length for a single subject story, and would like to let one find
its legs and go longer. I'm just not
sure which one that will be.
Your
stories and poems are eclectic and intriguing, Fred. I wish you great success
with all of your writing. Thanks so much for being my guest today!
Visit
Fred's blog Fritz365
Buy
Fred's Books at: