When you write, one piece of advice you often get is
to offer your reader a lot of sensory detail. Put them in the moment with
smells, tastes, textures, sounds, and sights. I contend that Christmas is a
writer. A very skilled and crafty writer. It etches memories on your brain with
tantalizing smells, delightful sounds, and a delirium of sights, tastes, and
textures.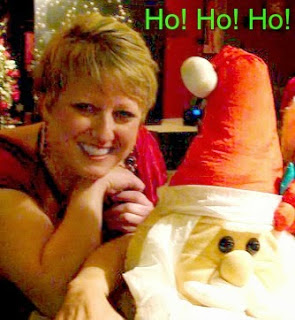 The smells are so incredible and varied that they
keep candle-makers hopping as they try to recreate each fragrance. Cookies hot
out of the oven. Peppermint in hot chocolate. Cinnamon, pine needles, candle
wax, berries. One of the most aromatic items I have ever encountered is a
Christmas ornament of sorts my mother used to make. I'm hoping some of you will
recognize it, too. My mother used to buy whole cloves and stick them in an
orange until all the fruit's pimpled skin was covered with the brown spikes.
That required
a lot
of cloves! And
have you ever priced whole cloves? They are exorbitant! (We're talking five or
six dollar for a tiny four ounce jar. They couldn't have cost that much when we
were growing up, though, because we were living paycheck to paycheck at the
time.) And I think the idea was to have a bowl full of these pungent orbs. Okay,
so I've named some of the obvious scents here, what about the not so obvious?
The sulfuric smell of the matches that light those fragrant candles. The acidic
odor of the cleaning supplies used to prepare the house for the myriad of
guests. Speaking of guests, the smell of your grandma's perfume, grandpa's pipe,
mothballs on Uncle Eddy's sweater. Or incense at Church, smoke from the
fireplace, Christmas poinsettias.
Sounds will keep us busy, too. The first that comes
to mind is Christmas carols. But even within that category we have a whole plethora
of possibilities: a child's off-key voice singing "Frosty the Snowman," a choir
in a cathedral, a folksy guitar ensemble, a soulful Gospel version, or even a
beachy or reggae rendition. Then there are bells: choir bells, tiny jingling
bells on jewelry, and the bigger variety heard on sleigh rides. And now for the
obscure: the crinkle of wrapping paper, children whispering in bed on Christmas
Eve, the snap of wood in the fireplace.
How about the sights of the season? They are enough
to drive you to distraction! Lights on trees, on porches, on rooftops. Colorful
ornaments, wrapping paper, clothes. Decorations, books, snowy landscapes. Signs
advertising sales, Christmas cards… It's
endless.
The "feels" of Christmas: silky party dresses,
prickly pine needles, thick sweaters, mufflers, gloves. There's the heat of the
fireplace that turns our skin into its own little cook-top. The nip in the air as you bustle from house to
house, visiting friends and neighbors. The uncomfortable feeling of being
overstuffed. The stirring of your heart as you listen to a soloist sing "Mary
Did You Know?" The joy and surprise of receiving a longed for gift. The pride
and pleasure of giving someone the perfect gift. The sense of anticipation as
the big day draws nearer. The heartache of missing loved ones whose place at
the table is empty for the first time. The excitement of movie releases, new
gadgets to play with, new clothes to wear.
And tastes? Don't even get me started on tastes! It
seems like that's all we do during the holiday season. One gigantic excuse to
be little hoglets! Not that I mind a bit. Here's just a few: the holiday
cookies that looked so good in the magazine but taste like modeling clay, the
sharp, sweet taste of gingerbread hot out of the oven with whip cream melting
on top (I'm good at this, right?) That dinner you have only a few times a year,
even though there's nothing stopping you from having it year round, whether it
be baked ham, roasted turkey, or Chicken ala King. For us it wouldn't be the
holidays without Waldorf salad, peanut butter cookies with chocolate candies on
top, and Jesus' birthday coffee cakes.
So, you see, Christmas paints its own picture quite
well. It lures us in with vivid sensory memories we won't soon forget. Although
I try to do that in my writing, I don't think I do quite as good a job as Lady
Christmas. But I'm okay with that, to her goes the glory, no problem.
What are your favorite sounds, smells, sights,
tastes and touches of Christmas? Share them with us after you read the short
blurb for my Christmas romantic suspense novella!
Blurb
from Upon a Midnight Clear:
Dylan Fisher is a paramedic & part-time mall
Santa Claus. But he never heard anyone ask for what Delaney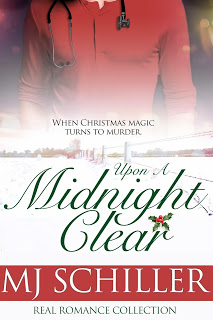 asked for, a dad!
When Dylan's eyes land on her mother, Keira Kelly, he almost finds himself in
need of CPR. She was stunning!
Keira is still grieving the loss of her husband, but
a reckless driver has her thinking about nothing but survival. When she wakes
in the hospital to find a hunky paramedic at her bedside she begins having
thoughts that would put her on the Naughty List for sure!
Short
excerpt, am I working any of your senses here?
Upon stepping out of
the stifling, over-warm mall, the bracing wind was almost a relief. Still,
within minutes, Keira was glad she had insisted on zipping up Delaney's coat.
She gave her mittened hand a squeeze as they hustled across the parking lot to
their SUV. The wind blew Delaney's cotton-white scarf across her face as if
trying to protect her from its own blustery nature. Keira glanced down. Delaney
must have smiled behind the scarf she wore as the edges lifted with her cheeks,
and her eyes crinkled up where they peeked out from under the rim of the hat.
It was a good night. Maybe together they would make it through this first
Christmas without Kevin…somehow.
Mother and daughter skidded across the parking lot,
making tracks in the new kiss of slick snow covering the pavement like a satin
sheet. The wind continued to pound into their faces, reddening their cheeks and
stealing away the warmth the mall and hot chocolate granted them.
All About MJ
MJ is a lunch lady in the heart of Central Illinois.
My gosh, can you get more folksy than that? She met her husband at the
University of Missouri-Columbia and now she has an eighteen-year-old (how did
that happen?) and sixteen year old triplets! She loves to read, karaoke (where
she can pretend she is a rock star) and spends WAY too much time on Facebook.
She grew up in St. Louis and still has family there.
Links
for M.J. Schiller:
Links
for UPON A MIDNIGHT CLEAR:
Okay, your turn! Share with us some of your
Christmas sensory impressions.