Today I welcome author Suzi Love to my blog. She has a passion for history and research just like I
do. It's great to have you as my guest today, Suzi; tell us a little bit abouyourself.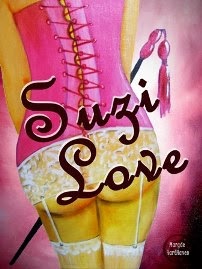 I'm an Australian author of historical romances from the late Regency to early Victorian years, with a little bit of the Australian outback thrown in. I've had a lifetime fascination with all things old, weird, and exotic, which means I travel as much as possible to visit historic places, and talk to crazy characters.
I imagine many of those people and places have made their way into your writing, too. How would you describe your writing process? Do you outline? Let the muse lead you? Or something else?
I never trust my memory when it comes to historical characters and their titles and estates so I always keep character charts to refer back to. I also do rough chapter outlines so my muse doesn't lead me wandering too far off track. So I'm basically a plotter, with a dash of panster thrown in.
I admire your plotter skills! What is your research process like? Do you enjoy it?
Research is my favorite part of writing, so much so that I often get caught up in the research and forget to write the story. I keep long lists of research sites on Diigo and Delicious because I'm terrified of ever losing them. This way, I always have back-ups. Do I sound paranoid? LOL!
I also love Pinterest. I have boards for lots of aspects of history, and boards where I keep research images for my books. If I need fashion inspiration for my characters, or where they might visit in London, I take a look at my boards and always get inspired.
What a great way to archive your research! What are you currently working on?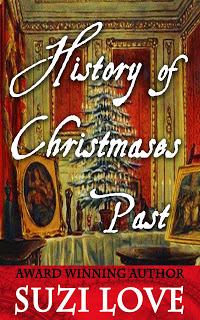 I'm madly putting the finishing touches to my non-fiction Christmas book. I've collected so much lovely information on historic Christmas traditions that I wanted to put them into a proper collection. The book, History of Christmases Past, will be on retail sites within the next week, just in time for Christmas.
Congratulations! Do you keep a notebook in your pocket, briefcase, purse, or on your bedside table to write down ideas that come to you right away so you don't forget them? Have any of these ideas developed into a successful piece?
I always carry a notebook. Always! I've had a lot of medical problems that have meant spending long hours in waiting rooms, so I use the time to jot down any bright ideas that occur to me. It's amazing how many character traits occur to me while I'm surrounded by people, from babies, to elderly people, and watching their antics and interactions.
You are writing all the time! Is there anything else you would like readers to know about you?
The second book in my Scandalous Siblings Series is finished and I really hope readers like it as much as they seemed to like the first book, because I've had so much fun writing about five siblings who are all scientifically-gifted. It meant doing lots of research
into share trading and railway expansion in England in the late Regency Era, which was awesome. An excuse to scan through hundreds of historic images. Ah well, someone has to do it. LOL!
Thanks so much for having me visit your blog.
What a pleasure to visit with you today, Suzi. I wish you great success!
Suzi's books are available at Amazon