Happy New
Year!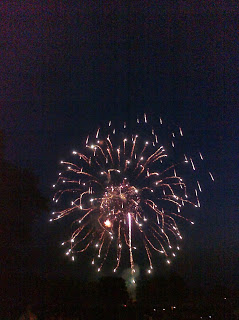 I hope that there is no crazy algorithm in the
Universe that causes the "bucket" to get closer as I tick off my Bucket List
items, because in 2014 I will tick off two biggies. In celebration of our 10th
wedding anniversary and my husband's "significant" birthday, we are taking a
Mediterranean cruise in June! Another bucket list item, a big one for me, is
that I will sing a few solo lines on stage at the Midland Center for the Arts.
I have been cast as the Hair Hag in
Les
Miserables
. So much to look forward to in the coming year!
As is custom, I have also made some New Year
resolutions. I generally like to keep this list short and attainable perhaps
due to my training as an educator to create SMART goals that are measurable—oh no,
I sound like my old teacher self! Back
to my goals, here they are for your perusal:
1. Self-publish
my mystery, The Cavanaugh House.
While I have begun revisions on my first draft, I find the road to
self-publication pretty intimidating. It's a great challenge for me and I hope
my fight or flight response won't kick in since I usually choose flight.
2. Learn
how to market my books. I like to write; I know little about marketing. In the
brave new world of publishing, however, the onus of marketing falls on the
shoulders of the author. There are many wonderful resources out there that I
plan to investigate as I add marketing to my skill set.
3. Publish
my first non-fiction book. I have an idea that my Divine Attendant Muse (aka my
DAM Muse) Boris keeps poking into my brain during my meditation time. I love
the idea, and as I progress with it, I'll keep you posted.
4. Publish
some of my poetry. I have the honor of being in a wonderful poet's circle.
These friends have been encouraging, honest in their critiques, and inspiring.
Many of them are published and I hope to join their ranks this year.
5. Eat
more chocolate. I don't know how to measure this goal. Perhaps instead of
focusing on "measurable" with this one I will concentrate on "attainable".
I also plan to add to my Bucket List thereby holding
off any possibility of that crazy algorithm. Let's see, what shall I add? I
would like to visit Boston to research my third book in my Love's Destiny series. I would like to cash the $1 million dollar
check I wrote to myself on Oct. 22, 2011 when I began my writing career in
earnest. I would like to spend one month in Ireland living among locals. I
would like to go to Atlantis in the Bahamas. I would like to have all our
children and grandchildren with us on vacation in Orlando. Dreaming is so fun. I
hope all of your dreams come true in 2014.
What's on your Bucket List?