Okay, I wasn't exactly truthful when I said there wasn't
a negative moment in my Les Miz experience. There was a period of time that was
very difficult for me and was—as times like that are—a growing experience. One
night at rehearsal, Jim, the music director, said I needed to change how I was
singing my Hair Hag part. I had been listening to the London cast's recording
and was trying to emulate the actress who played the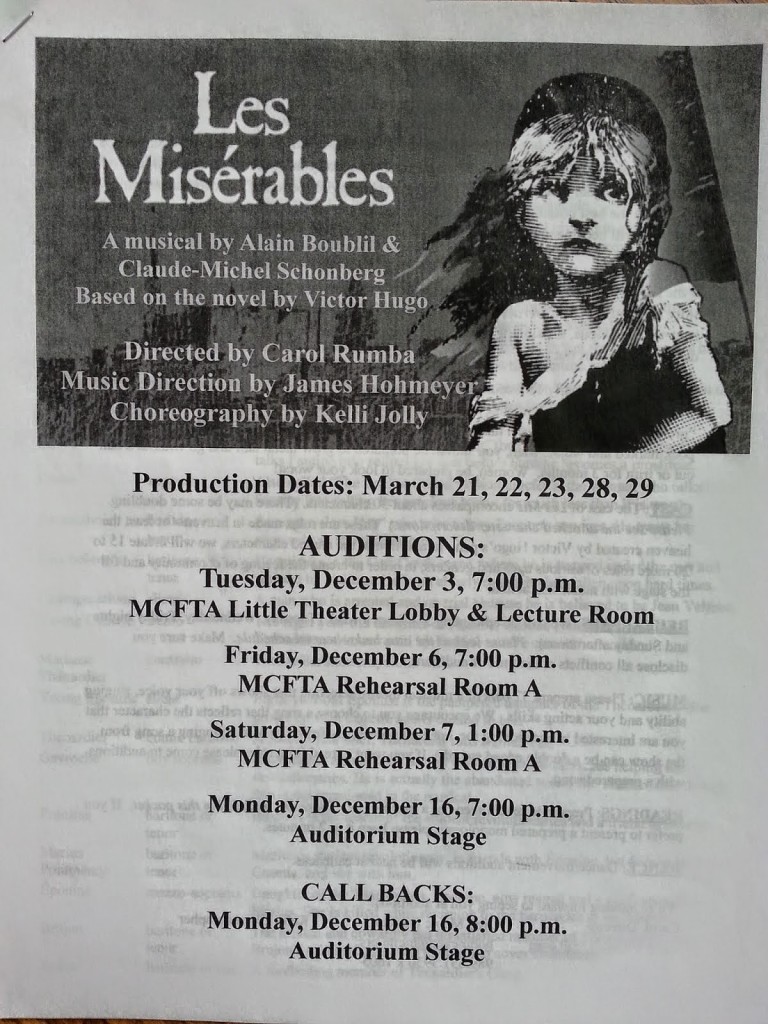 Hair Hag in that
production. But Jim wanted a different sense to the role—"creepy, not pretty."
Tawny, who played the Locket Crone had developed an awesome raspy kind of voice
that dripped with disturbing intent. So "raspy voice" was out of the question,
so what could I do?
I tried to channel the Wicked Witch of the West from
The Wizard of Oz
and Gollum from
Lord of the Rings
. While rehearsing my
lines I would alternately think of "my little pretty" and "preciousssss" trying
to hit on an eerie tone. I stood in front of the mirror making faces, singing
my lines and gesturing. It's very difficult to marry the Wicked Witch and
Gollum…oooh, that's an unfortunate image.
Whatever I was doing didn't work because the director,
Carol, came over to me at the next rehearsal and said, "Can you be creepier?
The Hair Hag is the kind of person who would cut off the hair of dead people."
Intellectually, I understood, but physically I was not reaching the creepy
factor both Jim and Carol were looking for. Their direction was excellent, but
to me it was like asking me to fly. I watched birds fly, I could visualize
myself flying, but those wings I was flapping were taking me nowhere.
Now, I am not trying to make excuses here, but many
of the urchins surrounding me on stage had more acting experience at their
tender ages than I have had at age…ahem, my age. I had not been in plays in
school, I had never taken acting lessons, and this was my fourth show in…ahem,
many years. There is something wonderful that happens when you are in a play
with a good director. You learn. And you don't even know you're learning. I was
learning.
I watched other actors develop their characters from
rehearsal to rehearsal, subtle nuances that made enormous impact on the impression
their characters made, for example,
George as Thenardier. I could name many more. I could name the whole
cast!!!
I felt helpless. I didn't know what to do to understand
my character better and reach ultimate creepiness. I was frustrated and it felt
like I was running in a dream and couldn't reach my destination. Suddenly, I
had a breakthrough. Call an expert.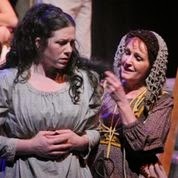 Fantine & the Hair Hag photo by Robert Nelb
I called my daughter Kate who is a professional actress
with the
Pigeon Creek Shakespeare Company
. Why didn't I think of this before???
I explained my dilemma to her and she laughed. "Mom, you don't want to channel
the Wicked Witch of the West or Gollum. You want to channel Hannibal Lecter.
You don't want to just cut off her hair; you want to eat her face." The clouds
parted and I heard the music of the spheres. Now I understood the Hair Hag.
At the next rehearsal, I was excited to try my new
interpretation, but Laura (Fantine) wasn't there. I had to do the scene with an
imaginary Fantine. But I gave it my best and added something I'd never done: I
smelled her hair. At the next rehearsal, Fantine was there, so it was easier.
But at the end of the night, Dominic (Valjean) came over to me and said, "You
didn't smell her hair tonight! That was so creepy!"
He called me creepy! It was one of the greatest
compliments I'd ever received!
After that, I smelled her hair every time (Thank
you, Laura for putting up with that!) Ron (Pimp, Wedding Guest, Chorus) told me
I was creepy. After watching a dress rehearsal on the monitor in the Green
Room, Celeste (Cosette) said, "I'm glad you don't sing to me. You're pretty
creepy." I was so happy!
That was the negative part of being in the cast of Les Miserables, and I grew so much. I
learned. I learned from my directors, I learned from my daughter, I learned
from my fellow cast members. I flapped
my wings and started to lift off.