The memories are already fading and I try to get it
all down before they're gone. When I reflect back on the journey of being a
part of Les Miserables, some very
special moments come to mind:
·
The Lovely Ladies…hilarious. I don't
have one of those content warnings on my blog, so I can't go into detail here…
·
Kristen's face as she watched her set design
get wild applause when the floor of the stage slowly rose and was transformed
into the barricade.
·
Carol's director talk before we went on
stage opening night. She had us close our eyes and visualize the character we
would be as if looking in the mirror. We were to imagine how they looked, felt
about their circumstances, what they dreamed. Then she said to take one step
forward into that character. BAM. It was incredible. The next night she gave us
a talk about the difficulty of getting energy up after opening night. She had
us form a circle (we all automatically held hands) and close our eyes. I sensed
the strains of "Kumbaya" in the air. She said there's only one thing to do, "You
put your right hand in, you put your right hand out…" and we all did the Hokey
Pokey. And we put our whole selves in. Brilliant.
·
The absolute silence every night when
Maddy (Eponine) finished singing "A Little Fall of Rain" and died in Matt's
(Marius) arms. No one ever started to applaud because they were all captured in
that moment.
·
True (Javert), Ron (Pimp) and I
discussing the fact that there were no divas in the cast. "Yes, there is one
diva," Ron said. True and I looked at him in disbelief. "Who?" I asked. He
laughed, "Macy (4-year-old Urchin). When Javert was singing "Stars" Macy,
sitting on her mother's lap on stage, whispered, 'Mom, why isn't anyone looking
at me?'" That's as "diva" as it ever got.
·
The students at the barricade. The
audience fell in love with them. Joe's (Lesgles) death fall was so convincing
it was scary! Tony's (Enjolras) picking up the red flag and waving it in
defiance right before he was shot and then letting it drape down over him and
the barricade was inspired.
·
Every night in the Green Room we watched
True (Javert) sing his song of torment until he stood on the top balcony center
stage, spread out his arms, belted the last agonizing note and fell backwards
to his death ( Javert's not True's). Every night we burst into applause and "Huzzahs!"
and I threw out my

arms toward the monitor and yelled, "I love you! I love you!"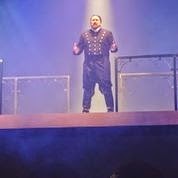 ·
The hilarious antics of the Thenardiers.
George and Jessie created
characters you disliked andcouldn't help but love. When
they came out in their turquoise costumes in the wedding scene it was epic.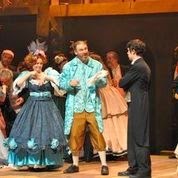 ·
Dominic singing "Bring Him Home." *sob* Amazing.
'nuff said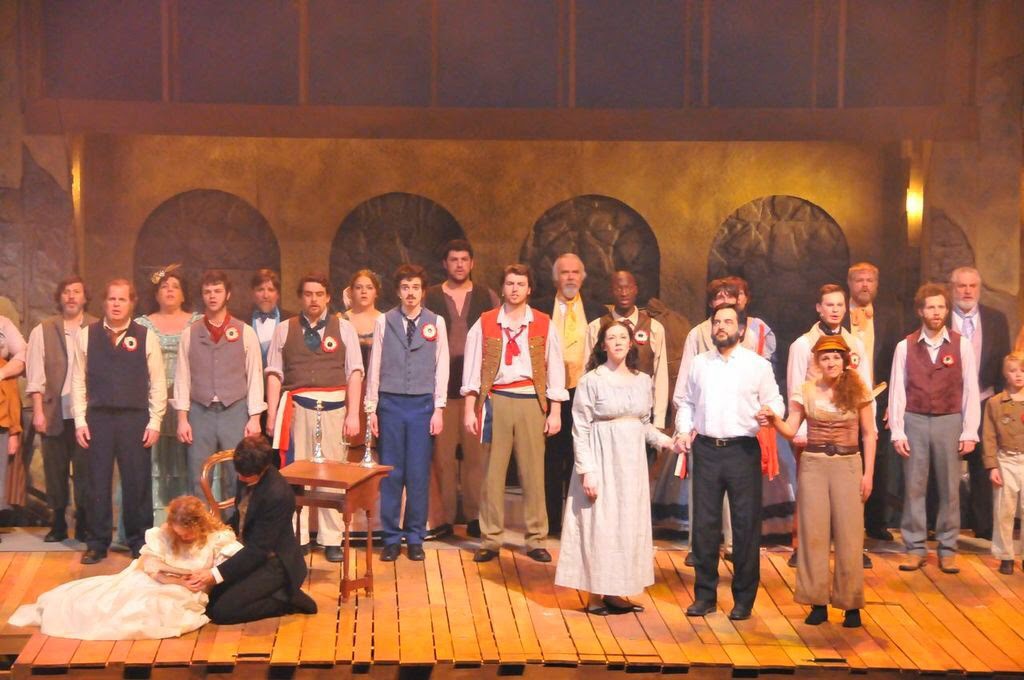 · Standing on stage at the end of the
play, the pride welling up inside as each group or character took their bows.
Of course the danger here is that there are so many more amazing memories that I haven't mentioned.
The clarity of my
memories may be fading, but the effect this experience had will remain forever.
I carry these people in my heart and I cherish the magical journey we shared.
Photos by Robert Nelb