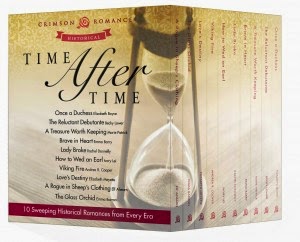 Andrea
Cooper is a fellow Crimson Romance author whose book Viking Fire is also included in the Time After Time bundle. Did I mention that Time After Time is a bundle of 10 historical romances set in
various time periods, and it is available for $.99 at Amazon and CrimsonRomance? I am so pleased to have Love'sDestiny bundled with Viking Fire,
and I welcome Andrea to my blog today. Tell us about yourself, Andrea.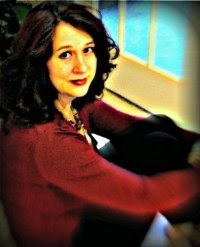 I'm a wife and mom. Until July 2010, I was a Senior
Buyer for a Petroleum Company. Then my one-year old at the time kept getting
sick in daycare. After he had the flu, was dehydrated, and hospitalized for
three days at six months old, we started to seriously consider me staying home
(since my husband made more money at the time-otherwise, he'd have stayed
home). I loved my job, but I loved my child and his health more.
Now I'm a stay-at-home mom to three kids: 19 year
old son, 4year (soon to be 5year old) son, and a twenty-month old daughter.
I write to stay sane because I have no other talents
(Arts/Crafts?- yeah, right. Sewing? – not unless crooked is a trendy fashion.
Cooking? – only because I have to or we'd starve. Gardening? – that involves
bugs, right? No thanks I run from wasps and roaches.)
I'm
with you on the gardening and bugs, Andrea! Talk about the book(s) you've
written. What was the first seed of an idea you had for your book? How did it
develop?
Here is a list of my current novels/short stories in
order of publication:
·
The
Garnet Dagger Book 1 Legends of Oblivion series – Fantasy/
Paranormal Romance
·
Viking
Fire
– historical
romance (working on sequel)
·
Cursed
in Shadow Book 1.5 Legends of Oblivion series – Fantasy/
Paranormal Romance
·
Son
of Dragons Book 2 Legends of Oblivion series – Fantasy/
Paranormal Romance
·
The
Proxy – Historical Romance short story – Six Shades of Romance – a
collection of 6 different romance genre stories by 6 different authors
·
The
Guardian – Historical Romance short story with a paranormal
twist – Seven Shades of Romance – a
collection of 7 different romance genre stories by 7 different authors
For Viking
Fire, the first seed of an idea was reading that some historians believe
Lachlin or Lochlann is the Gaelic word for Viking. And since my grandmother's
maiden name was McLauchlin, I just had to write about a feisty Irish lass and a
charming Viking.
I
love how history inspires our writing. How would you describe your writing
process? Do you outline? Let the muse lead you? Or something else?
I don't outline – my muse wouldn't speak to me if I
did. I have a vague idea of the story and the ending, but the journey is
without a map. The characters and story reveal themselves to me when I write. Often,
they surprise me. For example, in Viking
Fire, I had no idea of Elva, Kaireen's handmaid's, secret. Yet, when she
reveals it to Kaireen, I found out at the same time I was writing it.
The
same thing happens to me. Emily opened the front door, and I didn't know who
would be there until she did. I totally get it. When you get the edits back
from your editor, how do you work through that process?
My first edits from my publisher were shocking. The
volume of them was enormous – however, I noticed that more than half of them
were commas – evidently, whatever my English teacher told about comma splices
made me fear them so I use too little. When I found that pattern, I worked hard
to fix it. The last edit I received on a novel was much more manageable – and
yay! – only a handful of commas had to be added or moved.
My process on edits is to read all the suggestions
and changes first. Then I accept all the simple little changes – like the
commas. Then I go back through and respond/write out the requested changes that
are easy. Like adding a name to denote who's talking rather than he/she, etc. I
leave the harder ones until the end. But by then, there are only a few so it
seems less daunting to me and I've had time to percolate the editor's comments.
Has
writing changed how you read books now?
Yes! It is hard for me to read a novel without
seeing errors – especially ones that I do in my own writing, like duplicate
words/sentences/thoughts. I know when it's great writing when it transcends me
into the story and outside of edit mode.
Is
there an aspect of writing that you favor over others, e.g. dialogue,
exposition, description of a scene, setting, or character, etc.? Is there one
that is more difficult for you?
I love dialogue. It comes easily to me – especially
the banter between a hero and heroine. Probably because I acted out and
adlibbed stories and characters I created with friends from kindergarten until
… well, let's just say for many, many years to avoid embarrassment. I'll give
you a hint, though, the 'Barbies' were stand-ins and my parents were going to
send me to counseling since I was still playing with them at a late age. So I
ditched the Barbies, but not the characters and stories and continued acting
them out for many years after that.
What
are you currently working on?
I'm currently working on many projects – it's what
helps me battle writer's block – if one story fizzles, I move onto another and
then come back to that one later.
Here's a short list (I have many more in various
process, but these are ones I'm working on
regularly now) This order is based on most complete to least:
·
Stolen
Hearts – my first Contemporary Romance – and won
SilverTree Publishing's June 2014 Pitch Contest – I'm also mapping out the
sequel to this novel and possibly a third book in this series
·
Cheyenne
Storm and Cheyenne
Gold – Native American Historical Romances
·
War
of Darkness – Book 3 Legends of Oblivion series –
Fantasy/ Paranormal Romance
·
Shadow
Bloodlines – my first YA Fantasy series
·
TBD – Viking Fire sequel – this will feature Shay, Karieen's sister
Wow,
you are one busy lady! Thank you for being my guest today, and best of luck on
all of your projects.
Contact
Andrea at:
Buy
Andrea's books at: