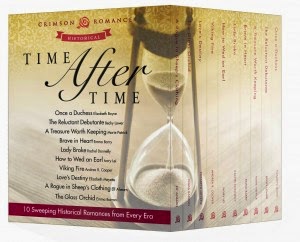 I am so pleased to welcome my "Bundle-Buddy" Becky Lower today. Becky's first book in the Cotillion Ball Series, The Reluctant Debutante, is bundle with Love's Destiny in Time After Time. I love the way Becky weaves historical figures and incidents into her romances. Welcome, Becky.
Talk about the books you've written. What was the first seed of an idea you had for your books? How did each develop?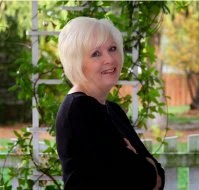 The Reluctant Debutante
came about during one of my writing group meetings. I love reading Regencies, but didn't want to get into English royalty and the dictates they had to put up with. One of the men in the group (surprise, surprise) mentioned that England didn't have the corner on debutante balls. So, I started researching when the tradition arrived on our shores, which happened to be 1854. It turned out the decade before the Civil War was chock full of great events.
The Reluctant Debutante
is the first book in my series, and takes place in 1855, when Amelia Bloomer was causing trouble in New York City, and railroads were expanding into the West. The sixth book,
The Duplicitous Debutante,
is set in New York in 1859, and features another sibling in the large Fitzpatrick family.
I love the Fitzpatrick family—and the people they fall in love with, too! How did you celebrate the publication of your first book?
After all the crazy excitement of editing for the first time in my life, and selecting a cover, getting a website developed in record time, and starting my blog, the actual release day was kind of calm. My good friend bought me flowers and the deliveryman wished me a happy birthday. In a way, it was a birthday. My first book's birthday.
And getting to that first birthday takes a lot of work. How would you describe your writing process? Do you outline? Let the muse lead you? Or something else?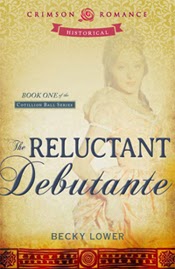 I have been fortunate enough to have Crimson Romance contract for all nine books in this series. But, in order for them to commit to the last five books in the series, they wanted to have a synopsis of each book. That's my outline, and that's what I start with each time. But my muse tends to lead me astray time and again, creating a slightly modified version of each book, but the modified version seems to work better than the synopsis.
One thing I love about your books is your commitment to authentic history in each story. What is your research process like? Do you enjoy it?
Research is probably the part of the book I like the best. Right now, I'm working on Valerian's story, which is about the Pony Express, which started in 1860. I did a cross-country road trip and took side jaunts in Nebraska and Kansas every time I saw something relating to the Pony Express. I bought a number of books to read on the subject and really got a good flavor of the route. I'm excited to begin writing this one. And The Duplicitous Debutante, which releases September 1, is about a dime novel writer. In order for me to get the flavor of a dime novel, I wrote one myself, and it's included as part of this book.
Has writing changed how you read books now?
Of course it has. I'm constantly looking for passive structure, too much backstory, things that just don't work, threads of the story that aren't wrapped up, things like that. On the flip side, though, if someone has a great voice, a gift for humor, or has a brilliant idea that I didn't think of first, I have to give them their proper credit.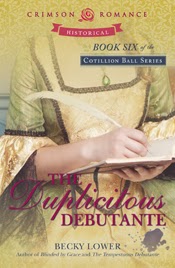 What are you currently working on?
I just put the finishing touches on a novella, which is a prequel to my series. It's about the courtship of
Charlotte and George Fitzpatrick. I came up with the idea while working on the fifth book in the series, The Duplicitous Debutante. Charlotte was reliving the days when she and George began to court each other. I thought it would make a sweet story. And, I'm just starting Expressly Yours, Samantha, about the Pony Express.
I can't wait to read about Charlotte and George! They are such progressive parents, and I'm sure their courtship was unpredictable. What surprised you as you wrote The Reluctant Debutante? What amused or angered you?
When I started researching this book, I found out about the Gasconade River railroad bridge disaster, and I knew I wanted Ginger to be part of it. But I needed to figure out a way a well-bred young woman would have some knowledge of medical procedures. It turned out that Amelia Bloomer entertained a woman who began a school for nurses in New York the same year as my story. So Ginger became a Bloomer girl and got some basic training. I loved the way these little tidbits of research all dovetailed together for my story.
I can't wait to read more of the adventures and misadventures of the Fitzpatrick family! It was great to have you as my guest today, Becky. I wish you great success with all of your writing.
Visit Becky at
Buy Becky's books at: