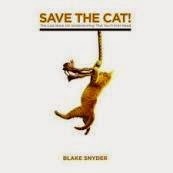 Logline
Snyder (1957-2009) describes a logline (also called a one-line) as a one-sentence description of your screenplay. As authors, we often hear of an "elevator pitch" which means if you were on an elevator and the publisher/agent of yours dreams was riding with you to the next floor, how would you pitch your novel? Quick—the elevator doors are closing—what is your "literary logline"? I am going to use these terms interchangeably since I am discussing novels, not screenplays…yet.
Some experts say you should write your logline before you even begin writing your novel. Doing so will keep you focused on the main idea of your story. Once writers get going, it can be a loopy journey to "The End" with many detours along the way. That's fine, these experts say, as long as all those detours are necessary for the premise you pitched in the elevator. Snyder says if the logline isn't compelling, perhaps you don't have a story.
After reading an article about elevator pitches aka "literary loglines", I wrote one for Love's Destiny. Here it is:
When they are thrown together by her father's will, an English girl and colonial patriot struggle against their growing love as rebellion simmers in America.
Here is my logline for The Cavanaugh House: When Jesse Graham unlocks the door to the deserted house she inherited from her Aunt Helen, she doesn't realize she's unlocking secrets that had lain dormant for years.
This is also the first sentence of the blurb on the back of The Cavanaugh House. While neither exactly fit Snyder's description of the perfect logline, both certainly kept me focused.
Beat Sheet
I had heard of
"Blake Snyder's Beat Sheet"
(BS2) in several resources and even looked it up on Google, but until I started reading his book, it made little sense to me.  This sheet lists in very specific terms when each scene should occur in a movie down to what page it should appear in the screenplay. I was skeptical, but I happened to be reading that chapter the night Rich and I were watching
Jurassic Park
, and I kept yelling, "Look, look!" I wasn't yelling at T-Rex or the Velociraptors, I was yelling at how perfectly the movie was matching his Beat Sheet.
While it is difficult for me to plot out my novel because I'm a pantser, I have to admit that Snyder's Beat Sheet has me intrigued.
For one thing he suggests using index cards and colored markers which speak to any teacher's heart. After you jot a brief description of the scene on a card, you place it where it belongs on a chart you've created…I love this stuff!
Since I am only on my first read-through of Save the Cat and I haven't applied any of this knowledge yet, I may not be explaining Snyder's techniques as accurately as purists would wish. I ask your patience as I intend to not only read the book again, but I hope to apply it to my novels…and perhaps my screenplays???
Save the Cat is available at: