Today I welcome fellow teacher and Crimson Romance author Leslie García. Leslie seems to have a little crush on cowboys. Please tell us a little about yourself.
I've written literally since I was six. I never really wanted to do anything else. Well, except own a huge estate with at least one of every horse breed and one of every dog breed roaming the premises. Instead, I surround myself with cherished children and grandchildren and
continue immersing myself in the power and beauty of words.
Talk
about the books you've written. What was the first seed of an idea you had for
your books? How did each develop?
I currently have works in two collections with a cowboy theme. The first, Crazy for Cowboys, includes eight full length works including Unattainable, my first romance for Crimson Romance. That book is a journey into the unique border culture in south Texas, and the story of a retired DEA agent and the disinherited daughter of a Mexican billionaire, trying to hang on to her father's horse ranch. It's my bestselling title to date, but Crimson Romance made the decision to include it in the bundle. Then, a friend asked me to contribute a novella length story to a cowboy anthology, andCowboy Up released alongside Crazy for Cowboys! I couldn't believetwo official releases about cowboys on the same day—it still amazes me!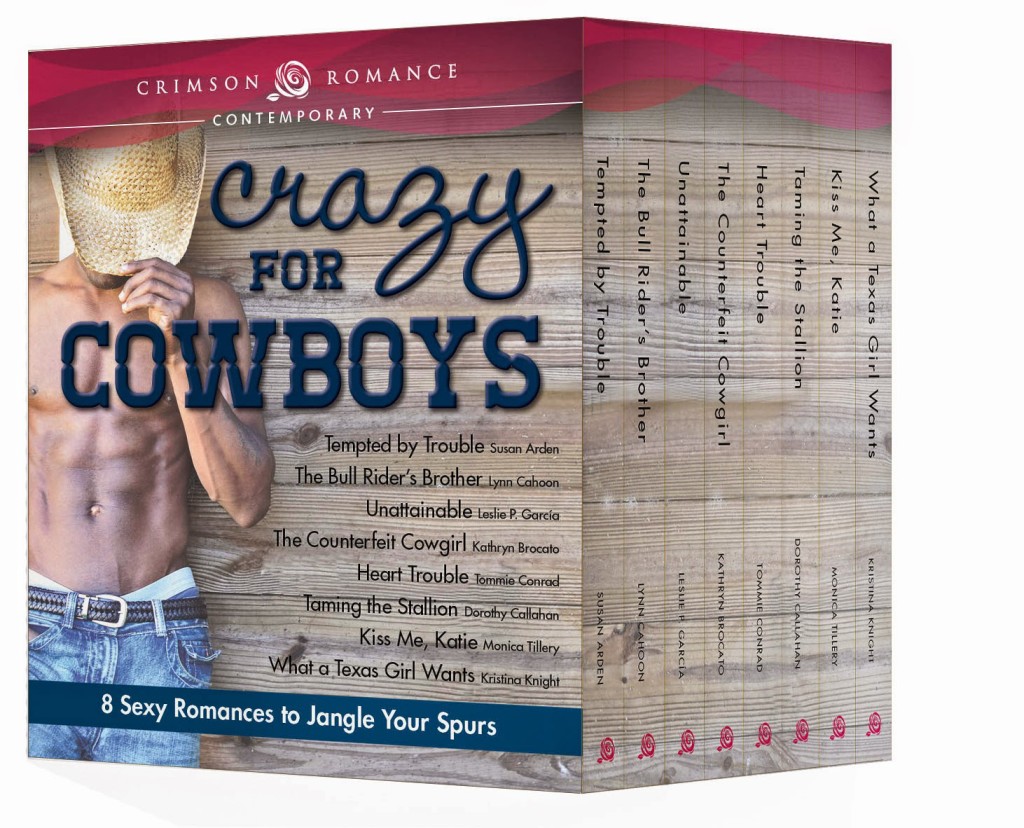 Yeee-hah! That is great! Cowboys must be fun to write about, but was there a scene that
was more difficult than others? One that you pondered whether or not to include
it?
Yes. In Cowboy Up, the heroine Ily is underage when she and the hero are first involved with each other. For personal and professional reasons, I worry about sexual relations where there might not be emotional as well as physical maturity. But the characters dictate the story, and that's what happened. I wound up including it. (She wasn't that young, but I still argued with Ily almost as much as her boyfriend did.)
Which leads naturally to my next question. How do your characters influence your writing? Do you have disagreements with them?
My characters actually plot the whole enchilada. When I'm plotting, I'm usually lying in bed, trying to sleep, staring at the ceiling and listening to them talk it out. Occasionally I'll be driving somewhere, or even at school, surrounded by first graders, and a character will hit me with something urgent. Usually I laugh out loud at the audacity, and some of my colleagues, friends and family have doubts about my sanity.
Ah, yes—the "you must be a crazy writer" reaction. I've been on the receiving end of that, too. What is your research process like? Do you enjoy it?
To date, I haven't really needed to do much research. I've known the subject matter well enough or the stories have been
focused enough on just the romance to preclude tracking down obscure facts. A Cowboy's Heart, in Cowboy Up, touches on the Laredo Border Patrol Mounted Unit—which happened to ride right up to the entrance of the elementary school where I teach. So the idea for the story and some of the information I needed came from that chance encounter, and a friend who is a Border Patrol Vessel Commander filled me in on the rest. But research in college including my course work for my masters never bothered me at all.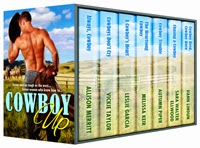 What food or beverages do you turn to while you are writing? Are you a stress eater on deadline or a "lack of inspiration" eater when ideas are not flowing?
I basically don't drink anything except Coke Zero, so that part is easy. And unhealthy. As for foods…yes, I'm a stress eater. If I hit any kind of bump, I look for something to put in my mouth. Cheese, chips, bread, popcorn, chocolate, cheese, my fingernails…depends on what's at hand.
Chocolate was pretty far down on that list! That's my go-to stress food. Has writing changed how you read books now?
Not really, which surprises me. I'm no more critical now than I used to be. I may spot plot problems or inconsistencies, but if anything, I think I'm more forgiving of those, because I know how hard authors work to create perfect stories. As long as I'm not completely taken out of a story, I'll finish it, and look for strengths rather than weaknesses. If I like the book.
Tell us about the funniest/craziest/most interesting thing that has happened to you as a writer.
My first POD (Print on Demand) romance, Love's Lasting Song, is still the spiciest of my romances.  A couple of years ago, I gave a signed copy to my oldest son and his wife. My son called me recently and told me my grandson needed a report at school—so he took the book and talked about me and how I write books. The teachers apparently were fascinated and took pictures and made a huge fuss over his 'project.' I just pray my second grader couldn't read it yet!
That's a great story! I have an image of the teachers in the teachers' lounge passing around a dog-eared copy of your book.  Do you work with a conference partner, writer's group or other organization? Where do you get support?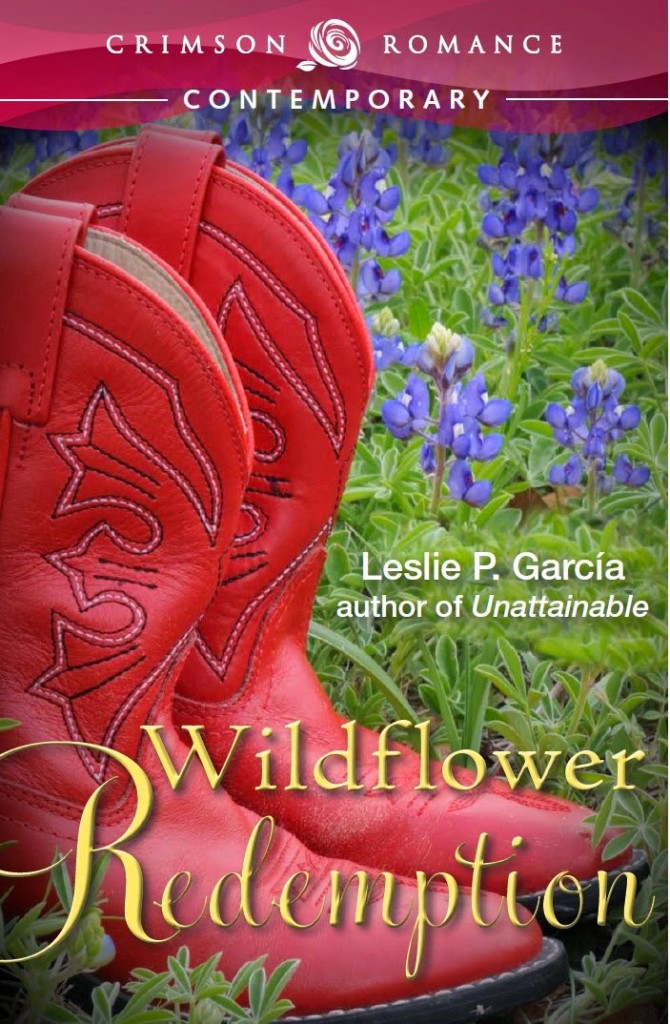 Informally, I belong to a number of supportive online writers' groups. Years ago, I joined the San Antonio Romance Authors (SARA) chapter of RWA online. Without the support of the wonderful women I met, I probably would have given up. Delores Fossen, Robyn DeHart, Emily McKay, Mj
Fredrick, Joni Hahn, and so many others went on to become well-known, even bestselling authors, yet they've always encouraged and dragged others along toward publishing success.
Having that kind of support can make all the difference to a writer. What are you
currently working on?
With a new release in October, and a crazy year ahead at the day job, I'm giving myself a couple more weeks not to dive into anything. Probably the next will be my romance about a heroine and hero torn apart over a pay-to-hunt ranch in the Texas hill country. And no, neither of them are hunters. Exactly.
With such a busy life, how do you balance writing, marketing, promoting, bookkeeping, family and work?
Short answer? I don't. Every year as a teacher, I get an evaluation. For twenty years, when it asks what area I need to improve most I answer "time management." That's my answer to any question, basically.
Well, you must be doing something right in that area! As a former teacher, I know the time commitment that teaching demands. I'm amazed that you've written as many books as you have. I wish you great success with all of your books, Leslie. Thanks for being my guest today.
Author Bio:
Leslie P. García grew up lost among a crowd of six siblings and a menagerie that included more than twenty horses and ponies,
uncounted dogs and cats, possums, raccoons—even a lion and monkeys. Then she moved to Texas, fell in love, was disowned—and embarked on her real adventures, raising four children, teaching hundreds, and loving nine grandkids through
forty years of marriage. The fabric of that colorful life has always been writing. In her two current releases, both collections, Leslie celebrates two of her passions—cowboys and the ever present chance at redemption in spite of past mistakes. Leslie loves hearing from readers and can be found all over cyber space, including these places:
Twitter:
@LesliePGarcia
Buy
Links: