Today
I welcome fellow Michigan author and member of the MidMichigan Chapter of Romance
Writers of America Maris Soule to my blog. Like me, Maris loves suspense in her
stories, and today she'll talk about a perfect tale for this time of the year.
Welcome, Maris!
Thank you for hosting
me on your blog, Elizabeth.
Since this is
the month for haunted houses and things that go bump in the night, I'd like to
tell your readers about
HAUNTED
, a
romantic suspense I recently released as an ebook.
HAUNTED
was originally published as a Bantam Loveswept back in 1995
under the title
Dark Temptation
. That
was the year Loveswept's marketing department decided to put flowers on all of
the covers—not their wisest move since after the first month the similar covers
started confusing readers, who wondered if they'd already bought/read the
story. Although my sales for
Dark
Temptation
were comparable to the other Loveswepts published during those
"flowery" cover months, I never felt the book had a chance to reach all of the
readers who might like a story that brought together an Oscar-winning, special
effects hero (who might be a killer), and a heroine who needed his help even
though the idea of working with him had her shaking in her boots.
I love the
Sierra Nevada mountain range and the gold country area, so it seemed the
perfect setting for
HAUNTED
. In the
story, Jason McLain moves from Hollywood to the small town of Slaterville,
nestled in the Sierra Nevada, to escape the media hype that follows the death
of his wife. A jury may have acquitted Jason of the murder, but the question
still remains: Who else but a special effects expert could have rigged the gun
that went off when she opened the safe?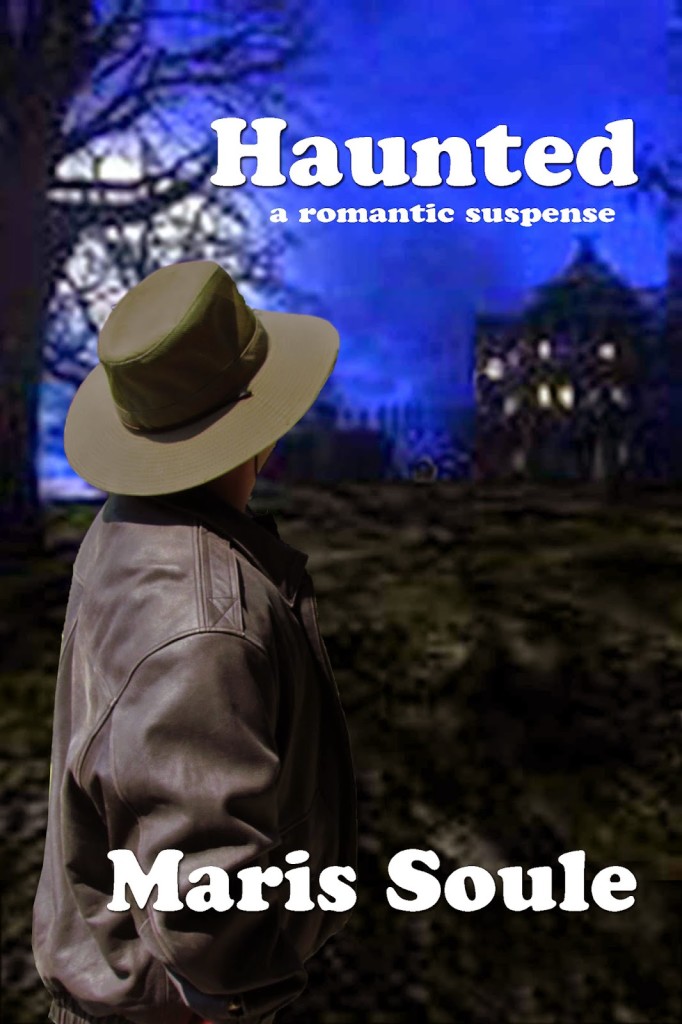 Valerie Wiggins
is not only Slaterville's local eye doctor, she's an active member of WIN—Women
in Need—a nonprofit organization that helps abused women. Every year they've depended
on a haunted house as their main money-making project, but lately it seems as
though every town and community in the Sierras is doing something similar. "If
we want people to come to ours," she tells Jason, "it needs to be different.
Special."
He understands.
She wants him to create some special effects.
Jason's initial
response is to say no. Although he finds Val attractive, he fears those
feelings could put her in danger. People he cares about have accidents. Die.
Here's a scene
from the first time Val takes Jason to see the house that WIN uses for their
haunted house. Some of the floor boards in one room are missing, but Jason
thinks he can use the cellar area below for his wiring and is checking it out
when Val comes up beside him. He turns and his elbow hits her side. Val and
their one working flashlight drop through the hole. Jason gropes in the
darkness for a floor joist, finds one, and swings down to go to her side.
"I
didn't push you." She had to believe that. "I didn't realize you were
there."
She
caught his hand, her fingers feeling so small and slender. "I know you
didn't."
"I
turned . . . you were . . ." He couldn't explain what had happened.
"I'm
fine, really," she insisted, more conviction to her words.
She
started to rise, but he stopped her. "Take a minute," he said, and
then chuckled. "So I can catch my breath."
"You
all right?"
Her
concern for him seemed ironic. Here he could have killed her, and she was
worried about him. "I'm fine. It's you who could have broken your
neck."
"But
I didn't."
He
drew her to a seated position, cradling her against his chest, and Val pressed
her cheek to the smooth leather of his jacket. His breathing seemed normal, but
not his heart rate. Touched by his concern, she snuggled closer. All around her
was darkness, yet she wasn't afraid. "I've got to remember not to come up
beside you near any cliffs."
He
didn't laugh.
"Jason,
it was my fault. Forget it even happened."
"Forget?"
He made a sound that resembled a laugh, but it held no mirth. "Why is it
accidents always happen around me?"
She
had no answer for that.
"Maybe
I forget too much." He took in a deep breath. "Val, do you think a
man can do something and not remember that he's done it?"
She
wasn't sure what he was getting at. "Like?"
He
hesitated a moment, then said. "Like rig a gun in a wall safe or tamper
with a brake line?"
Again
she didn't answer. What he was suggesting was insane.
"My
mother says I can block things out if I want," he said. "She insists
that she knows the truth. According to her, I'm a bad seed. The Devil's
child."
"And
what do you think?"
"I
didn't believe her at first, but then when Karen was killed—" His arm
tightened around her. "How do I know I'm not some sort of Jekyll and Hyde?
That I don't black out or something when I get jealous? Perhaps in a fit of
rage, I did tamper with those brakes and rig that gun in the safe."
HAUNTED
is available at:
About
the author:
Maris Soule has been
writing for over 30 years and has had two mysteries, 25 category romances, and
2 short stories published. She's a two time RITA finalist, as well as a winner
and finalist in many other contests. She'll have two more mystery/suspense
novels released in 2015: A KILLER PAST
(published by Robert Hale Ltd., hardcover in March/ebook in April) and EAT CROW AND DIE (published by
FiveStar/Gale/Cengage, hardcover in June/ebook in July)
Born and raised
in California, Ms. Soule was working on a master's degree at U.C. Santa Barbara
when she was swept off her feet by a red-head with blue eyes. The Soules have
two grown children and two granddaughters. They live in Michigan in the summer
and Florida in the winter.
Visit
Maris at:
Facebook: http://facebook.com/marissoule
Twitter: http://twitter.com/marissouthhaven
Her blog: http://blog.marissoule.com/blog/
Her website: http://www.marissoule.com