I am so pleased to have author Alice Orr as my guest today. I met Ms. Orr last year at a meeting of the Greater Detroit Chapter of Romance Writers of America. Her workshop was both inspiring and practical–the kind that made me feel a sense of urgency to get back to my manuscript and try the ideas she offered. Welcome, Ms. Orr.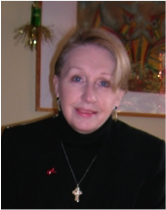 I didn't want anything more to do with Chapter 29. The demon
in my head even suggested I didn't want anything more to do with the whole
damned book. I'd come all of this way. I'd written 28 chapters – but it was
simply getting too hard. That was the substance of my whining anyway. So I
tripped into something I find too easy – the avoidance dance.
I decided our bedroom needed rearranging. This involved
moving heavy furniture so I recruited my husband Jonathan's help. He had no
idea he was really helping me avoid Chapter 29. An important step in the
avoidance dance is this – tell no one what you're avoiding or even that you're
in a dance. After 42 years together Jonathan knows it's sometimes easier just
to go along so he hefted the heavy stuff.
The bedroom did look better afterward and I did give
Jonathan a big hug and kiss and loads of gratitude. But Chapter 29 still loomed
large on my laptop. I needed another detour. As I gazed around our newly
configured bedroom it occurred to me that we needed to be better entertained
there too. [Please behave. I hear your sniggers. For once I'm not talking about
sex.]
I decided we absolutely couldn't live without Amazon Prime
on our bedroom TV. Again I enlisted Jonathan as my again unwitting accomplice.
He was more enthusiastic about this project than he'd been about moving
furniture. A promise of binge watching "Ray Donovan" all weekend lured him in. He
took over the signup process I dread and we binged away.
Unfortunately Monday arrived and Chapter 29 still lurked. I did
my best – still dancing – to avoid looking in the direction of my laptop. But I
was beginning to feel a bit ashamed. I needed a truly justifiable diversion
this time so I decided to pay the bills. There's usually nothing I hate as much
as the tedium of bill paying. Apparently I hated Chapter 29 more.
Monday turned to Tuesday but not before I developed a convenient
cough in between. I told myself I had a summer cold coming on. [It was August
at the time.] My grandmother used to say "There's nothing worse than a summer
cold" and Grandma never lied. So I downed a couple of pills that put my brain in
a fog and that took care of Tuesday.
The next morning inevitably dawned and it was just as
inevitably Wednesday. Hump Day – the day I had to get over the hump of Chapter 29
or give up altogether. Would the previous 28 chapters ever forgive me if I gave
up? Would I ever forgive myself? Then I remembered that the most important
writing exercise is to put your butt in the chair. So I did that.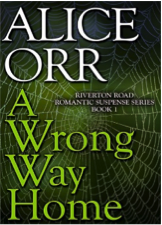 I opened Chapter 29 and there he was – Matt Kalli – the hero
even I'm in love with in my latest book
A Wrong Way Home
. Matt knew I'd been
gone but he was only partly happy to see me back. "You have to make something
happen here," he said. "Something that kicks up more trouble between me and
Kara" – the heroine I'm also in love with in this story.
Suddenly the solution popped into my head. Secrets and Lies.
I needed to plant a lie and a secret here. I went back to the end of Chapter 28
and started planting. Kara finds out that Matt hasn't told her something
crucial – a lie of omission. But she's not going to tell him she's found out –
a secret. Matt worries his heart out over her at the beginning of Chapter 29 and
when she finally shows up she's boiling angry at him and won't tell him why. Kara
knows why she's red-hot mad. We (the readers) know why she's red-hot mad. Matt
doesn't have a clue.
This created tension and drama – a "What will happen next?"
feeling. That question and the suspense that came with it carried me out of
Chapter 29 at last. I was so relieved that I couldn't help but have a
mischievous thought. I think I may have said out loud. "What if all this
red-hot anger in Chapter 29 turns into red-hot lovemaking in Chapter 30?" And
it does. Alice Orr
ALICE ORR is the author of 11 novels, 2 novellas, a memoir and No More Rejections: 50 Secrets to Writing a
Manuscript that Sells. She's a former book editor and literary agent. Now
she lives her dream of writing full-time.
She also leads workshops on writing for publication and/or pleasure.
Alice has two grown children and two perfect grandchildren and lives with her
husband Jonathan in New York City.
Or by regular mail at P.O. Box 6224 – Long Island City NY 11106.
She'd love to hear from you.
A WRONG WAY HOME – Riverton Road Romantic Suspense Series
Book 2 – Matt & Kara's Story – By Alice Orr
Launches Valentine's Day 2015
Going
home can be dangerous…
Kara Cartwright returns home the night
Anthony Benton is murdered. She knows nothing about that. She only knows she
vowed never to come back to Riverton or to see Matt Kalli again. Matt made a
vow of his own. He'll never forgive Kara and he can't forgive himself for the
way she's stuck in his heart.
All they have in common is sexual
attraction and hatred of Anthony Benton. Now Benton's dead and people they love
are suspects. That sends Matt and Kara on a dangerous search for the real
killer before he murders again.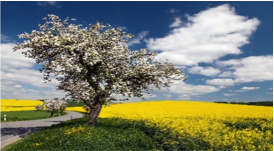 A Wrong
Way Home
is the first book in
The
Riverton Road Romantic Suspense Series
featuring the Kalli family, the
four Kalli brothers and others who find safety and a warm welcome at Kalli
Corner on Riverton Road.
A Year of Summer Shadows
is the
second book in the series and launches on May 15, 2015.