Today I welcome fellow Crimson Romance debut author Karen Sue Burns to my blog. Though we've been Facebook friends for a few years, Karen and I finally met in person at the Crimson Romance authors' book signing in Katy, Texas last month.
Welcome to my blog, Karen. What kind of response do you get when you tell people you are an author?
This has surprised me, it goes one of two ways:
"Gee, how do you find a publisher? I've been thinking about writing a book about my life."  OR
"You're an author, really? That's so cool, I love mystery. You do write mysteries,right?" (I've learned that I do enjoy writing mysteries/thrillers much more than straight romance…and, those stories are more fun to write.)
I have to agree with you there. How did you celebrate the publication of your first book?
My first book, In Hot Pursuit, tells the story of a university controller who goes after the thief of a $25 million gift to her university. When the book released in June 2012, I worked as the controller for a liberal arts university in Houston….yeah, not a big stretch to write. Of course, the timing was awful as it was the busiest time of the year for me at work. I think I celebrated by issuing the final schedule to my accountants for the annual year-end close. And, I drank a glass of wine. Always time for a good glass of merlot.
Whew! I'm glad you fit some merlot in there. What is the best piece of advice about writing that you ever got or read?
Don't give up after rejection—listen to your soul.
I love that advice. What would you tell aspiring writers today?
Work at learning writing craft, stay focused on what your passion tells you to write, shrug off rejection, and Keep Writing.
How do your characters influence your writing?
One of my favorite characters is John Corey, the hero in Plum Island, written by Nelson DeMille. I love this character and it taught me that character comes first in a novel. I'm usually thinking about characters who become involved in plots for which they have no specific training and have to utilize out of the box thinking and plain old tenacity in getting to the bottom of the murder, theft, kidnapping, etc. I guess I like fish out of water characters.
Do you have disagreements with your characters?
Not disagreements, but I have had characters change personality as I'm writing them. They let me know they are truly the exact opposite of what I initially thought. And, the change always makes the story better. Characters know best!
I love when a character surprises me like that. What are you currently working on?
I'm working on apolitical thriller titled Capitol Secrets—picture an assassination attempt on POTUS, a sophisticated drone, Washington DC politics at its worst, and a political blogger—too much fun! Honestly, thrillers are where my writing heart has landed. I absolutely love writing this type of story, along with cozy mysteries.
Capitol Secrets sounds like a page-turner!
I can't wait to read it. Thanks for visiting with me today, Karen. I wish you all best with your books.
Author Bio
Karen Sue Burns has been a writer since 8th grade. Her former job as a CPA has provided interesting experiences: travel to Rio de Janeiro, London, and Oslo, auditing wine bottle glass molds in California, and taking a helicopter to a drillship off the Texas Gulf Coast. Now she spends her days living out her passion–writing mystery and Texas ghost novels sprinkled with romance. She enjoys cooking and creating recipes so her heroines do the same. All of her indie anthologies and novels include one of her favorite recipes. Readers may contact Karen via the Bio/Contact tab on her website. Check out the Recipe tab while you're there!
Blurb for Crazy for Home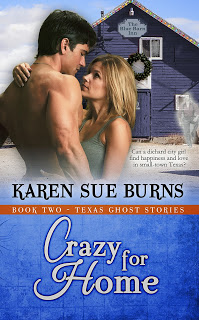 When the worlds of a reluctant innkeeper and a former video game creator collide, stars explode over Texas, a ghost settles his past, and two lovers find their forever home. The ghost of Robert Graham has haunted The Blue Barn Inn, a B&B in Brenham, Texas, since the 1920s. He becomes "friends" with Maggie Todd, the new innkeeper and oldest daughter of the Inn's owners.  She is intent on renovating the property, without her parent's approval, so that the Inn will sell quickly and she can then return to her life in California. Maggie didn't consider the pull of small-town Texas or the charm of new boarder Alex Brady, a successful video game creator turned Ph.D. candidate. Alex quickly falls for Maggie but the arrival of her ex-boyfriend sends him into a tailspin. One problem after another threatens the Inn's future and any hope of a relationship for Maggie and Alex. Will the stars over Texas align so that twohearts can discover their destiny?
Buy Links
Amazon –   http://tinyurl.com/lj2ac7f
Barnes and Noble–  http://tinyurl.com/m9b2ybu
iBooks — http://tinyurl.com/ncjcq5l>
Kobo —  http://tinyurl.com/m548285
Social Media Links
Facebook: https://www.facebook.com/karen.s.burns.9?fref=ts
Twitter:  https://twitter.com/karensueburns
Website:  http://www.karensueburns.com