Fellow Crimson Romance author Becky Flade's romances range from YA to erotica. A storyteller since kindergarten, she loves to weave a tale. Welcome, Becky. Please tell us a little about yourself.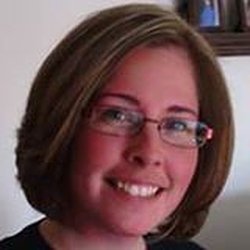 Thanks for having me today; I really appreciate it. I'm thirty-nine years old and I recently married the love of my life. We have 3 daughters between us, a son-in-law, a grandson (light of my life) and a new grandbaby on the way. Life is good.
What a wonderful family! I'm sure they keep you busy, yet you have several books out. Talk about the books you've written.
I write a lot. And in different genres. Romance, erotica, noir, satire, I've even dipped a toe in fiction for Young Adults. But I only have three books out right now, not counting short stories from anthologies I am featured in, or the couple of releases anticipated for this fall:
Fated Souls (category-length paranormal romance) http://amzn.com/B00XNJT57E
2014 RONE Nominee. Investigative journalist Maggie O'Connell went from hard hitting exposés to alien abductions in the blink of an eye, but she did it with style. Her next big lead takes her to northern Minnesota hot on the trail of a werewolf and straight into the arms of Aidan Gael, a horse rancher with many more secrets than he has friends. Maggie may get the story but the man who shares the wolf's compelling green eyes may end up with her heart – provided they can keep each other alive.
Goddess of the Hunt (erotic spy novella) http://amzn.com/B00IGINJSS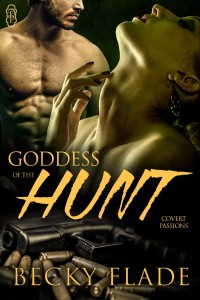 2014 BTS Red Carpet Nominee. CIA covert operative Paige Aster, codename Diana, expects danger and welcomes passion on each mission. She discovers new heights of both with MI-6 agent Eoin Fitzpatrick as they work undercover within a terrorist cell located in Dublin, Ireland. But lust can compromise even the best spy and their passion may prove deadly.
Secretly Serviced (contemporary erotic novella) http://amzn.com/B004T4LQGA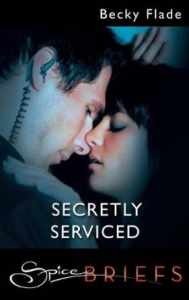 How is the president's daughter supposed to have any fun while living in a gilded cage? Kelly would gladly trade the view from 1600 Pennsylvania Avenue and all its perks for what she really wants: an earth-shattering orgasm. But one perk Kelly would never give up is Michael Weston. She's sure the sexy secret service agent can give her what she desires–though falling for Kelly's seduction could cost him everything.
With all those projects going on, you must be dedicated. Thinking back, how did you celebrate the publication of your first book?
I took the day off work and treated myself to breakfast out with mimosas followed by a pedicure and massage. I got home roughly thirty minutes before flowers were delivered – a gift from my parents. It was truly a magnificent day.
It sounds like a perfect celebration! Has writing changed how you read books now?
In fact, it has. I tend to edit, internally. "Uh-oh, head hopping." "I think he probably meant to say…" "Oh, that's just awful, a gourd? Really? Her editor was like yeah that's cool?"
Gourd, huh? Okay. Well then, tell us about the funniest/craziest/most interesting thing that has happened to you as a writer.
At the after-party following a family bridal shower, my aunt got a little tipsy and started yelling at random people in the bar:
MY NIECE [points at me] WRITES PORN!
That must have been hysterical. Hey, any publicity is good publicity, right? What are you currently working on?
I'm working on edits for the sequel to Fated Souls. It's due to be released by Crimson Romance in September if I can keep on schedule. I'd already begun the third book in the Fated series but put that aside when I got my editor's notes on the 2nd. Lots to do, lots to do.
Also in a holding pattern right now is the editing and formatting on my first self-published title: The Czech Deception. A few awesome beta readers have the draft and I'm waiting for their input. ♥
Good luck with both projects. What is the biggest chance you've taken as a writer? How did that work out?
Goddess of the Hunt does not have a happily ever after or even a happy for now. The ending is true, to the story and the characters, but it's unconventional. It took years of being told I'd have to change the ending before I found a publisher willing to take a chance on it. I didn't compromise. I'm proud of that.
Any final comments for our readers?
I'd love to have you visit with me on my blog; at Facebook and Twitter; on my Goodreads and Amazon author pages; or write to me directly at beckyfladeauthor@gmail.com.
CONTACT INFO
http://beckyfladeauthor.wordpress.com/
https://www.facebook.com/BeckyFlade
https://twitter.com/beckyflade
http://www.goodreads.com/Becky_Flade
http://www.amazon.com/Becky-Flade
http://www.pinterest.com/BeckyFlade/