How to describe author Nancy Gideon? Several adjectives come to mind: dedicated, persistent, adaptable and courageous. I'm so pleased to have her as my guest today. Welcome, Nancy!  Talk about the books you've written. What was the first seed of an idea you had for your book? How did it develop?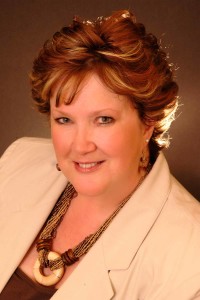 I was meeting with my Zebra editor at an RWA (Romance Writers of America) conference to talk about my Dana Ransom westerns when he asked if I'd ever thought about writing vampire romance – a brand new genre in the early '90s. It took me by surprise but when I went up to my room afterwards to give my feet a break from dress shoes, I couldn't think about anything else. Within the hour, I called him to pitch a three book series and had the outlines on his desk when he got back to New York. MIDNIGHT KISS was the first book in the series. The idea of vampire romance was SO new my books were often shelved in horror. After a two week run, their covers were stripped and the books buried. But readers LOVED them and wanted more.
Finally, after small press ImaJinn Books was created to serve paranormal lovers, I was able to write six more books in the series but the first three have been out of print until, 15 years later, I was able to get the rights back. Now, ImaJinn is rereleasing the whole nine book "Touched by Midnight" series together for the first time with all new covers. They'll come out a book per month starting with MIDNIGHT KISS that debuted in July. MIDNIGHT TEMPTATION follows in mid to late August.
How did you celebrate the publication of your first book?
I bought new bedroom furniture with my first advance! I'd always dreamed of having a canopy bed and matching pieces (including a slant top lingerie cabinet!). They've moved from small house to big house to apartment with me, only now I use it as a four poster and hang my many hats (literally and figuratively) from then end of it.
What is your research process like? Do you enjoy it?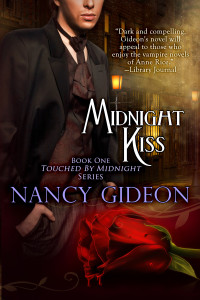 I LOVE to research (degree in journalism and communications), especially historicals (degree in history as a minor). When I wrote MIDNIGHT KISS there was no Google Search! It was trip after trip to the library (I had more library cards than credit cards) and making notes by hand. I'd done quite a bit of background on the Regency period for my two Lauren Giddings Regency-set historicals but what was really fun with MIDNIGHT KISS was doing research into the hospitals of the era which were so grim, it was where people went expecting to die. Add in grave robbers providing cadavers and research on revolutionary blood transfusions and fact becomes almost scarier than the fiction! Hanging fiction on fact is one of my favorite things. It becomes a living, breathing character of its own.
I remember research during pre-Google days! What food or beverages do you turn to while you are writing? Are you a stress eater on deadline or a "lack of inspiration" eater when ideas are not flowing?
Keurig coffee before the keyboard is turned on at 5:00 a.m. is a must. I only drink two cups so they have to be good ones. I'm tremendously OCD/ADD so I'm all focus (once I have caffeine!). I could eat the same thing for breakfast, lunch and dinner as long as it would get me back to the next scene in a hurry. Unfortunately, other palates aren't always as willing. I love to cook but when on deadline it's whatever is quick and easy. I graze and clean house when mentally processing ideas. I refuse to call it writer's block.
I am not allowed to cook on writing days. It's just better that way. When you get the edits back from your editor, how do you work through that process?
I do a quick read through, looking between my fingers the way I would going past a traffic accident. Once I have an idea of how much I need to do, and fortunately it's not usually too overwhelming, I'll address all the nitpicky things first like grammar and dangling participles then go back and get to the meat and potatoes of making any necessary changes to the text. There I pick my battles. I'll go with suggestions that make the work better but if it's something I feel strongly about, I'll take a stand, and more often than not the editor will agree or we'll compromise. Bottom line, both you and the editor want what's best for the story.
Has writing changed how you read books now?
Sadly, after publishing 58 novels, I now read as an author instead of with the blissful joy of a reader. I have very little time to crack a book, so it has to grab me almost immediately or I put it down. I'm always stopped by repetitive words or inconsistent motivation. A great book is one that can make me forget what I do for a living.
Do you work with a conference partner, writer's group or other organization? Where do you get support?
I was always shy about sharing my work with others, so I think I was the most surprised when I asked to be part of a fabulous critique group. All seven of us write in different genres and are at different levels professionally but we have the greatest respect for what each other do. We've been friends and supporters of one another for almost fifteen years and we've always got each other's backs in things both professional and personal.
The beauty of a critique group—you are very lucky! What is the biggest chance you've taken as a writer? How did that work out?
I put out a lot of books early in my career by playing it safe, going for the multi-book, tried and true contracts where there was no risk. And then I wrote that Book of the Heart you hear about, that book that seemed to write itself and got me so caught up in the characters, I was on book three before I came up for air. The publisher I was writing for made a great offer that I really needed at the time – for one book only and with a huge change regarding the hero. I said no because it would lessen the story and there was no guarantee they'd buy the other two, and passed on the offer . . . and was sick to my stomach for weeks.
Then I met a former editor in New York and she asked what I was working on. I sold those three books along with another five in my "By Moonlight" dark shape-shifter paranormal series to Pocket with rave reviews from Publishers Weekly. I self-pubbed book nine, and book ten is now out with BETA readers. I don't regret it for a minute, but I would have regretted it forever if I hadn't taken the chance.
I love your courage, and I'm so glad it paid off for you, Nancy. Thanks for being my guest today.
About Nancy
Nancy Gideon is the award winning author of over 58 romances ranging from historical, regency and series contemporary suspense to paranormal, with a couple of horror screenplays tossed into the mix. She works full time as a legal assistant, and when not at the keyboard, feeds a Netflix addiction along with all things fur, fin and fowl. She is thrilled to join BelleBooks with reissues of her Dana Ransom contemporaries as well as with her "Touched by Midnight" vampire romance series written under her own name for Belle's ImaJinn Books imprint. For more information, visit http://nancygideon.com or http://nancygideon.blogspot.com.
The "Touched by Midnight" series is available at:
Amazon:  http://amzn.to/1KkTjlx
Barnes & Noble:  http://tinyurl.com/orr3mdd
KOBO: http://tinyurl.com/nby2b6b)