Welcome back, Nancy. It's so nice to have you as my guest again. So much has happened for you since you were last here. Remind us of where you started, and then catch us up.
Thank you, Elizabeth, for having me as your guest. I truly appreciate it.
For me, becoming an author has been a journey. I have been a writer since elementary school when I penned picture books for fellow students, since junior high when I wrote short romance stories for friends and since high school when I took a creative writing class and penned my first novel. It was supposed to be a short story but I got carried away. The teacher was amazed, though it wasn't publishable. After leaving the corporate world, where I was in sales and pr, I embarked on writing. I began as a reporter for a small local newspaper. This led to my working for a trade publication in the construction-architectural field. I also wrote about antique safes, animals and travel. I wrote and coordinated publication of a local history book. Later, a publisher out of Massachusetts contacted me about researching, captioning and writing a photographic coffee table book on Cleveland. Eight years later, Cleveland, Ohio: A Photographic Portrait is still a best seller.
My love has always been fiction. I had six books contracted with Crimson Romance, a division of publishing giant F&W Media. They are Lab Test, Wishes and Tears, The Right Combination, Champagne for Breakfast, Hearts of Steel and Special Angel.
I have since had the rights reverted back to me for the first four titles and I am in the process of self-publishing them and having them up for sale again. My novel Champagne for Breakfast is already out as an electronic and print book. I am also entering the realm of self-publishing with my latest release, A Kiss in the Rain. This novel is special because it takes place at the Chautauqua Institution, where it is available for sale in their bookstore.
Penning novels has been quite an education. The market is ever-changing and an author must adapt. Wherein self-publishing used to be looked down upon, it is now widely accepted as a legitimate method of publication. For me, I prefer the control it affords over my product. On that note, a self-published title must be undistinguishable in quality from a top publisher's product.
Tell us about your newest book. What inspired this one?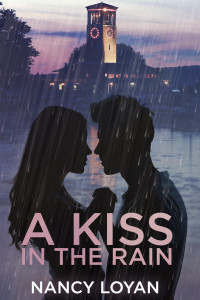 My Latest novel is A Kiss in the Rain. This novel is special because it is set in one of my favorite places, the Chautauqua Institution in New York State. For nine weeks in the summer, this sleepy Victorian village awakens into a gated educational community featuring world-class speakers and entertainers. I have been honored to have been accepted as a Middle Eastern dance and writing instructor for my eighth Season. I like to incorporate my favorite places into my novels. A Kiss in the Rain is about a "black widow" who is stalking the grounds of the Chautauqua Institution. Special Agent Darrin Carter F.B.I. is assigned the task of capturing the "Siren" serial killer before she strikes again. Memories of the past and childhood sweetheart Katy Morrow are unexpected obstacles to his investigation. Katherine is a survivor with an inn to operate. She doesn't need reminders of a tragedy and people interfering with her life, especially Darrin. Could love be a distraction in the hunt for a cunning murderess?
The plot sounds great, and the setting is a place we've wanted to visit for years. So how has writing your own books affected your approach to others' books?
Writing has influenced the way I read novels and watch films. Now, a good book or movie is one in which I cannot predict the ending. As a writer, I tend to get into the writer's head and figure out the plot and ending. When reading print books, I have been known to use a red pen to edit and correct errors. Yes, even in library books! The Kindle makes this difficult and frustrating.
Yikes! As a former school librarian, your last sentence makes me cringe LOL. Is there an aspect of writing that you favor over others, e.g. dialogue, exposition, description of a scene, setting, or character, etc.? Is there one that is more difficult for you?
My strong point in my writing is my use of setting. Readers have told me that they experience the settings in a personal way. Because my background is in writing about architecture, construction and design, I tend to excel at description. I love to describe buildings and rooms and the atmosphere where the novel is set. I love to relive the feelings I experienced when visiting many of my book settings. My weak point is editing. The process of editing is so very difficult for me. I tend to be too close to the forest to see the trees. I get bug-eyed trying to get a manuscript in perfect form. If there is such a thing as perfection!
What advice would you offer to aspiring writers today?
If you love to write, write. If writing comes naturally to you, write. If you have the gnawing desire to write, write. Writers write. Writing is like playing a musical instrument. It takes patience and practice. Not everything you write will be good. Put pen to paper anyway and keep honing your craft. And, don't let people dissuade you by saying that you are wasting your time and that it isn't a real job. For me, writing is like breathing. It's something I have to do. If you have to write, just write. It's the best advice I can give!
And great advice it is! Thanks for visiting with me today, Nancy. I wish you great success.
Nancy's books are available at AMAZON.