I met Darliss Batchelor at an Aspiring Writers Association of America Conference last April, and I loved hearing about her books. I'm so pleased she agreed to be my guest today. Welcome, Darliss. Please tell us a little about yourself.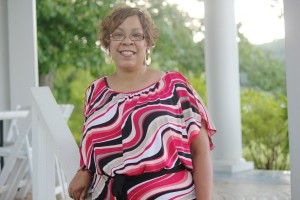 I am so excited to be a guest on Meyette's Musings. This is my first time being a blog guest and I appreciate the opportunity to share a little bit about myself and my books.
I am Darliss Batchelor. I'm a wife of thirty years, a mother and a grandmother. I am a former Computer Programmer/Analyst turned author/publisher. I primarily write fiction but there are a few nonfiction books I'd like to write. I am an avid reader and primarily read Christian and Women's fiction.
Talk about the books you've written. What was the first seed of an idea you had for your books? How did it develop?
I'm the author of two books. My first novel, Secrets, came to me as I was laying on a white sand beach in Cozumel, Mexico. I returned from the cruise, sat in front of the dreaded blank screen and wrote what had come to me. Over the next ten years, I wrote Secrets and it was released in 2011.
My second book, Hell is a Skyscraper: A Trio of Novelettes, was released in 2015. People always ask me where the title came from. It comes from a line the main character, Demetri, says in the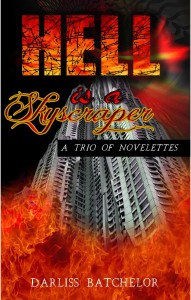 novelette referring to the trouble he was facing in his life. It says, "Hell is not a one-story building. It's more like a skyscraper. There are more levels to it than I ever imagined. I was about to be plunged even deeper into the abyss…"
The title novelette, Hell is a Skyscraper, actually came from a dream. It's about a young man named Demetri and is told from his point-of-view as an adult. The story shows how his deepest trouble provides an impetus for him to do great things as an adult.
Twice Bitten was an idea a friend shared with me. I put my own twist on it and it has actually been a favorite of the trio. The main character, Chriselle, is a married woman who is facing an empty nest. She wants to travel to exotic locations and dance the night away while her husband wants to purchase a pontoon boat. She reconnects with a former boyfriend who is living the lifestyle Chriselle desires and offers it to her as well. Chriselle must make a choice between the two.
The third novelette, Mother, May I is a story about a high school senior who is forced to choose between her family and her dream of going to college and becoming a journalist.
I love the premise of each! How do your characters influence your writing? Do you have disagreements with them?
My characters heavily influence my writing. They talk to me and will not relent until I listen. I've tried to redirect them at times to no avail. I once fought with one of my characters who decided to attempt suicide. It came as a surprise to me. She didn't die but I was upset for a couple of days about that. I've come to understand and accept that they are in complete control and I am at their mercy.
There are also times when I have a strong love-hate relationship with a character. While I despise their actions, I'm also strangely sympathetic. I think it's because I'm aware of the "baggage" they carry.
I see your characters behave just like mine J. How do you handle spicy sex scenes and relatives? Are your family and friends supportive or do they choose not to read your books because of their sensual nature?
I'm primarily a Christian Fiction writer so spicy sex scenes generally aren't expected. However, the subject matter of my next project is a little on the "hot" side. I've decided I'm not going to fight the story. I don't know how family and friends will react. However, I think I'm about to find out.
Spoken like a true author. Tell us about the funniest/craziest/most interesting thing that has happened to you as a writer.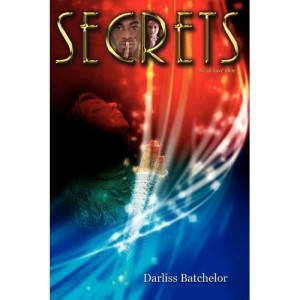 I was once invited to speak in a Women's Month celebration at a local senior citizen's center. I did the presentation and a brief book signing afterward. Recently, I was at a hair salon and the organizer of the celebration came in. I asked her if she remembered me and she said I looked vaguely familiar but she didn't recognize my name. However, when I told her I wrote Secrets, she almost jumped out of her chair and yelled, "Yes! That was a good book!" I guess I'm not as memorable as my book. I don't know how I feel about that.
With a reaction like that, I'd be pretty happy! What are you currently working on?
I'm working on a project called The Marriage Bed. It's about three troubled married couples. The Marriage Bed is actually the name of a fellowship group where the married couples come together to help save and strengthen their marriages. This project deals with issues surrounding sexual boredom, abuse and infertility.
I am also working on a spinoff for one of the novelettes in Hell is a Skyscraper: A Trio of Novelettes. It's tentatively called Something Else to Want and features Neely from the title novelette.
Wow—you have some great projects going on. What is the best piece of advice about writing that you have ever gotten or read? What would tell aspiring writers today?
I would tell aspiring writers today to:
Be true to your story whatever it is.
Stop comparing yourself to others and write the story your way. No one can tell it the same way you can.
Get support and help as needed including critique partners, beta readers and editor(s).
Excellent advice! Do you keep a notebook in your pocket, briefcase, purse, or on your bedside table to write down ideas that come to you right away so you don't forget them? Have any of these ideas developed into a successful piece?
I love notebooks! I have a huge stash and have to make myself stop buying more. So, there is always one in my purse or within reach. My Samsung tablet typically sits on my nightstand so if I have an idea in the middle of the night, I can quickly document it as a memo and email it to myself. I also have a voice recorder that I rarely use for some reason. The majority of those notes/ideas are related to whatever project(s) I'm working on at the time.
I have a notebook in my bedside table drawer so if I get an idea in the middle of the night, I can scribble a note to myself as a reminder. Of course, this is in the pitch dark because my husband is asleep, so in the morning I have to decipher what I scribbled. Maybe I need to use my iPad instead…
Thanks for being my guest today, Darliss. I wish you all best with your writing.
Visit www.DarlissBatchelor.com to purchase books, download free excerpts and view author interviews.
Email: wids-pub@comcast.net
Amazon Author Page: https://www.amazon.com/author/darlissbatchelor
Books also available online at BarnesandNoble.com