Ghosts. Ghouls. Terror. Shivers. Halloween is terrifyingly fun. But what about real encounters with ghosts? Yes, I mean real ghosts.
Dad
My sister Judy actually saw my father shortly after he passed. He was standing at the bottom of the stairs in the entrance hall of our house. While alive, when retiring, Dad had always perched on the edge of his bed, removed one shoe, dropped it on the floor, removed the other, and dropped it on the floor. Several times my mother and nieces heard the signature "dropping of his shoes" after he passed. As they sat in the living room at 10 p.m.—Dad's usual bedtime, they heard that familiar sound.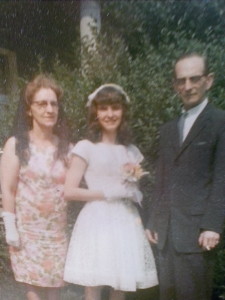 Mom
Just months after she passed, my mother helped me find important papers I needed for defending my Masters Thesis. I had looked high and low for the papers to no avail. When St. Anthony (patron saint of lost items) and St. Jude (patron saint of impossible tasks) didn't help me, I turned to Mom. I felt as if she took me by the shoulders and turned me toward my desk where I found the papers tucked into an oversized book. I never put them there.
Friends
My good friends Larry and Cheryl live with a ghost. If I remember correctly, Pearl was the original owner of the house and apparently liked it too much to leave. They have heard her, and a mutual friend swears he saw her. While I have never had the pleasure, every time we've visited their home I hoped to have an encounter. Cheryl said, "The only presence we have ever sensed in the 25 years we've lived in this 139 year old house is a very benign, protective one… Pearl is "our house fairy…"
Communicating
My good friend Sherry Schaffnitt is a psychic. I've had readings with her at least five times, and I'm telling you, she's the real deal. What she told me my parents and siblings have said from the other side has been uncannily accurate. Many friends have also gone to Sherry with the same results. I am convinced that our loved ones continue to surround us after they pass.
What does this have to do with my writing?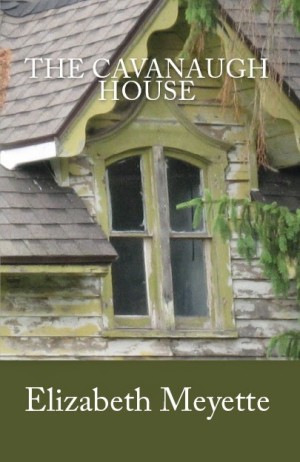 Helen. The ghost in The Cavanaugh House.
Helen initially makes her presence known through sound, then physical sensations such as icy air. Eventually, Jesse, my protagonist, empathizes with Helen—Helen is able to transmit her emotion resulting in a startling discovery for Jesse. Finally, Helen is visible, not just to Jesse, but to others, too.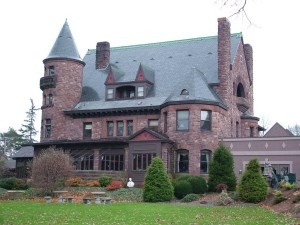 Belhurst Castle in the Finger Lakes region of New York State is haunted and was part of the inspiration for The Cavanaugh House. The Belhurst ghost has been well documented and even photographed. We saw a photo of two ghosts on our visit. David Sakmyster writes of his own encounter with the ghost in his book The Belhurst Story.

Tell Me Your Story
How about you? Have you had ghostly encounters? Spiritual messages? Otherworldly sensations? Dream visitations so real you wake up deeply emotional? I would love to hear about them.