When a writer talks about her process, my heart sings. Well, my heart is singing today because Susan Matthews is joining me and giving us insight into The Harvester series. Welcome, Susanne.
Hello, and thanks for having me here today.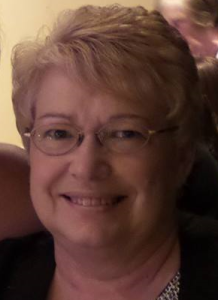 If this were one of those meetings, I would start by saying, "Hi. My name is Susanne and I'm a pantser." Many of you may recognize the term, but for those who don't, a pantser is someone who writes without a plot outline. The story unfolds as I type, and I don't know exactly where it's headed from one day to the other. I have the ultimate end in mind—a happy ending—but I design all the twists and turns as the plot evolves. The characters in my head live their stories, and I write them down. I've had people say that when they read the books, it's as if they can see the story happening like a movie. I'm extremely flattered by that since that's essentially the way I write it. It sounds simple enough, but it isn't always easy.
When I started the novel I'd entitled The Harvester, I hadn't planned on it being any more than a one book deal, but as I wrote, the plot grew and the character of the Harvester himself took on dimensions I hadn't even anticipated.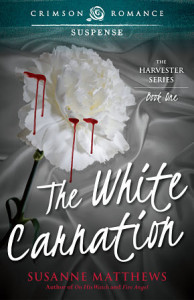 To be fair, I have to admit that everything that happens around me affects whatever story I'm working on. A number of things came together to create what ended up being the first book in what is now a three book series. The White Carnation, which is what the first book in the series was eventually called, introduced the reader to Faye and Rob, a couple torn apart by circumstances, misunderstanding and one man's obsession, fueled by a megalomaniac with delusions of godhood. Sounds heavy, right? But ISIS was in the news a lot at the time, just as it continues to be and that got me thinking about the cult mentality more and more. As I did, the basic structure for the rest of the books was born.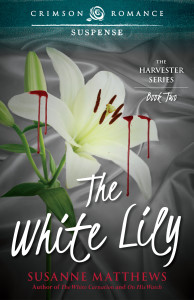 When I started The White Lily, I was faced with three situations that had to be taken into account in order to create a viable sequel. The first problem was to find a way to advance the plot from book one—pick up the story as if it were a football and run for the goal line—and take it the ultimate conclusion: the bad guy is caught and everybody lives happily ever after. In The White Carnation, while the romance came to a satisfactory conclusion, the villain was foiled, but not stopped or caught. My challenge was to figure out what he'd do next, and how to keep the characters from the first book true to themselves and yet let them grow.
The second situation involved the new characters. The White Lily is a suspense romance; therefore, I needed a two people who would fall in love. I don't believe in perfect people. All of my heroes and heroines are flawed, just like I am, and a significant number of people get turned off by the perfect person. I created a woman who was smart, capable, and self-sufficient, yet she was broken by events from her past that haunt her. Lilith is a woman with secrets and a determination to right what she sees as wrongs caused by her inabilities. She doesn't feel she deserves love because she can't give love, not as long as she harbors hate in her heart. I paired her up with Jacob, an Australian millionaire and a former member of the commune turned cult. He's spent a significant portion of his life hiding from his own past. When he comes to Boston to find his sister, he's confronted with his own short comings. Why make him an Australian millionaire? Well, everyone loves a rich guy, but more importantly, he'd provide the haven I needed to keep the victims in book one safe from the monster after them still. Having Lilith and Jacob find common ground, learn to trust, and fall in love was a challenge, but getting them to mesh and work with the characters from book one was just as tricky.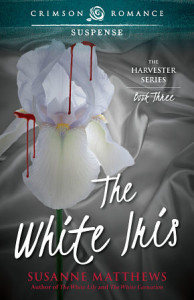 Finally, the third element I needed to remember was that not everyone reading The White Lily would've read The White Carnation, so the story had to make sense on its own. References from book one had to be explained, but not ad nauseum, so that someone who had read the first book would get bored and give up on the second. Both books can stand alone. The romances are complete in each novel, but the chase for the Prophet/Harvester will continue into book 3, The White Iris, and only there will the Harvester reap the harvest he deserves.
Blurb from The White Lily:
The Harvester is out there … watching, waiting, biding his time.
FBI cult specialist Lilith Munroe lives in dread that one day the man who tortured her when a case went bad will find her again. So leaving her sanctuary in Quantico to join the Harvester Task Force in Boston is her version of hell. But the Harvester is kidnapping babies, and Lilith's profiling skills may mean the difference between life and death for the most innocent in society.
Australian millionaire and former member of the New Horizon commune Jacob Andrews returns to the United States searching for his sister. Instead of the happy reunion he expects, he discovers she is dead and his twin brother may be responsible. He agrees to lend his law enforcement skills to help find his former cult leader before the man can implement his plan to kill millions.
Now uneasy partners, Jacob and Lilith must learn to trust each other even as they fight their growing attraction. But when Lilith's greatest fears materialize, will Jacob be able to set aside his anger and save the woman he loves?
Sensuality Level: Sensual
Buy Links for The White Lily:
Amazon.com:
http://www.amazon.com/White-Lily-Susanne-Matthews-ebook/dp/B015P79XZ0/ref=sr_1_1?ie=UTF8&qid=1443387932&sr=8-1&keywords=The+White+Lily+Susanne+Matthews
B&N:
http://www.barnesandnoble.com/w/the-white-lily-susanne-matthews/1122682664?ean=9781440591228
KOBO:
https://store.kobobooks.com/en-ca/ebook/the-white-lily
About the author:
Susanne Matthews was born and raised in Cornwall, Ontario, Canada. She's always been an avid reader of all types of books, but with a penchant for happily ever after romances. In her imagination, she travelled to foreign lands, past and present, and soared into the future. A retired educator, Susanne spends her time writing and creating adventures for her readers. She loves the ins and outs of romance, and the complex journey it takes to get from the first word to the last period of a novel. As she writes, her characters take on a life of their own, and she shares their fears and agonies on the road to self-discovery and love.
Follow Susanne on her:
Facebook page
Twitter @jandsmatt
Amazon author page
Goodreads author page