Lola Karns is an expert at "character wrangling." You know what I mean—when characters won't leave you alone until you've written what they've told you. Fortunately, Lola listened and the result is her newest release, Lucky Traveler. Welcome, Lola. Tell us about this book.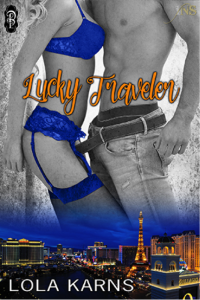 I wrote my 2014 Decadent release Bad Traveler as a stand-alone title, but the characters weren't done with me. Several readers asked me about Keira Jones and Logan Collins. I tried to wrestle them into a novel with the same small town setting, but Keira refused to participate. She told me she moved on emotionally and geographically, and then she went back to taking on-line personality quizzes.
Logan kept pestering me. He insisted I share his story. I discarded plot after plot and romantic interest after romantic interest until he tapped me on the shoulder and said "You know I'm a recovering alcoholic, right?" I understood that he needed a chance to make amends.
Only Madame Eve and Decadent's 1Night Stand series offered a way to bring these two damaged characters together. I hope you will enjoy their sexy yet emotional journey.
Lucky Traveler
By Lola Karns
Published by Decadent Publishing
Genre: Erotic Romance, Contemporary, Heat Level 4
Blurb Lucky Traveler:
Nearly a year after she found her boyfriend with his hand up someone else's dress, Midwestern school teacher, Keira Jones, contacts a dating service in a faraway town for a much-needed confidence boost and night of adoration.
Logan Collins doesn't remember much about the night he screwed up his cousin's wedding and his life. But with five months of sobriety under his belt and most of his amends made, he celebrates with a 1Night Stand.
When Madame Eve sends these ex-lovers to the same Las Vegas hotel room, the two of them must discover whether good luck or bad luck guides their travels.
Lucky Traveler is Available at:
Amazon AllRomanceEbooks   iTunes  Barnes&Noble
Author Bio: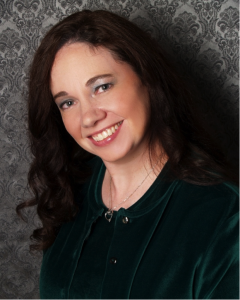 Having held myriad jobs as Lola Karns moved through Illinois, Indiana, Ohio, New Jersey, Georgia, and Virginia, she decided she needed a portable career. Writing fit the bill.
Lola currently resides in Minnesota with her husband, two children, two hairless cats and a fluffy ex-stray cat. When not writing, she enjoys baking, reading and drinking coffee.
She is the author of Lucky Traveler, Bad Traveler and Winter Fairy.
Visit Lola at:
Website/blog    Twitter @lolakarns      Facebook         Goodreads        Google+          Pinterest