What is more romantic that the holiday season? A new release from my friend and fellow Crimson Romance author Peggy Bird will get you into the mood for candlelight and mistletoe. Welcome, Peggy. First, please tell us a little about yourself.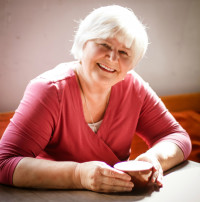 I live in Vancouver, Washington where I write romance novels and memoir pieces and turn out the occasional piece of glass art for the co-op gallery where I'm a member. When I'm not doing either of those things, I hang out with my grandchildren who live across the Columbia River in Portland, Oregon so I can keep up with what's new and cool in books, movies and television.
Talk about the book you've written. What was the first seed of an idea you had for your book? How did it develop?
Thankful for Love, my twelfth book released by Crimson Romance, is very special to me. I spent two years as a nurse in the Public Health Service on Indian reservations in Montana where I developed a respect for the pride, traditions and dignity of Native Americans and their cultures. I've wanted to write a story that reflected some of that for some time. When I began to develop my holiday series, the seed of an old idea I'd had—a book called The Cowboy and the Kid Wrangler about a divorced Montana rancher who falls in love with his nanny—turned into a book about a widower in Eastern Oregon who hires a woman who's Indian/Latina to be his "kid wrangler." Of course they fall in love but it can't work out easily, can it?
If it did, there would be no story LOL. How do your characters influence your writing? Do you have disagreements with them?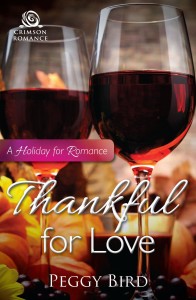 Each of the books in this series has been written from a synopsis which I thought, when I started out, meant I knew my characters well enough to know what they would do and how they would act. Turns out, that's not always true. My characters always "talk" to me—in the middle of dinner, when I'm sleeping, sometimes when I'm in the middle of a conversation with a more real (as in, more corporeal) person. In this book it was mostly Quanna who talked to me. She seemed to worry I wouldn't get her right. She's been quiet since the last edit so I think she's okay with how I wrote her.
That's exactly how I felt when I finished Love's Destiny. When you get the edits back from your editor, how do you work through that process?
After I read the message my editor writes up front, I let the manuscript sit on my computer for a day while I think about what she wrote. Then I scroll through to see the specifics. By the third day I'm ready to approve all the small edits. After they're all taken care of, I work my way through the major edits. After that, I read through the manuscript one time on the computer and then read it out loud. When I'm down to changing commas and semi-colons, I know it's time to send it back!
Isn't it amazing what you hear when you read it aloud? That helps me so much. Has writing changed how you read books now?
Not only the way I read books, but also the way I watch TV shows and movies and listen to people tell anecdotes. I'm much more aware of how plot works and where the holes are, how characters develop (or not) and what keeps me reading/viewing/listening. There's a lot to learn from other writers, in all forms of storytelling.
Is there an aspect of writing that you favor over others, e.g. dialogue, exposition, description of a scene, setting, or character, etc.?
I love to write dialogue. I think it's because it gives me an excuse to eavesdrop on conversations wherever I am. (I heard the most interesting exchange between four twenty-somethings recently that will definitely show up in a story someday.) My first draft is always heavy with dialogue. In the next drafts I have to go back and add in visceral reactions, descriptions, bits of backstory—whatever's missing.
It sounds like layering is important in your process. What are you currently working on?
I've started the seventh and last book in the Holiday for Romance series. This one ends on Valentine's Day. I'm also working on an idea for a new series. Although I may use National Novel Writing Month in November to get the first draft of a book done that's been bugging me for a year or more. In other words, I have more ideas for what I want to write than I have time to get it all done.
Oh, I can relate to that! Do you keep a notebook in your pocket, briefcase, purse, or on your bedside table to write down ideas that come to you right away so you don't forget them? Have any of these ideas developed into a successful piece?
Yes, I keep paper and pen in my purse, in my computer bag, on my bedside table, on the table in front of my sofa. I'd keep a tablet in the shower if I could. If I don't write things down when I think of them—or in some cases, dream them—I forget them. I'd blame it on my age but since I've always been like this, it's a pretty lame excuse. Thankful for Love was once one of those notes. So was the story I'm working on now, as well as at least half of the books in the Second Chances series.
Last Christmas my daughter bought me "AquaNotes"—that's right, waterproof notes that stick on the shower wall. I've used them many times. You may want to add them to your Christmas list J
Visit Peggy at:
Email: peggybirdwrites@gmail.com
Amazon Author's Page: http://www.amazon.com/Peggy-Bird/e/B0081JM3LG
Facebook: https://www.facebook.com/peggybirdauthor?ref=bookmarks
Pinterest: https://www.pinterest.com/writingbird/
Twitter: https://twitter.com/peggybirdwrites
Thankful for Love is available at:
Amazon:
http://www.amazon.com/Thankful-Love-Holiday-Romance-Peggy-ebook/dp/B016R62FRQ/ref=asap_bc?ie=UTF8
Barnes & Noble:
http://www.barnesandnoble.com/w/thankful-for-love-peggy-bird/1122818506?ean=9781440594984