Patty Kiyono was intrigued by a publisher's challenge and the result was her first Regency. Today she talks about the release of her second. Welcome, Patty. Please tell us a little about yourself.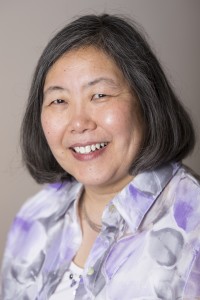 I'm a retired teacher, a mom of five, grandmother of nine, and great-grandmother of two (so far). I teach part-time at GVSU (Grand Valley State University), play in two orchestras and a community band, work as a social media assistant for one of my publishers, and love to sew quilts with the ladies at my church. Once a month I meet with my scrapbooking club. I recently started making greeting cards. So when you add the time I spend writing, my days are pretty full!
Wow! You are one busy woman! Talk about the books you've written. What was the first seed of an idea you had for your book? How did it develop?
I started writing about places I've been, because writing stories set in places like Japan, Greece, and England allowed me to re-visit them. With my Regencies, it was a challenge from the publisher. She issued a call-out for Christmas novellas centered around the theme The Twelve Dukes of Christmas. Each story had to include a duke and had to have a scene at the 1812 Christmas Eve Ball hosted by Lord and Lady Kringle. That challenge resulted in my novella The Partridge and the Peartree, and this year's sequel, Two Tutor Doves.
I like the idea of a challenge to write a story based on a theme. How did that fit with your writing process? Do you outline? Let the muse lead you? Or something else?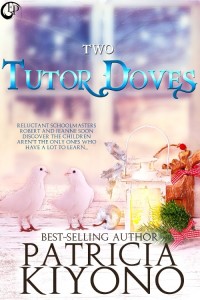 I usually start with the central conflict. What is the main problem that needs to be fixed? Once that's set, I create characters who are affected by that conflict. They might be on opposite sides of the issue, or they might have different reasons for wanting to make a change. I make a rough outline. Since I use Scrivener, I set up my chapters according to what happens in the storyline. But then, no matter how much planning I do, I'm often surprised by where the characters lead me. I often write the beginning, and then the end, and then go back and fill in the middle. But with Two Tutor Doves, the heroine suddenly took over and changed the ending! She really took me by surprise.
My characters do that to me all the time, too! How do you handle spicy sex scenes and relatives? Are your family and friends supportive or do they choose not to read your books because of its sensual nature?
I don't have any problems in this area because I don't write spicy scenes – all of my books are sweet romance! After an agent told me I needed to add at least two love scenes in my historical The Samurai's Garden, I tried to do it but was really unhappy with the way it turned out. Fortunately, I found out about a small e-press that published ONLY sweet romance, and found a good home for that book.
I love when a plan comes together. What are you currently working on?
I always have several projects in various stages of completion. Right now I've got a new adult book about a young Japanese couple who have been matched for what you might call an arranged marriage, and another book about an award-winning quilter who begins to lose her sight. I've also got an idea brewing for another regency to follow Two Tutor Doves, but I'll have to do some more research before I can write it.
How do you balance writing, marketing, promoting, bookkeeping, family, work and all of your creative interests?
I'm very easily distracted, although my psychologist daughter insists that I don't have Attention Deficit Disorder. I have calendars on my laptop, my phone, and my iPad that are all synched so I keep track of writing deadlines and social media obligations on those. I have a regular calendar on my wall where I keep track of places I have to go.
I depend heavily on lists to keep myself accountable. Each morning I go over my list of things to do that day and cross things off as I get them done. As far as family obligations, I'm pretty lucky – my children are grown and independent, and my husband does the cooking, laundry, and shopping, so most of my time is my own.
You've created great systems to stay on track. What conflicts did you find as you put your book together? Conflicting opinions? Resistance to your writing the book? Something else?
Writing a regency romance is a challenge, because there were so many social rules, and the idea of royalty is rather foreign to us in America. I had to do a lot of research for my first regency, and even though The Partridge and the Peartree was edited by three different people, readers who really knew their stuff found lots of errors. I was really happy to have the opportunity to fix them in the new edition. By the time I started Two Tutor Doves, I'd become acquainted with a couple of English authors who are extremely well-versed on the era, and they very generously read my rough draft and made some wonderful suggestions.
What surprised you as you wrote this book? What amused or angered you?
I was amazed at how hard domestic servants had to work. They didn't have a lot of freedoms we take for granted. My main characters, Robert and Jeanne, are a valet and a lady's maid, respectively. They were on duty from the wee hours of the morning until long after the lord and lady of the house went to bed. They had a half-day off per week. Most of them could not keep their jobs if they married. And the entire concept of class structure is one that is totally distasteful to most of us. Life was good for those with money and the right lineage. If not, life was a constant struggle.
Blurb for Two Tutor Doves:
Robert Townley prides himself as an efficient and indispensible valet to Phillip, Duke of Bartlett. But when Robert is coerced into teaching the poor children at the duchess' chapel school, he's out of his element. Thankfully, he has assistance from some of the other servants, including the prickly Miss Brown.
Jeanne Brown is lady's maid to the Duchess of Bartlett. She loves working with the children but can't abide Robert's lofty attitude toward them. She'd love to put him in his place — but she needs her job.
When the duchess decides to hold the school's Christmas party in her home, Robert and Jeanne must put aside their differences and work together to ensure that the holiday celebration goes off without a hitch. Will they be able to endure the partnership, or will their sparks ignite something more?
Buy Links:
Two Tutor Doves is available at
Patricia Kiyono can be found at