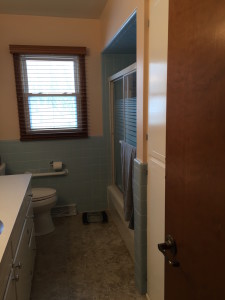 Caveat: this post has nothing to do with a book with a similar title, or with sex or even romance. Well, wait; there might be a little romance as I'm falling in love with the idea of a remodeled bathroom.
When Rich and I bought our house, we knew we'd be updating it starting with my bathroom. (Yes, we have two full bathrooms so we each have our own.) Mine is the original 1967 blue tile that many of us grew up with, though yours might have been pink, lavender, or yellow. Okay, so my moral dilemma is whether or not to demo the blue tile. Here are the arguments:
it's in perfect condition – it's old and dated
the retro look is back, and this looks cool – it's old and dated
as a good steward of the environment should I destroy perfectly good tile? – it's old and dated.
I have gone back and forth in my conscience about this, no kidding. When I finally reconciled myself to demo the tile, the designer we met with saw a picture of the bathroom as it is and loved the blue tile throwing me back into my guilt-ridden conscience. But it's old and dated- the tile, not my conscience.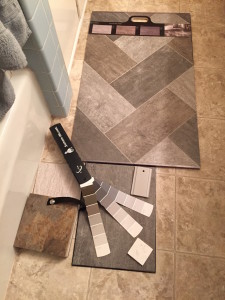 After visiting a Home Remodeling Show and looking at bathrooms in magazines and online, I knew I wanted my bathroom to be gray. Sounds simple enough – gray is gray, right? Au contraire, mon ami. There actually are fifty shades of gray, maybe 50,000. Some are greener, redder, bluer, yellower. And you know what else? Gray might be bluer in the morning light and browner in the afternoon light. We discovered this when we painted our last house in preparation for putting it on the market.
So the next time you are having a gray day, or find a gray hair, or look at a gray sky, don't despair. What a gift! Now you can determine just what shade of gray it is. The possibilities are almost endless. Trust me on this one.
P.S. Gray looks brown in these pictures, doesn't it? I rest my case.