Don't let T.F. Walsh's penchant for baking sweet Snickerdoodles fool you—she writes a wicked dark paranormal romance. Like all authors, T. F. is a multifaceted person whose surroundings play a major role in her stories. Please tell us a little about yourself.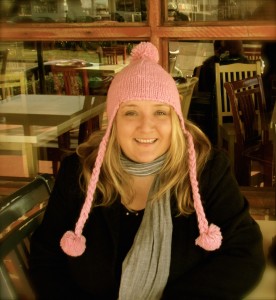 Well, I was born in Romania and moved to Australia with my family at the age of eight. My dad has always loved writing and is quite well known in Romania, so I guess from an early age I started to show interest in writing. Sure, they were only poems or lyrics, but it was a start☺ It was only when I finished university that I considered trying to write stories. Fast forward many years later, when I was home sick from work that I attacked my first novel, and no looking back from there. Aside from writing, I'm a huge baking fan with Snickerdoodles being my all time favorite cookies. I live with hubby and two gorgeous kitties.
With a father who is a well-known author, writing must be in your genes. What is your research process like? Do you enjoy it?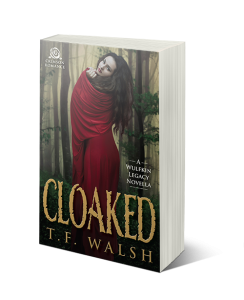 I really do love the research part, and if anything, I just wish I had more time for it. Cloaked is based in Romania, so I spend hours reading up on the country, animals, Carpathian Mountains, cultures, and I even watched YouTube tourist videos of the city of Brasov. And after enjoying every show / documentary I watched on wild wolves and packs, I feel comfortable to answer almost any question about them 🙂
It sounds like you enjoyed researching your book. Have you ever had to do major rewrites? What was your approach?
Yep, I can actually say I've had to do this. Firstly, [I] listed all the changes on a numbered list, using color-coding. On a separate spreadsheet, I listed all the chapters of the book. I then systematically went through each proposed change and made notes against every chapter and whether it needed tweaking accordingly. After that, I made a final column, summarizing the new chapter with the changes. Then I sat in front of my manuscript and started making the changes. It wasn't easy, but by breaking it up into small chunks made it bearable.
You need to write a blog about that system! What a logical way to approach rewrites! How do you handle spicy sex scenes and relatives? Are your family and friends supportive or do they choose not to read your books because of their sensual nature?
Geez, I still blush just thinking of my family / relatives reading the spicy scenes. But I'm just up front with them in a joking manner about there being sex scenes. Except, I haven't quite done that yet with my parents. Not sure I ever will. Luckily, English isn't their first language, so I am hoping that means they never get to those chaptersJ
What do you keep in mind as you write? An overarching question? A theme? The last line of the book?
For me, it's always the character's goals. What do the characters want but can't have? Most of the time it revolves around the hero and heroine wanting each other, making the book a set of conflict-mass-induced scenes. Can't let them have it too easy.
The harder the hero and heroine have to work for their love, the better the story, right? What are you currently working on?
Right now I'm working on book 3 of The Wulfkin Legacy Series.
Cloaked – Prequel – Already out
Cloaked in Fur – Book 1 –Already out
Cloaked in Secrecy – Book 2 – Coming out March 2016
Cloaked in Blood – Book 3 – Coming out May 2016
Cloaked Blurb:
Raised by an overly protective wulfkin pack, Daciana leaps at the chance to venture into the human world for her one-year independence ritual. But after someone steals the endangered bear cubs she's been assigned to protect, she must locate them or lose her job and return home in disgrace. The sexy inspector on the case isn't making this any easier. He knows nothing of her kind, and wulfkin rules forbid relationships with humans.
Newly divorced Inspector Connell Lonescu trusts no one but himself. He's convinced relationships are a waste of time and thinks burying himself in work will ease the pain. Yet he's attracted to the gorgeous and mysterious Daciana, even if there's something slightly odd about her. Can Connell learn to trust the sexy but secretive woman?
Cloaked is the prequel to Cloaked in Fur, book 1 in The Wulfkin Legacy Series. Find out how Daciana and Connell fell in love and set in motion the paramount events that forever change their lives and those around them.
Cloaked is only 0.99c
Grab Your Copy: Amazon | B&N | Kobo | Google Play | iTunes
Publisher: Crimson Romance
Coming Soon
Cloaked in Secrecy (Book #2) – March 2016
Cloaked in Blood (Book #3) – May 2016
Sign up here for T.F. Walsh's newsletter to keep up to date with latest releases, special offers, and exclusive content.
About The Author
T.F. Walsh emigrated from Romania to Australia at the age of eight and now lives in a regional city south of Sydney with her husband. Growing up hearing dark fairytales, she's always had a passion for reading and writing horror, paranormal romance, urban fantasy and young adult stories. She balances all the dark with light fluffy stuff like baking and traveling.
Author Links: Website | Facebook | Twitter | Pinterest | Goodreads | Amazon