Christy Newton is a prolific writer! Today she shares blurbs from some of her books—one of which is on sale. Hi, Christy, please tell us a little about yourself.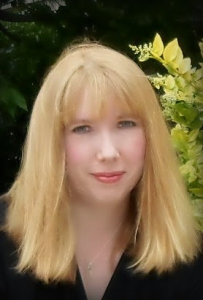 Hi! I'm Christy Newton, a hopeless romantic who writes many genres of romance. I fall in love with each of my heroes and hope you will too! I'm the author of over ten novels. With love in the air, February is the perfect time for me to tell you a little about my romantic stories!
Stolen Hearts is the first book I ever wrote and it was published two years later! If you crave adventure, you'll love Stolen Hearts and the rest of the More Than Treasure Trilogy. Ex-jewel thief Simon Fisher is a man of many hidden talents… protecting the daughter of his mentor is one of them. Cassie Adams may make Simon a better man, if she doesn't kill him first!
The most recent book I released was Breaking Free, a young adult story that covers the very serious issue of abuse. Elin Skye sets out to break away from the monster who has a hold on her and her mother. She meets Sawyer Knight along the way and the two find themselves in more danger than they ever thought possible.
Your books sound intriguing. What food or beverages do you turn to while you are writing? Are you a stress eater on deadline or a "lack of inspiration" eater when ideas are not flowing?
I just might be the only author out there who doesn't drink caffeine, (I know *gasp*) but dark chocolate is my must have. I always drink water with lemon. Occasionally, I'll have a Sprite or Root Beer. I do tend to be a stress eater when a deadline is approaching. I eat dark chocolate Hershey Kisses more than I should.
I always have a stash of Dove dark chocolates in my pantry. Has writing changed how you read books now?
Yes! It is very hard for me to turn off my internal editor. I'd say I read more now than I ever had before becoming a writer though.
Good readers are good writers they say. What kind of response do you get when you tell people you are an author?
Most people think it is really cool. Sometimes I get a laugh or smirk when they find out I write romance.
Is there an aspect of writing that you favor over others, e.g. dialogue, exposition,
description of a scene, setting, or character, etc.? Is there one that is more difficult for you?
I love it all! I think my favorite is dialogue. I enjoy playful banter the most.
Please check out all my books! Trust Again is on sale!
Trust Again Blurb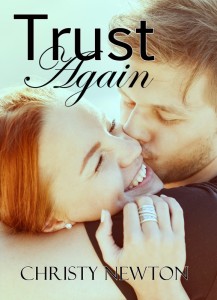 Once broken, can the heart really trust again?
Dreams of escaping her small town brought Ellie Oliver to New York only to find that life there wasn't all she'd hoped. Seven years later, she is returning to Pleasant Valley, Indiana with new hopes and secrets. She wants nothing more than to fade into the slow pace of small town life and forget about the demons of her past.
Jacob Jones is at loose ends. At twenty-six, a man shouldn't be starting his life over from scratch. Finding himself out of work, Jacob looks for a new home in Pleasant Valley. He is ready for the single life just enjoying the company of close friends. All that changes when he takes a job remodeling the town's toy shop and comes head to head with its new owner. Ellie turns out to be sweeter than the candy she sells in her store.
Ellie and Jacob bring out feelings in each other neither were looking for, but both can't deny. Can they truly trust again or will their shattered hearts refuse to mend?
More Than Treasure Series
(Stolen Hearts Book 1, Something to Treasure Book 2, Treasured Hearts Book 3)
Stolen Hearts Blurb
Jewels, deception and adventure…
Twenty-two year old, Cammie Adams knows one thing for sure… life isn't fair. She's still a wreck from the tragic loss of her parents seven years ago. Right after she gets her PI license she is not only robbed, but abducted, only to find her life was all a lie. When she finds her mother's diary she discovers she was only a pawn in her mother's dangerous game. Now she must get back what is rightfully hers from the man who murdered her mother.
Hot and mysterious Simon Fisher has really only loved one thing… jewels. This ex-jewel thief, now bodyguard, doesn't even know what hits him when he rescues Cammie as a favor to her father. Simon must protect her, but soon finds where there is trouble, Cammie isn't far behind.
She will not only steal his prized jewel, but his heart.
Something to Treasure Blurb
Murder, jealousy and treasure…
When Cammie Adams, determined novice PI, gets an urgent call from her ex, she is compelled to take his case. Miles, a luxury hotel owner and an upstanding citizen of Upton Hills, finds one of the maids dead. He turns to Cammie for help to keep his beloved hotel from being tarnished. With her partner and boyfriend, Simon, she takes on a case that might just be their last. Her ex's hotel is an eighty-year-old building that has secrets of its own.
Can they catch the murderer to save the hotel and her ex's reputation or will the case take a turn that will leave them lost forever?
Treasured Hearts Blurb
Spies, weddings and new beginnings…
Ready to get back to work after a long leave from their PI business, Simon Fisher and Cammie Adams take the first case that comes their way. Someone is selling company secrets and it's up to them to find the spy. But when they get their answer, they uncover much more than espionage.
After attending recent family weddings, Simon has become an expert at dodging Cammie's hints about giving her a certain piece of jewelry he has always secretly feared. Simon doesn't know how long he'll be able to keep his girlfriend satisfied without giving her the one thing she still desires.
As they work their case, will Simon and Cammie discover another fortune or will they see that the greatest treasure of all is the one they already have… love?
 
Christy Newton's Books are available at:
Amazon Author Page:
amazon.com/author/christynewton
Barnes & Nobles
http://www.barnesandnoble.com/s/Christy+newton?_requestid=589652
Visit Christy at:
*Facebook: https://www.facebook.com/pages/Christy-Newton/359791990763912
*Twitter: @CNewtonAuthor
*Author Website: www.christynewton.com
*Goodreads: https://www.goodreads.com/search?utf8=%E2%9C%93&query=christy+newton