"As soon as you finish [writing] your book, go back and read the first chapter." This advice from Bob Mayer, the keynote speaker at a regional convention I attended in January, was one of those epiphany moments for me. I am so pleased that he is visiting my blog today. Welcome, Bob. Please tell us a little about yourself.  
I grew up in New York City, attended West Point, served in the Infantry & Special Forces for a number of years. I started writing a long time ago and have been doing it ever since. I've written over 65 books in a wide range of genres. I've been traditionally published, hybrid published, indie published and also run my own publishing company.
Then you have some pearls of wisdom for all of us! Talk about the books you've written. What was the first seed of an idea you had for your book? How did it develop? 
I've written in a number of genres. I'm the only male author on the RWA (Romance Writers of America) honor roll. I started in military thrillers, but now I focus on science fiction. This year I'm writing six books in my Time Patrol series, which allows me to work with characters I established in previous series and explore history, which I love.
How would you describe your writing process? Do you outline? Let the muse lead you? Or something else? 
I used to outline. But after so many books and so much writing, I've learned to really trust my instincts. If I open my mind to it, it will come. I am very good at plotting, so I let it flow.
What is your research process like? Do you enjoy it? 
While you can find a lot of details on the Internet, I still like using books and original documents. A search on the Internet only finds you what you're looking for. As a writer, I'm more interested in what I'm not looking for. This requires reading books, long articles, watching movies, TV shows, etc. My hobby is story; fortunately, my work is story. And my wife shares that passion. And she has a better memory than me.
I love that concept of finding what you're not looking for. That happened recently when I was researching Boston in 1775 and I had to check the author of the book I was reading to see if he was British! Sometimes our heroes have feet of clay. What are you currently working on?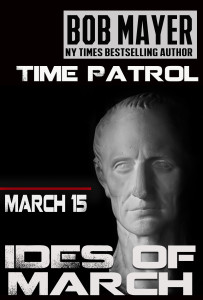 The Time Patrol books. Starting with Ides of March (15 March), going to D-Day (6 June), Independence Day (4 July), Nine-Eleven (11 Sept), Hallows Eve (31 Oct) and Day of Infamy (7 Dec). And that's just for this year. Each book is centered around six Time Patrol agents going back to the day of the title, but in different years. Their mission is to keep our timeline intact from a malicious force, the Shadow, that seeks to wipe our timeline.
Quite an intriguing premise! What is the biggest chance you've taken as a writer? How did that work out? 
Being a writer. There were many times where getting a "real" job would have made more sense. No one in their right mind would try to make a living writing. I've watched many, many writers come and go. Both in traditional publishing and indie publishing. To succeed you constantly have to reinvent yourself. Try different things. Most importantly, admit when you've screwed up and analyze why and change things. Too many writers rail about the system, the editor, the agent, the publisher, the book store, Amazon, etc. The only thing we can change is ourselves.
You are so right about that. Do you keep a notebook in your pocket, briefcase, or on your bedside table to write down ideas that come to you right away so you don't forget them? Have any of these ideas developed into a successful piece?
I never talk on the phone, but I carry my iPhone everywhere. I have a record app on it that I use extensively. Like most men, my memory is shoddy. So I record almost everything. Not just story ideas, but all that I have to do. I can remember the moment of conception of every book I've written.
Is there anything else you would like readers to know about you? 
I've taught a lot of writers over the years and worked alongside many. The top traits the successful ones all share are: hard work; a willingness to change.
Thanks for being my guest today, Bob. I look forward to your upcoming books, and I will recommend them to my brother, also named Bob, who has a very similar military background as you.
You can visit Bob and purchase his books at his website: http://www.coolgus.com/bobmayertimepatrol.html
Contact Bob at bob@bobmayer.org