GIVEAWAY ALERT!
To celebrate the publication of the audiobook version of The Cavanaugh House, I am giving away a $25 Amazon Gift Card! Now you can listen to Jesse Graham's story told through the voice of talented actress Amy McFadden.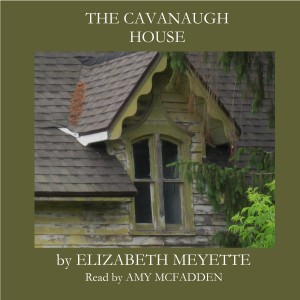 The Cavanaugh House
This house held secrets.  Secrets that wafted through rotting window sashes on the winter wind.  Secrets that spiders wove into webs anchored between the ceiling and walls. Secrets that scuttled on the feet of cockroaches across stained kitchen linoleum and scurried into its cracks. Secrets that peered from holes in the baseboard from glinting mouse eyes. This house held the secrets close to its bosom where they had slept for decades. No one had disturbed these secrets in all the years the house sat decaying from neglect. There was no reason to, and there was no desire.
Inspired by a childhood memory, a visit to a haunted winery and my muse, Boris, The Cavanaugh House has enthralled readers. Some comments from the 208 reviews on Amazon:
"I may have found a new author here."
"This book grips and refuses to let go until you get to the end."
"You won't want to put it one down."
"This was a good mystery/romance story. Jesse was a strong character and determined to solve the mystery of Helen's death. I loved the fact that a ghost was present in the story. Good friends gave Jesse the family she always needed – how great is that? Read the book; I think you will like it. Recommended for everyone."
I intentionally set my story in 1968 because of the lack of technological advances we have today. For example, Jesse had no access to a cell phone when she was in danger. I also liked how the fight for women's equality at that time added tension to the romantic element of the story. It's evident in this exchange:
Excerpt from The Cavanaugh House
Jesse wandered the aisles of the hardware store; she found something appealing about this place. Even if a person didn't know a nail from a screw, shelves lined with little drawers full of tiny metal objects meant somebody knew the difference and knew how to use them. That was solidly reassuring. Running her fingers along different brushes with bristles ranging from soft to almost brittle, she wondered which kind would work best for all the scrubbing soon to be in her life. One of each kind joined the heavy work gloves, mop, broom and dustpan in her shopping cart. She wondered if they sold work boots—good sturdy ones that could deflect a fleeing mouse. Distracted by thoughts of mice, she rounded the corner and smashed her cart into another one pushing it into its owner.
Joe turned and grinned at her.
"If you're trying to get my attention, Just Jesse, you could call out my name."
She knew she was blushing. With her skin coloring, there was no hiding the fact, and the more she tried to stop it, the hotter her face grew.
"Hi, Joe."
He glanced at the items in her shopping cart.
"Looks like you're going to be a busy lady—woman," he corrected. "I can't get this new terminology down."
Pleased that he tried, heck, that he even was aware of it, she smiled.
"I'm getting ready for Erik to bomb my house. He said the subsequent clean-up effort could be daunting."
"When is he coming to do that?" he asked.
"He's bombing on Monday, we're cleaning up the carcasses on Tuesday and I can move in and start to clean on Wednesday."
Joe stifled a grin. "Wow, it used to be laundry on Monday, ironing on Tuesday, shopping on Wednesday. This women's lib thing is really working."
Annoyance flared and she leaned her face into his. He held up his hands in a defensive motion.
"I was just pulling your chain," he laughed. She realized he had anticipated her scolding.
"You were earning some brownie points a minute ago, but you just lost 'em." She scowled at him.
"Let me earn them back. I'll come and help with the clean-up of a million mice on Tuesday," he offered.
Jesse saw the twinkle in his eyes and couldn't stay mad, but did she want him to help her with this? She realized how much she enjoyed his company as they stood together in the aisle, and a red flag went up. Being attracted to another man this soon after her break-up with Robert was neither wise nor a part of her "newly independent" plan. She hesitated, wanting to be independent, but dreading the aftermath of the bombing of the Cavanaugh House. She sensed his eyes on her as she tried to decide whether or not to accept his invitation.
"I promise I won't make any more inappropriate 'cave-man' statements." He placed his hand over his heart and looked solemn, but his hazel eyes danced with amusement.
Jesse let a half-smile break as she thought about her decision. It would be great to have his help, and she was strong; she could control any attraction she had for him with common sense.
"Okay. If you want to come and scoop up a million dead mice, you can. But if you don't behave yourself, I'll kick you out and you won't be able to have any more fun."
They laughed and their gaze held a bit too long. Both straightened and looked around at items neither needed.
"Well, then, I'll see you on Tuesday," she said.
"See you then." He pushed his cart down the aisle and disappeared around the corner.
Watching him, Jesse realized she would need a lot more common sense.
***
Add a ghost to this mystery with a dash of romance, and you have a recipe for suspense.
Help me celebrate by participating my my giveaway!
The Cavanaugh House audiobook is available at
All of my books are available on Amazon in both ebook and print editions.