Amy McFadden is the amazing actress who narrates my audiobook version of The Cavanaugh House. She was wonderful to work with, and I knew the minute I heard her audition that she was the narrator for me. I am so pleased to have Amy as my guest today. Welcome, Amy. First of all, how did you become a narrator for audiobooks?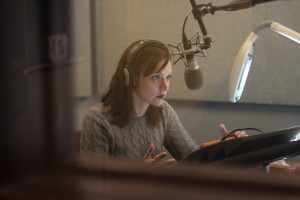 Well, I had a degree in Theater and had been acting for a good 20+ years when I did a movie with a friend who is a narrator.  He suggested I make a demo and send it out to Brilliance Audio in Grand Haven, Michigan. So I listened to a LOT of audiobooks, called a friend who had directed a LOT of audiobooks for advice, and started reading out loud to myself in my living room. Then I found a top-notch studio, cut a demo, wrote a resumé and cover letter and sent them off. I was lucky enough to get an audition, and then my first book!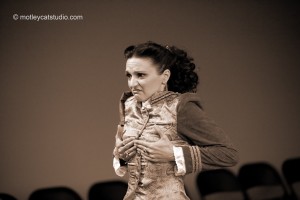 Amy, you made the process seem so easy, but I'm sure it's not. How do you prepare to narrate an audiobook? What is your process?
I read the book looking for theme, tone, POV (point of view), any words I need to research pronunciations of, and any accents I need to brush up. I mark who is speaking at the beginning of each line of dialogue, and any tricky clauses or wording. If the author's style includes long sentences, I also mark where to breathe so I don't pass out in the studio. I make a character list with descriptors given by the author. Then I note how each character will sound, so I don't forget halfway through the book!
I know we talked about the book before you began working with it. What's the best thing an author can do to help you prepare to read his/her book?
Provide pronunciations of any proper nouns that may have unconventional spellings or local pronunciations, or are created by the author.
Talk to me about the overall tone of the book. Usually it's evident from the text, but it's good to have the author's feeling about it in your head while you're performing.
On average, what's the ratio of time it takes for you from first getting an audiobook offer to final approval? In other words, how long to you work to create say a 10-finished-hours audiobook?
The number of days/weeks it takes varies, depending on studio schedules and when a final recordable manuscript comes in. A general rule of thumb for actual studio time is two hours for every one finished hour of recording, plus however long your reading and research takes. So, we may have in anywhere from 2-4 hours for each finished hour, depending on the book.  We are paid by the finished hours, not the other time.
Have you ever had to read a book you didn't like? (You don't have to name names LOL) How do you work through that?
First of all…ummmm….YES. But one of my coaches, Paul Liberti, taught me this:
Every book is written to heal someone–and maybe that's just the author, or it could be thousands of readers. If you key into that "thing" that is being healed, and how the story is healing it, it automatically makes the story important, useful, and full of love; a gift I'm delivering for the author.
Now, to keep things in perspective, the thing being healed could be serious and life-altering, or it could be "I am so sick of laundry and dinners and carpools, and I need a mental vacation!"  Whatever it is, someone needs it!
I love that concept! I think every author is healed through writing a book. Right after writing the book has made her crazy LOL Can you share any bloopers or out-takes? Any funny situations that occurred during a play or recording an audiobook?
I apologize, but I cannot. They all involve words I can't bring myself to type. Although I will tell you that there have been a couple of times I have gotten through a particularly "physically romantic" part of a book and dissolved into a giggling mess on the floor. NOT PROFESSIONAL of me, but remember, I'm the only one recording, so I'm essentially playing both sides of the scene. In other words, I have to GIVE and HAVE two orgasms all while standing alone in a room…
I think it might be time for Lightning Fill in the Blank (which I have never done before LOL)
My favorite movie is: A Muppet Christmas Carol and The Joy Luck Club.
My favorite actor/actress is: Sally Fields, Tina Fey, Jessica Chastain, Robert Downy Jr. and Robin Williams. I always believe every word they say.
My favorite book (besides The Cavanaugh House) is: Jane Eyre, The Thirteenth Tale and just about any British mystery set between 1800 and 1950.
My favorite stress food is: coffee, chocolate and giant hamburgers.
My ideal vacation would be: anywhere that's usually between 80-85 degrees, preferably with low humidity.
Thank you so much for including me on your blog spot! I love your writing, and can't wait for the next one!
Thank you for visiting with me, Amy. I can't wait for our next project together!
Visit Amy at:
Facebook: https://www.facebook.com/AmyMcFaddenStageScreenMic/
Twitter: @AmyMcNarrator
Website: AmyMcFadden.com
The Cavanaugh House, narrated by Amy McFadden, is available at: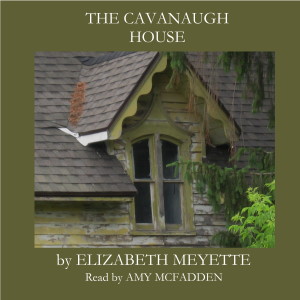 Amazon http://tinyurl.com/zx4hk6c
Audible http://tinyurl.com/zkegnr
iTunes http://tinyurl.com/juzwuk8