Hello. Thank you Elizabeth for having me here today. I love visiting your blog.
It's great to have you visit again, Susanne. I know you've been working on an exciting new project. Tell us about it.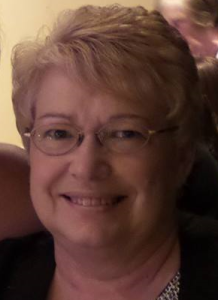 As a reasonably new author, I'm always looking for ways to stretch my wings and find new opportunities to connect with readers. Since promotion is my weakest area, I really hate blowing my own horn, so I'm always interested in trying something else that gives me a chance to do what I like best—writing.
Last year, Amazon developed the Kindle Scout Program, which is reader-powered publishing for new, never-before-published books. Originally limited to American authors, they opened the program to international authors this year, so I thought I'd try my luck. It's a venue where people can read the first 5K [5,000 words] of a book and decide whether or not the book will be chosen for publication through Amazon's Kindle Press. In essence, it's a popularity contest of sorts, not unlike Harlequin's annual So You Think You Can Write contest with a publishing contract as the ultimate prize. To thank the readers, Kindle Press provides an early, free e-copy to those who nominate a book that receives a publishing contract. For readers, it's a win-win situation. For authors, it's a chance to get published and maybe win a few new followers in the process.
How does it work? Readers determine the worth of a book for publication based on four criteria: the author's previous work since a Q&A and social links for the author in question are included, a short blurb for the book itself with a kitchy tag line, the first 5,000 words in the story, and the cover. Amazon promotes the book in the Scout program as well as on Amazon and Goodreads, but the author has the responsibility to promote the campaign, too, and for me that's the toughest part.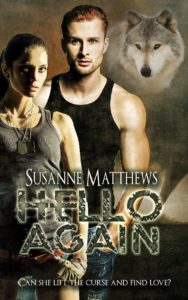 How is this different from self-publishing? Well, if the book is selected, the author gets a cash advance on sales, professional editing for the book, and the power of Amazon's promotional machine to support it, which will transfer to whatever else the author may have available on Amazon. It's the brass ring for a writer like myself, and I'm desperately trying to grab for it. There's no doubt publishing has changed and that Amazon is a driving force to be reckoned with, but instead of complaining about it, I'm going to give the e-book giant the opportunity to help me.
If you'd like to consider supporting Hello Again, a paranormal/romance/suspense novel, you can check it out here. It's free and there's no cost to you! https://kindlescout.amazon.com/p/18M9BEDK8IVLH
As a bonus, here's an excerpt from later in Chapter Two for you to read. Enjoy.
After the funeral, Charley had come home to this house, and instead of trying to get organized, she'd read everything she could about incompetent cervixes and spontaneous abortions—the clinical term for a miscarriage like the one she'd had. Had the shock of losing Mike forced her body's extreme reaction? Nothing she'd read linked the two, but everyone knew shock could be deadly.
Losing the twins hadn't been her fault, just as Dr. Edwards had said, but that made the loss of her babies, on top of the man she'd loved, no less painful. She knew what needed to be done the next time she got pregnant, but there wouldn't be a next time, just like there wouldn't be another man in her life. Whenever she looked at the urn, she felt guilty, reminded that she was denying Mike his final wish, but there was nothing she could do about that.
She'd told Phil she'd sprinkled Mike's ashes on the wind the day after the funeral. She'd driven near the place where Mike had rescued the wolf, but the truth was she hadn't even been able to get out of the car. She couldn't let the ashes go. If she did, she'd be truly alone, and she'd never survive that final separation. No, she'd cling to Mike and her memories until her number was up, and while she prayed it would be soon, she was convinced her prayers fell on deaf ears.
"I love you, Mike," she said caressing the urn as she done so many times recently. "I understand why your mother did what she did. Some losses are too painful to accept. I'm as trapped here as you are."
The letter Mike had left for her, the one he'd written before he'd been deployed, sat on the coffee table, now covered with watermarks from the glasses littering its wooden surface. She reached over and picked up the sheet of paper. His instructions were specific, but she'd never be able to follow through with his requests. It wasn't fair of him to expect her to.
"Damn you, Mike for dying, for leaving me this way. You didn't have the right," she said aloud, her voice echoing in the empty room. Drawn to the page, she read the words once more although she didn't need to. Each one was engraved on a piece of her shattered heart.
Charley,
If you're reading this, it's because I let you down. I didn't come back to you the way I promised, and I'll always regret not being able to look into those baby blues of yours, and say goodbye. I never thought it would come to this, that we'd have so little time together. I wanted to take care of you, make you happy, and spend the rest of my days telling you how thankful I am that you are part of my life. We knew this might happen, and it was a choice we made when I enlisted and you married me, but saying goodbye like this is a lot harder than I ever thought it would be.
You're the light of my life. I imagine our children running around the house, around that garage we were going to open—a boy who'd resemble me, a little girl who'd look just like her mama. We'd grow old together doing the things we loved, checking off each item on that bucket list we made before we were married.
I still want you to do those things, babe, even if I can't be there to do them with you. There isn't a lot of insurance money—I always meant to get more, but there was always something else that needed to be done, and since I expected to be there, earning it side by side, I figured fifty grand was enough.
There were so many things I wanted to show you, places I wanted to take you, but you'll have to find someone else to do those things with now. That's right. Once I'm gone, you need to move on.
I can hear you saying no, see you shaking your head, but you need to listen to me. I know you're still mourning your father, but you have to let me go, let both of us go, and the best way to do it is to get rid of the things chaining you to the past—like that old car you baby all the time. You need something safe and reliable. You may be the best damn mechanic in the world, but eventually, a car needs to be scrapped. As far as I go, I've left instructions with Phil to cremate my body as quickly as he can after my death. I know you'll want to see me, but babe, I want you to remember me the way I was when I was with you. Scatter my ashes on the wind. Don't keep me cooped up in a fancy vase or box like my mother kept my dad. Once that's done, I need you to open your heart and find a good man, a decent man who'll love you and make you happy. I'd find one for you, if I could, but there are some things you'll have to do for yourself.
I don't know what there is after death, and religion wasn't part of my life growing up, but when I think of moving on like this, I'm reminded of the stories my grandfather told. He was fascinated by his First Nations' ancestor, even if he couldn't claim status. The Sioux believed that the living and the dead lived together, even if only the shamans could see those who'd died. If that's true, I'll never leave you. I'll watch out for you in any way I can. You won't see me, hear me, or feel me, but I'll be there waiting for the day when I can say hello again.
Right now, I can picture you standing there, tears running down your cheeks, and that's the last thing I want. I know how stubborn you can be, but Charley, this is important for both of us, so please, mourn a little like I know you need to, but then move on.
Live, love, laugh, darling. Enjoy life the way you were meant to. I'll always love you, now and forever,
Mike.
She swiped at the tears that crept down her cheeks.
"You're wrong, Mike. I'll never be happy again. The only way there'll ever be a man in my life, is if you find a way to come back to me, because I'm not going looking for one. So 'Rescues Wolf Pup and Gets into Trouble,' if I can't have you here and now, I'll wait until we can be together, but don't make me wait too long."
Thank you. I hope you'll consider supporting Hello Again for publication.
BUT WAIT–THERE'S MORE!!!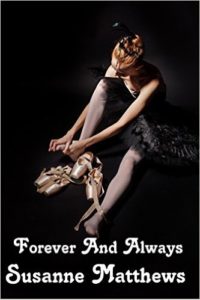 As a bonus, Susanne's book Forever and Always is  free all day today, April 27,  Click here to order:  http://www.amazon.com/Forever-Always-Susanne-Matthews-ebook/dp/B01CEVSEFA
Forever and Always blurb:
Ballet is the only thing Brandi Alexandra Jameson has ever known. When an accident leaves her dance partner dead and herself unable to dance again, she tries to accept the situation, but some pain goes too deep to be set aside so easily. Lost, alone, frightened, all she wants to do is hide away, but her family has a different idea.
Jarrett Sullivan has been in love with Brandi from the first day he saw her and blackened a kid's eye for calling her names. Shy, unsure of himself, he stayed in the background, looking out for her, but before he could make his move, she left Victoria for the stage in Toronto. Now that she's back, he'll do whatever it takes to win her heart. After badgering her sister, he earns the right to escort the woman he's always wanted to the event of the year.
When Brandi discovers Jarrett paid an exorbitant amount for an Alexandra Jameson poster, she assumes he's lied to her and is nothing but another crazed fan. Her heart broken she flees Victoria and ends up in Geneva where she hopes to learn to cope with what's happened to her.
Can Jarrett find her and explain what happened or will a spiteful woman's half-truths keep them apart forever?
About the author:
Susanne Matthews was born and raised in Cornwall, Ontario, Canada. She is of French-Canadian descent. She's always been an avid reader of all types of books, but with a penchant for happily ever after romances. A retired educator, Susanne spends her time writing and creating adventures for her readers. She loves the ins and outs of romance, and the complex journey it takes to get from the first word to the last period of a novel. As she writes, her characters take on a life of their own, and she shares their fears and agonies on the road to self-discovery and love.
Follow Susanne on her:
Website    Blog    Facebook page    Twitter @jandsmatt
Amazon author page    and    Goodreads author page