Julie Doherty shares my love of historical romance set in the 18th century. We both find the passion and dedication of our forebears fascinating. Welcome, Julie. Talk about your book. What was the first seed of an idea you had? How did it develop?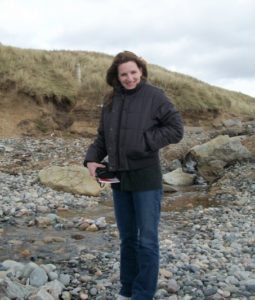 In SCATTERED SEEDS, a father/son duo flees Ireland in an attempt to recover fortune and lost love. Unfortunately, they arrive in America woefully unprepared—at the outset of the French and Indian War. All hope of survival rests upon the seed they carry over the mountains, but it's love that grows best on the Pennsylvania frontier.
The idea for this one came to me as I was researching my genealogy. I wrote it to honor my ancestors, Edward and Henry McConnell, the first white settlers in my area. I cannot imagine their hardship, the overwhelming toil, and the loneliness they must have experienced under the forest canopy stretching to infinity. Can you envision living in a one-room log cabin with no electricity, no running water . . . heck, no windows! Try to picture sleeping on a buggy, straw-filled mattress in that blackness, knowing the forest around you has many eyes, and most of them want to see you dead.
What a fascinating inspiration! How would you describe your writing process? Do you outline? Let the muse lead you? Or something else?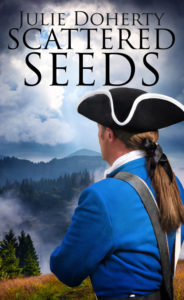 I'm a converted "pantser," which is probably evident in my debut novel, SCENT OF THE SOUL. Because I didn't outline for that one, I followed my muse down Paranormal Parkway. It turned out fantastic in the end, but I have to admit I got a little lost along the way.
I outlined SCATTERED SEEDS. As a result, my journey to "The End" included no side trips, something I found refreshing. Left untethered, I will follow shiny things down roads to nowhere, so nowadays, I adhere to an outline. Some authors feel sticking to a plan stifles the spontaneous writing that can sometimes yield amazing things. That's probably true for many, but I personally find great value in plodding onward like the dutiful ox in SCATTERED SEEDS.
We  travel similar roads in many ways—I, too, am converting to more plotting. How has writing this book changed you?
I call this book my "problem child." I completed it in a respectable amount of time, and my publisher picked it up right away. Then, the problems started. Edits were brutal (and necessary), and we had some problems finding a suitable cover. (Come on, image sites, where are the stock images showing colonial commoners?) I spent weeks on a book trailer, only to have a Windows 10 update eat it. My release date came and went. I lost money on pre-paid advertising—and all the momentum created by my first novel.
The difficulties clipped my wings and damaged my self-confidence. It is hard to write now without anxiety. I agonize over every word. Fellow writers tell me this passes. I sure hope they're right.
I admire your determination after all the obstacles you encountered with SCATTERED SEEDS! What is your research process like? Do you enjoy it?
This is very possibly my favorite part of being an author. I love losing myself in page after page of letters written back and forth between provincial officials. I swear, I think my dream job awaits me under the roof of the Pennsylvania Archives.
How do you handle spicy sex scenes and relatives? Are your family and friends supportive or do they choose not to read your books because of its sensual nature?
So far, I haven't written anything particularly erotic, but I want to. I know I'll struggle. Just typing the names of body parts makes me feel the eyes of my devout relatives boring holes into the back of my head. Maybe if I go into a dark room?
In all seriousness, though, I shouldn't be embarrassed. I'm guessing they've done the same things fictional characters do. Maybe even more.
LOL Maybe you'll embarrass them if you get too close to "the same thing" in their lives. What is the best piece of advice about writing that you have ever heard or read? What would you tell aspiring writers today?
It came recently as I was sharing my thoughts about quitting with other writers. There comes a time when an author has to weigh time spent versus reward. Writing takes a lot of time. Sometimes, I spend so much time in imaginary worlds that I miss happenings in the real one. Of course, the sense of accomplishment and good reviews make the sacrifice worthwhile, but moments of praise are often few and far between. I mentioned this to fellow author, Natalie Damschroeder, who agreed and gave me the best piece of advice ever: "If you can quit, quit."
She knew something I had yet to realize: I can't quit.
A writer can go without writing (or thinking about writing) for a few months, or even a few years, but eventually, our muse starts whispering sweet nothings in our ears. Unwritten ideas begin to fester, and the only cure for that deep infection is to admit defeat and flesh out the dang story.
My name is Julie, and I'm a writer . . .
Hi, Julie!

You are so right! How did writing this book change you or change how you look at the world?
It's made me grateful for the sacrifices of my ancestors. I did a lot of research on this one, including sailing on an 18th century brig. Standing in the belly of that ship was a humbling experience. They are not large vessels, yet our ancestors willingly packed themselves in like kippered herrings and endured a grueling, eight-week journey to America. Many of them didn't make it, including one of my own ancestors. For those who did, what was their reward? Backbreaking toil in an unforgiving wilderness.
I am alive because of their fortitude.
What a delightful interview! Thank you for joining me today, Julie. I wish you all best. And please don't quit!!
About the Author:
Julie is a member of Romance Writers of America and Central PA Romance Writers. When not writing, she enjoys antiquing, shooting longbow, traveling, and cooking over an open fire at her cabin. She lives in Pennsylvania with her Glasgow-born Irish husband, who sounds a lot like her characters.
SCATTERED SEEDS Blurb:
In 18th century Ireland, drought forces destitute Ulstermen Edward and Henry McConnell to assume false names and escape to the New World with the one valuable thing they still own–their ancestor's gold torc.
Edward must leave love behind. Henry finds it in the foul belly of The Charming Hannah, only to lose it when an elusive trader purchases his sweetheart's indenture.
With nothing but their broken hearts, a lame ox, and the torc they cannot sell without invoking a centuries-old curse, they head for the backcountry, where all hope rests upon getting their seed in the ground. Under constant threat of Indian attack, they endure crushing toil and hardship. By summer, they have wheat for their reward, and unexpected news of Henry's lost love. They emerge from the wilderness and follow her trail to Philadelphia, unaware her cruel new master awaits them there, his heart set on obtaining the priceless torc they protect.
Connect with Julie at:
SITE:  www.juliedoherty.com
FACEBOOK:  https://www.facebook.com/juliedohertywrites
TWITTER:  https://twitter.com/SquareSails
GOODREADS: http://www.goodreads.com/author/show/532434.Julie_Doherty
AMAZON AUTHOR PAGE: http://www.amazon.com/Julie-Doherty/e/B00T1Z61ZI
SCATTERED SEEDS is available at:
AMAZON: https://www.amazon.com/Scattered-Seeds-Julie-Doherty-ebook/dp/B01E056H1Q
BOOK TRAILER: https://www.youtube.com/watch?v=bNzrVFnl9Ts