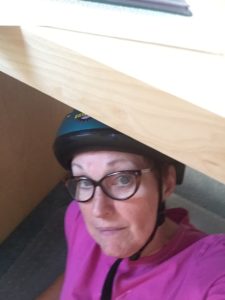 I was sitting in the basement with my bike helmet on waiting for the tornado to hit. (Rich was out of town.) Now Rich and kids think this is hysterical, but I was just following the weatherman's suggestion. It made sense to me. If debris were to fly all around the basement, perhaps this piece of hard plastic would save my brain…maybe my life. I'm very trusting.
My mind was crystal clear—I was thinking  ninja-sharp. After I put on my helmet, I got two afghans, a pillow, both Rich's and my laptop, and my purse, stashing it all under Rich's desk. Oh, before I shut down my computer, I backed up my manuscript for BURIED SECRETS onto iCloud. Brilliant. I've labored over that book for two years—no tornado was going to take that away from me.
Did I mention that I have a dreadful fear of tornadoes? When I grew up in upstate New York, we never had tornadoes, or tornado watches, or tornado warnings. My sisters (all six of them) and I all had the identical nightmare about a tornado barreling down on us across a plain. No, there were no plains where we lived in New York. Yes, as a matter of fact, we did watch The Wizard of Oz…many times. Regardless, we lived in fear of a feat of nature we had never experienced—and hoped we never would.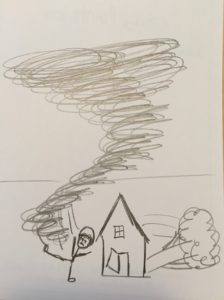 Moving to Michigan was all well and good until I was house-hunting, and upon opening a pantry door in a prospective house, there was this poster: "What to Do in Case of a Tornado." What? Clearly Michigan was not for me. However, I had no choice and have lived here most of my adult life. I had only been this close to a tornado once before. Oh, twice—there was the one that came through during Rich's surprise 50th birthday party when everyone had to run to our basement. Our messy, spider-webby basement.
I am no less afraid of tornadoes now than I was back in New York; ergo, I reference the second paragraph above. Look at how clearly I was thinking despite my terror. I was pretty proud of myself for being so clear-sighted. Even while wearing a bike helmet.
P.S. The tornadoes that came through our city did sizeable damage, but no injuries or deaths. I credit a lot of people in bike helmets for that.
P.P.S. This has nothing to do with writing…wait a minute—a woman crouches beneath a desk plugging her ears against the thunderous roar… Everything is grist for the mill.
What fear inspires you to write?
Save
Save
Save
Save
Save
Save