Patricia Kiyono is dedicated to her craft. I know this because I've had the opportunity to work with her in brainstorming sessions and writing sprints. Her pursuit of excellence is evident in her books. I am so pleased to welcome Patricia to my blog today.
Patricia, talk about the books you've written. What was the first seed of an idea you had for your book? How did it develop?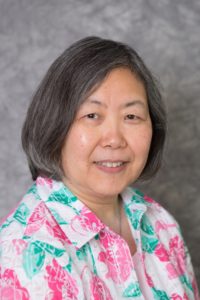 The first idea for Three French Inns came about because of the popularity of The Partridge and the Peartree, followed by Two Tutor Doves. I decided to continue the series, and started outlining ideas for a plot almost as soon as the second book was released. Once I had the title, I needed to figure out a way to get the characters from one inn to the next. I found it was easy to get the hero from place to place, but the logistics of getting the romance time to develop was a lot harder. What reason would an early nineteenth century woman have for traveling? Thank goodness for my Brainstorming Buddies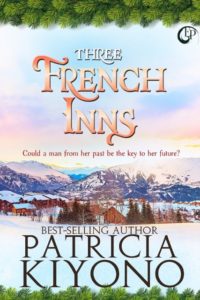 The first book I started to write was what eventually became The Samurai's Garden. It was the fourth of my stories to be published – I guess I had a lot to learn! Anyway, the inspiration for that came from my own Japanese heritage.
How did you celebrate the publication of your first book?
I said, "Oh, that's cool." My husband was already in bed, and my kids are on their own. There was no one to celebrate with, so I just went back to work on the next book.
Now that's dedication! How would you describe your writing process? Do you outline? Let the muse lead you? Or something else?
I usually start with the conflict. You don't have a story without a conflict, so I begin with that. Then I create the characters who are affected by that conflict. However, for my most recent release, I began with the title! I needed something to follow The Partridge and the Peartree and Two Tutor Doves and came up with Three French Inns. I knew I wanted to feature a character who was mentioned in Two Tutor Doves – the missing brother of the heroine, Jeanne Brown. And then I realized that since he was raised as an Englishman, he would have a natural conflict if he were to travel through France so soon after the French Revolution—especially if he had fought against the French.
What food or beverages do you turn to while you are writing? Are you a stress eater on deadline or a "lack of inspiration" eater when ideas are not flowing?
I tend to be a stress eater and usually go through an assortment of healthy and not-so-healthy snacks while writing. But I've been dieting recently and have tried to be more conscientious about staying away from the sugary stuff I love. Now I've always got decaf coffee or tea next to my laptop, and keep a supply of fruit and raw veggies handy.
I admire you for staying healthy while you write. What are you currently working on?
I talked my publisher into letting me organize a multi-author series. I proposed an idea, and she loved it. After brainstorming with the other participating authors, we decided to set the series in the Midwest on an alpaca farm. So now I'm brainstorming before starting my outline and getting ready to write.
How do you balance writing, marketing, promoting, bookkeeping, family and work?
I'm a list-maker. Most days I spend a few minutes writing out a list of things I MUST do, followed by a list of things I'd LIKE to do that day. It's always satisfying to cross things off when they're done. I was fortunate in that I was able to take early retirement from my full-time teaching job twelve years ago, and now I teach two sections of a music education course at GVSU (Grand Valley State University). That leaves me a lot more flexibility for taking care of my family's needs as well as more time for writing and the things I enjoy doing.
I love lists, too. Sometimes I write down a task I've already completed just so I can cross it off. Is there anything else you would like readers to know about you?
I have far too many interests and hobbies for my own good. I have a craft room full of supplies like fabric (because I love to sew), paper (because I love to scrapbook as well as make greeting cards), and instruments (because I'm a musician and play in three community groups). And since I love to write, I also love to connect with readers!
I can be found at my website and blog, and on Facebook, Twitter, Instagram, and Pinterest.
Three French Inns Blurb:
Peter Brown joined His Majesty's Army in the fight against Napoleon, but when he was wounded, a lovely French woman tended him. She was a recent widow, and they were on opposing sides of the war, so they went their separate ways. But he never forgot his "bel ange" — his beautiful angel.
Caroline Bouchard Duval marched with her husband in Napoleon's army, eager to leave her sleepy village and see the world. But after being widowed, she returned to her childhood home in the French Alps. When a bloody traveler enters her father's inn, she recognizes him immediately. Could this man give her another chance to fulfill her dreams?
Buy Links: Three French Inns is available at Amazon, Barnes and Noble, Smashwords, All-Romance ebooks, and Kobo.
Save
Save
Save
Save