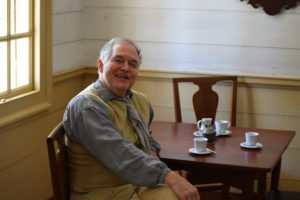 One of the highlights of my visit to Colonial Williamsburg in September was a stop at R. Charlton's Coffeehouse. While I had read about the patriots gathering at the Raleigh Tavern to share information, plan against the British and foment the patriot cause, I didn't realize this also happened in the coffeehouses where the local gentry met and mingled. Here they discussed the politics of the day, gathered news, and exchanged gossip. Tacked on the wall, posters and flyers announced proclamations, upcoming events and want ads.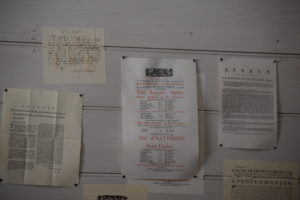 Beverages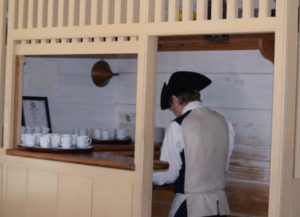 Patrons' beverage choices were limited and did not include Starbucks varieties like Caramel Brulee Frappuccino. Coffee was the least expensive drink offered. Coffee beans were ground and roasted in the basement kitchen. (Most Williamsburg kitchens were separate buildings at the back of the building, but this landlord owned only the property the building sat on.) Another beverage choice was black or green tea; Hyson tea from China was the most expensive. Finally, many patrons enjoyed hot chocolate. The colonial recipe I was given by the host was a mix of cocoa beans, sugar, cinnamon, cayenne pepper and water. No milk. With a wink, he informed me that brandy or rum could be added. Beats marshmallows.
Rooms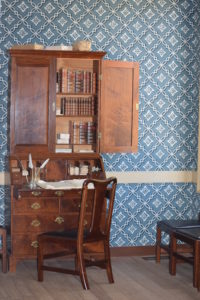 We enjoyed our beverages in the front room, where the coffee would have been brewed. The back room was the accountant's office, but on busy days, patrons also might be seated in this overflow room. A third room we visited was the private dining room that could be rented. A large table with eight chairs took up much of the room, with a fireplace on one wall and a corner hutch on the other. The host would bring his own food to be prepared by the cooking staff.  The rent for the dining room increased when the House of Burgesses was in session because the town was so crowded with visitors.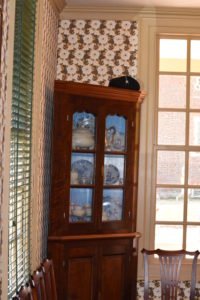 My imagination fired on all cylinders as we walked through the coffeehouse. Voices from the past echoed in my head, some hushed in secretive whispers, some strident in their patriotic fervor, some cautious, fearful at a time when their world seemed turned upside down. Being surrounded by the furnishings, décor and customs of the 1700s brought these people to life for me. Again, I was reminded that reading about the founding of our nation made it seem so clear, but to the people of that time, it was risk, it was courage, it was passion.
How little things change. Today, I suspect there are many political discussions taking place at coffeehouses throughout our country. And I suspect some voices are whispering, some are strident, and many are passionate.
While writing this post, my husband, Rich, and I enjoyed a cup of the colonial hot chocolate we purchased in Williamsburg. Method writing.
Photos by Meyette Photography
Save
Save